In Melvyn Fairclough's hotly debated book, "The Ripper and the Royals," published in 1992, Fairclough introduces the 3 diaries that were claimed to have been written by Inspector Frederick Abberline. In one of the diaries, Abberline states that Mary Jane Kelly's real name was Mary Jane O'Brien, and not only was Mary Jane not the victim found in Miller's Court on November 9th, 1888, but that she was a noblewoman who was related to the Baron and Baroness of Inchiquin whose family seat was Dromoland Castle in County Clare. Abberline goes on to state that in January 1889, he received a letter from a woman named Nora O'Brien who wrote that Mary Jane O'Brien was her niece and that it was she who had been writing to Mary Jane after she was sent to Canada. I have found a picture of this Nora O'Brien, who was the second daughter of the Dowager Baroness Inchiquin.
[img]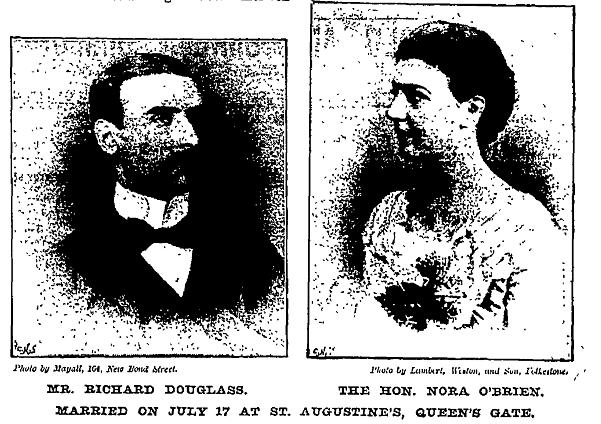 [/img]
MARRIAGE OF THE HON. NORA O'BRIEN AND MR. RICHARD H. DOUGLASS.
The Hon. Nora O'Brien, second daughter of the Dowager Lady Inchiquin and sister of the present peer, was wedded on July 17 to Mr. Richard Hugo Douglass, younger son of Mr. James H. Douglass, of Market Harborough. The ceremony, which was attended by a large and fashionable gathering, took place in St. Augustine's Church, Queen's Gate, Hyde Park, the Rev. Digby Row tying the nuptial knot. A bevy of five tastefully gowned bridesmaids awaited the bride's arrival at the church door. These young ladies were the Hon. Blanche O'Brien (sister of the bride), Miss Mabel Douglass (the bridegroom's sister), Miss Mary Warde, Miss Dorothy Warde, and Miss Blanche Warde (all nieces of the bride). They wore frocks of pale blue silk and nun's veiling, trimmed with buttercup-coloured lace, and large white picture hats ornamented with white ostrich plumes. The bridegroom presented them each with a pearl, and turquoise brooch, and their bouquets were of dark red and pink roses. Mr. James Douglass was best man. The graceful bride, who was given away by her brother, wore a gown of white satin broche, with full Court train, the bodice being trimmed with fine Limerick lace and orange flowers. Her veil of tulle was fastened by a diamond star, and her bouquet composed of white exotics. After the ceremony the Dowager Lady Inchiquin welcomed the wedding guests at her town residence, 103, Queen's Gate, and during the afternoon Mr. and the Hon. Mrs. R.H. Douglass left for Eastbourne, where the early days of the honeymoon will be spent.
Source: The Penny Illustrated Paper and Illustrated Times, Saturday, July 27, 1895; Page 68; Issue 1783
I'm trying to find a connection between this Mary Jane O'Brien and the Mary Jane Kelly from Liverpool...

They're both connected with Royalty, O'Brien with the Barons of Inchiquin and Kelly with the Earls of Carnarvon (she is not connected with Carnarvon, Wales). However, this MJK was not a royal or a noble but a servant of the Earls. webspace.webring.com/people/qo/ozmcfall/irishan.html

The fourth Earl of Carnarvon was the Lord Lieutenant of Ireland in the 19th Century. Perhaps that is where the connection is. A related Molyneux, Anne Molyneux, married the Baron Inchiquin in 1921.
---
Permissions in this forum:
You
cannot
reply to topics in this forum