DR. CONAN DOYLE.
Theory Of Sherlock Holmes Regarding the Whitechapel Murders.
The Story of Doyle's Life - He Was a Story Teller as a Boy and Wrote Stories for Fun as a Doctor.
[COPYRIGHT, 1894.]
Big is a little word since it has been loosely applied to such frail men as the late Mr. John Lawrence Sullivan, of Boston, and our own James H. Connolly. When you put the coat on Conan Doyle it is a very tight fit. He's huge and husky, to use a bit of our college slang. He came striding up to me the other day across the dimly-lit lobby of the Reform club, and at the moment I thought he looked like our great detective Tommy Byrnes. But Conan Doyle is too blonde and too big. He has a well-knit athletic body, supported by a pair of powerful legs and towering an inch above six feet in height. He weighs about two hundred and twenty-five pounds and it's all bone and muscle. His head is large and well covered with light brown
[img]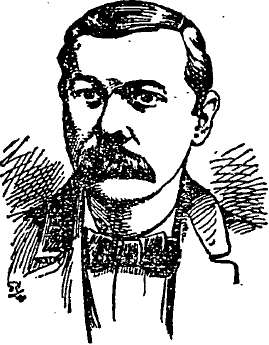 [/img]
A. CONAN DOYLE.
hair. He wears a heavy blonde mustache and his large gray eyes are both kindly, keen and Celtic. Imagine this man a little stooped at the shoulders as one must be who has leaned over a desk and drawn probably a million words from the fount of his inspiration; light up his face with a kindly look; give him a deep voice as you think of him inclining his head to speak to you and let him now and then thrust his hands in his pockets and lift his chin to laugh heartily, for he likes to laugh, and you have a good idea of this greatest story teller in all England.
"I have come to take you in custody for the killing of Sherlock Holmes," I said, as soon as we were seated.
"Ah, but I did it in self-defense," he replied. "And if you knew the provocation you would agree with me that it was justifiable homicide. When I invented this character I had no idea he would give me so much trouble. But
[img]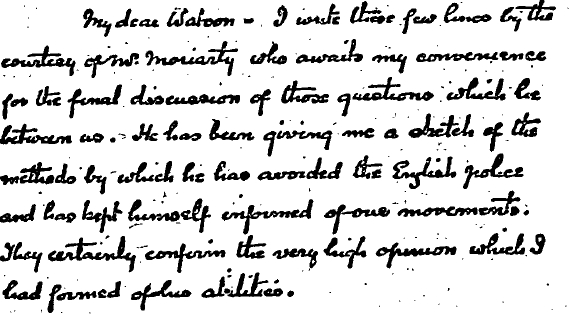 [/img]
FACSIMILE OF MR. DOYLE'S PENMANSHIP.
when Holmes' Adventures began to appear in the Strand Magazine, its circulation went up by leaps and bounds until it reached the phenomenal figure of four hundred thousand. No sooner had one story appeared than I was set upon for another, and such considerable sums of money were offered by the publisher, indicating a popular demand so imperative and so flattering, that I was tempted repeatedly from other work which I greatly desired to finish. I went on from one case to another until, as you know, there are now two volumes of "The Memoirs and Adventures of Sherlock Holmes." At last I killed him, and if I had not done so I almost think he would have killed me."
Certainly there are few authors who could afford to dispense with so profitable a friend as poor Holmes had been to Conan Doyle.
I asked him if he would tell me something about Holmes and himself for the American papers. He did not like the
[img]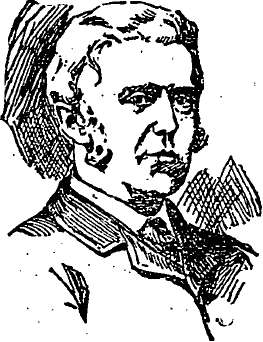 [/img]
THE ORIGINAL OF SHERLOCK HOLMES.
idea of talking for publication and told me so, flatly but politely. I assured him, however, that the interview was the inevitable penalty of all enduring fame in the states, and he consented on condition that it was not to be published in England.
Three days later we were sitting together in his study at South Norwood, a little beyond the southern edge of the great city. The door yard is a pretty garden of flowers and evergreens. Across the road in front and back of the house, there are open fields, delightfully green and sown over with dandelion blossoms.
"I live here," he said, "because there's a cricket field near by and I'm very fond of that game - play it a good bit and football, too."
"And I should think you must have sparred a little at one time or another," I remarked, looking at him with the professional and scientific air of the late Mr. Holmes.
"You are right; I have boxed a good deal," he replied, "but not lately."
"I was at Mitre Square in Whitechapel, last night," I said, "and the query occurred to me whether Holmes had a theory regarding those remarkable murders."
"I am not in the least degree either a sharp or an observant man myself. I try to get inside the skin of a sharp man and see how things would strike him. I remember going to the Scotland Yard museum, and looking at the letter which was received from the police and which purported to come from the Ripper. Of course it may have been a hoax, but there were reasons to think it genuine, and in any case it was as well to find out who wrote it. It was written in red ink in a clerkly hand. I tried to think how Holmes might have deduced the writer of that letter. The most obvious point was that the letter was written by some one who had been in America. It began, "Dear Boss," and contained the phrase, "Fix it up," and several others which are not usual with Britishers. Then we have the quality of the paper and handwriting, which indicate that the letters were not written by a toiler. It was good paper and a round, easy, clerkly hand. He was therefore a man accustomed to the use of a pen. Having determined that much we cannot avoid the inference that there must be somewhere letters which this man had written over his own name, or documents or accounts that could be readily traced to him. Oddly enough the police did not, as far as I know, think of that, and so they failed to accomplish anything. Holmes' plan would have been to reproduce the letters in facsimile and on each plate indicate briefly the peculiarities of the handwriting. Then publish these facsimiles in the leading newspapers of Great Britain and America, and in connection with them offer a reward to anyone who could show a letter or any specimen of the same handwriting. Such a course would have enlisted millions of people as detectives in the case."
Dr. Joseph Bell, of the Royal Infirmary of Edinburgh, where Conan Doyle studied medicine, is the man from whom the interesting characteristics of Sherlock Holmes were borrowed. With a keen faculty of observation and analysis, he has been able to perform many wonderful feats of deduction which now and then have given furtherance to the ends of justice, even in the pious old city of Edinburgh. He has made a study of their trifles in relation to important facts, and he can give a fairly correct estimate of their value off hand. After a first glance at an absolute stranger, for instance, he has been known to give a pretty accurate outline of his history, discoursing somewhat as follows: "This man's accent tells us that he comes from Lanark. He was once a shoemaker, as a glance at his palm will show, and afterward became a soldier in the cavalry service, as is obvious from his stride. The knees of his trousers and his right forefinger show you that he is now earning his living as a tailor."
Conan Doyle was born in Edinburgh in 1850. He was the son of Charles Doyle, an artist of wide repute whose pictures were valued for a certain Poe-esque quality of imagination. The author of the "Refugees" is the first Doyle on record who has not turned to the art of the brush for a livelihood, but one who has thoughtfully observed his father's painting will not be surprised that his son is gifted with the nobler art of letters. I could not resist the feeling that the aims of his father could have been more surely set forth in poetry than in painting. He had indeed carried his art into the realm of poetry and romance, and so his son was born under a new sky. Richard Doyle, the uncle of Conan Doyle, was on the art staff of Punch and designed the cover which it wears today.
The ingenuity of the small boy which often expressed itself in an amazing capacity for devilment took the direction of story-telling in the case of Conan Doyle. At a time when most boys would have contented themselves with the fantastic masonry of alphabet blocks, he was building stories with his limited vocabulary. "My companions used to tease me for stories day and night," said he, "and it was only necessary to bribe me with a tart to set me going." He went to Stonyhurst college when a boy of nine and remained there seven years. After a term of study in Germany he went to Edinburgh and took the regular course in medicine. It did not cure him of his literary tendencies, however. There was no remedy for them, but he found some relief in trying his hand at a short story. "I sent it to Chambers' Journal," he told me, "and I suppose its return would have utterly discouraged me. But they kept it and sent me a check for three pounds." He then secured the post of surgeon on a whaling ship bound from Peterhead to the Arctic seas, where he passed his majority, near the eighty-first degree of north latitude, and had some exciting adventures with the rifle and harpoon. The head of a Polar bear killed by him on this voyage adorns his bookcase. He qualified in medicine on his return and shipped again as a surgeon bound for the west coast of Africa. He finally settled in Southsea, Wales, and began the practice of medicine with only three pounds in his pocket. Meanwhile he continued to write stories, but never earned more than fifty pounds a year by their sale. "Habukuk Jephson's Statement," a short story written while he was at Southsea, appeared in the Cornhill, anonymously, according to the law of that distinguished periodical, and was credited to Robert Louis Stevenson. Then he conceived the character of Holmes, whose adventures were to be harmonized with a correct science of deduction. The "Study in Scarlet" was produced, and there was such an immense call for it as a shilling book that eventually a new edition was issued at three shillings and sixpence. Dr. Doyle received twenty-five pounds for the story.
"I had entertained the notion for a long time," said he, "that a historical novel could be made successful without the conventional plot, but simply through the interest that could be created in a string of characteristic scenes and incidents. "Micah Clarke" was written agreeably with this plan. Then I went back to Holmes again, and wrote "The Sign of Four." The "White Company" followed, presenting a picture of what to me is the most interesting period of English history."
While this work was progressing the doctor came to London, where he made a special study of eye surgery, intending to limit his practice to the treatment of that organ. But orders began to pour in upon him for stories, and it soon became evident that he would have to shift out of his practice, and he did. The "Refugees" followed, and when he came to London to give himself wholly to a new profession his fame had gone before him and had crossed the sea, and was on the tongues of men in the remotest outposts of Britannia.
"I am coming to America in October," he told me as I was about to go. "It has been reported that I am to lecture about Sherlock Holmes. I shall deliver some lectures there, but shall have nothing to say about my own work. My public utterances will be confined to these two topics: "George Meredith and His Work," and "The Younger Influences in English Literature."
I have always longed to see America, and I have always longed also to see a warmer friendship between the two great nations of the English-speaking race. There is no subject on which I take so keen an interest. Neither nation recognizes as it ought the kinship of the other. The only natural and permanent alliance upon earth is that between these two countries, having a common language, common blood, common moral and religious ideas, and up to the last century a common history. The press on both sides seem to me to do all that they can to alienate the two countries. How seldom do you see a really hearty, generous word as to the great things the Americans have done, the epic of the civil war, and the filling up of the great west. On the other hand, it is, I believe, as rare a thing for an American paper to recognize the great record of Britain, how she has pegged out claims for the English-speaking race all over the globe, how she brought civilization to so many dark places, and how she has stood for "freedom" all through the history of Europe. I believe the English-speaking races must either coalesce, in which case the future of the world is theirs, or else they will eternally neutralize each other and be overshadowed by some more compact people, as the Russians or the Chinese. They should pool their fleets and their interests. What a lot of minor questions would be nettled instantly by their doing so! It would be the first great step towards the abolition of war and the federation of mankind."
Source: The Quincy Daily Journal, October 19, 1894, Page 3

***************************************
Karen Trenouth
Author of: "Epiphany of the Whitechapel Murders"
Author of: "Jack the Ripper: The Satanic Team"
Similar topics
---
Permissions in this forum:
You
cannot
reply to topics in this forum