FAMOUS SCOTLAND YARD.
Edward Marshall Spends a Week with Its Clever Sleuths.
The London Police Force - Fourteen Thousand Constables Who Earn Only Six Dollars a Week -Not the Place Fiction Has Painted It.
[COPYRIGHT, 1895]
I have devoted a part of every one of the past ten days to Scotland Yard or roaming about London in the company of Scotland Yard pensioners. I am assured that this courtesy has not been extended to a newspaper man before, and am inclined to think the statement accurate. The London police are not favorably disposed toward the London reporters. They call them penny-a-liners, and speak of them with scorn and distrust.
The open sesame which threw the portals of Scotland Yard's mysteries apart for me was a letter from Supt. Byrnes, of New York. Byrnes is considered over here to be the greatest detective in the world. There is not a man in Scotland Yard, from the chief superintendent down to the cockney in uniform at the door, who does not admire him and listen to tales of him with reverent interest.
Scotland Yard is the most famous detective center in the world. It owes its fame to fiction - that is, to novels. Story writers, led by Charles Dickens, have entered detective tales without number about it, and Scotland Yard, as the public knows it, is their creation.
Many writers of romance, good and bad, have had a hand in its building, and it is a strange and wonderful structure. They hide it in a remote part of London, generally among the docks. They make it a dark and gloomy building, low and with little black windows blinking mysteriously through the London fog. They fill it as full of secret passages and uncanny trapdoors and concealed cupboards as a Masonic lodge room. Shrewd sleuths off duty lounge about it; waiting for great crimes, which they may clear away, and in their idle moments telling gruesome stories of extraordinary sinners. Shrewd sleuths on duty, clad ever in elaborate disguises, glide cleverly from dark doorways out into the highways and the byways to recover stolen necklaces of incredible value, to find abducted maidens, to solve the dark and bloody puzzles of impossibly mysterious murders.
This is the Scotland Yard of fiction. The Scotland Yard of fact is a handsome red brick building, elaborately trimmed with graystone and facing the Thames. It is one of the highest buildings in London and more nearly resembles the modern American office building than any structure I have seen here. Its interior is very plain and matter-of-fact, with smooth white walls and tiled corridors. Nowhere within its doors is there any hint of sensationalism. The building was designed especially to afford a headquarters for the vast police business of the British metropolis, and it is business - from its foundation stones to its weather vanes.
If this explodes one of the pet bubbles of your imagination I am sorry. But the real Scotland Yard is as interesting in its way as the Scotland Yard of the fictionists has been. One reason why most writers have so utterly gone wrong when they approached London detectives and their work is that the police here like to shroud their operations in manifold mysteries. Among the officials, excepting Chief Superintendent Shore - as honest and hearty a gentleman as one may meet in a day's journey - there is an intimation that detective work is full of red fire and melodrama.
An ex-inspector who was with me in a miserable Whitechapel lodging house gravely assured me that there was not a man in the place who would not have cut my throat if the police had not been along to protect me, although an experienced eye could quickly class the inmates of the place as simple paupers, and as far from professional criminality as possible. The ex-inspector well knew that a beef-fed citizen, with a good thick
[img]
[/img]
club, could have driven the whole unfortunate crew from Whitechapel to the highlands of Scotland if they had strength to run, but he liked to pose.
For two hours this officer kept assuring me of the bloodthirsty character of the stupid, half-starved and wholly submissive creatures whom we passed on the streets, until finally I wearied of it and left him. As I went on alone I found, as I expected, that not one of them had any crime more horrible than the begging of a copper in mind, and that a ha' penny would send their hands to their caps as quick as lightning.
The British detective first treats you as if you were dirt beneath his feet. Then, when he finally finds that he must recognize your humanity, he gravely proceeds on the assumption that you are an ass and gulls you into spasms of hidden laughter.
How rare the information which I have succeeded in extracting from him during the week is evident by an experience which I had just before I left New York. A certain newspaper man there has made up a reference system of newspaper clippings. Clerks have for years cut articles from all sorts of publications, American and foreign, containing information concerning all sorts of tirings. These have been placed in envelopes, indexed and filed away. In the collection almost every conceivable subject is represented. If this newspaper man wished to write an article about the maharajah of Kumpore (whom I met last night), he would probably find a biography of him and half a dozen anecdotes concerning him in his envelopes. But in all his collection there was not one word concerning the real Scotland Yard. In fact, only two authentic articles are remembered by the officials there. One was written for Society, a London weekly, by Mr. Lestocq, the author of "Jane," and now Mr. Charles Frohman's representative over here, and the other was published years ago in the London Illustrated News. So, whether or not what I write interests you, it may be a satisfaction to note that it is new.
Scotland Yard fronts on the Thames embankment, but it is as easily accessible from Whitehall, the broad thoroughfare which leads from Trafalgar Square to the houses of Parliament. The big building stands to one side of a great court and towers high above its neighbors. It is surrounded by a jumble of cabs for a good part of the day - conveyances in which officials having reports to make have arrived. It is the headquarters of the Metropolitan police, made up of two branchess - the constabulary (or uniformed men) and the Criminal Investigation Department (or detective force). The word "detective" is rarely used over here. The private detective offices are known as "private inquiry bureaus."
London, it should be explained, is under control of two municipal governments. "The City" - the old town, where the Bank of England and the stock exchange and most of the great financial institutions are centred - is controlled by the corporation, headed by the Lord Mayor. "The County," which completely surrounds the city, and which contains the greater part of London's population, is governed by the county council. The city and the council have police forces which are entirely separate in system and management. The city force is simply an uninteresting constabulary, with no detective branch of importance.
][img]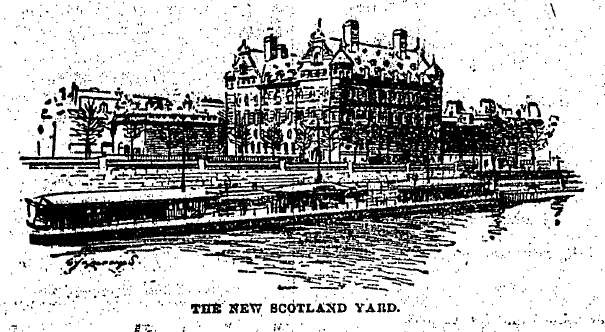 [/img]
It is the county force - the Metropolitan police - which centers at Scotland Yard. This force consists of fifteen thousand two hundred and thirty-one men, of whom four hundred and sixty-five are in the criminal investigation or detective department. There is a vast difference in the number of crimes committed in London and in American cities, pro rata of population, and some reason for the English balance of virtue will be found in the greater number of policemen here. New York, for instance (the most thoroughly policed city in the United States), has only four thousand one hundred and eighty men on its entire force, with whom to handle a population of approximately two million. The Metropolitan police of London guards less than twice as many persons - three million one hundred and forty-nine thousand - but has almost four times New York's number of policemen to do it with.
Technically, the Scotland Yard of present police fame is New Scotland Yard. Old Scotland Yard opens off Whitehall midway between the present police headquarters and Trafalgar Square. In long bygone days the detectives had three little rooms in the old yard, cluttered beyond belief with papers, dirty and unbusinesslike. It was these three rooms which Dickens knew. Detectives and police were then under separate administrations, and detectives were called upon only when the police made a failure of a case. Anyone who was willing to pay the cost anywhere in the United Kingdom had the right to call for a detective from Scotland Yard, however, and it was by no means unusual for members of this famous group of detectives to be sent outside of the Queen's domain. At present a Scotland Yard detective is not permitted to leave London, except on rare occasions. He is a part of the London police machine, and he must play that part and no other.
It was from this old force that Dickens gathered material for the detective sketches which first made him famous. Inspector Weild, "a man of portly presence, with a large, moist, knowing eye, a husky voice and a habit of emphasizing his conversation by the aid of a corpulent forefinger, which was in constant juxtaposition with his eyes or nose," was, in reality, Inspector Field, whose memory is still green. Field was also the original of Inspector Bucket in "Bleak House." Inspector Stalker, one of Dickens' characters, was Inspector Walker in real life. There are many men still on the force who remember Thornton, the man whom Dickens changed to "Dornton," the sergeant "famous for pursuing the inductive process, and, from small beginnings, working on from clew to clew, until he bags his man." Sergt. Mith, who told the Butcher's story at the Detective's Party in the office of Household Words, is Sergt. Smith, still alive and hearty. To this day he seems qualified to play the part of a butcher's boy in order to spy upon receivers of stolen goods, and one can understand that "even while he spoke, he became the greasy, sleepy, sly, good-natured, unsuspicious, chuckle-headed, and confiding young butcher. His very hair seemed to have suet in it, as he made it smooth upon his head, and his fresh complexion to be lubricated with large quantities of animal food."
A tragic story is that of the detective whom Dickens celebrated as "Sergt. Witchem" in his youth. His true name was Whicher, and he did for thirty years good and faithful work in Scotland Yard. At last he was assigned to the "Road Murder Case," a crime, somewhat similar in its circumstances to the Borden murder in Fall River. The victim was a young girl. Detective Whicher suspected and arrested her stepsister. When the case went to court, it was found that he had little real evidence, and public sentiment was overwhelmingly opposed to his theory. The outcry was violent and damning. Whicher, sticking to his theory, was forced to resign from Scotland Yard, and practically suffered public disgrace. Several years later, when, a broken-hearted man, he was poor and in distress, the stepsister vindicated him by giving herself up and freely confessing that Whicher's statements of the motive and method of the crime were absolutely correct. But poor Whicher has never been reinstated.
This old Scotland Yard organization continued until the exposure of what are remembered here as the "Great Turf Frauds." This showed a state of affairs more deplorable in Scotland Yard than the Lexow committee revealed in New York City, and almost broke the heart of Mr. Williamson, chief officer. Growing out of this unsavory mess of bribery, official thievery and general corruption, came in 1878 reorganization on about the present basis.
At the same time the office was moved from the old building to another in the center of the square. This was occupied by the detectives until, in 1886, dynamiters, incensed by the constant espionage which Scotland Yard subjected them to, blew up the place. Fortunately, no one was killed. Then, after moving for a time to temporary headquarters, the department took its present commodious offices. Which is enough of history.
The detective department is the only branch of the Metropolitan police which is, of itself, interesting; but the plan of organization of the whole affair is, particularly now, when the United States is being swept by a wave of police reform, worth brief explanation. Under it favoritism is impossible and bribery is at present believed to be unknown.
Any man may apply for appointment on the force at any one of the division (precinct) houses. In order to secure employment as a police constable he must be over twenty-one and under thirty-five. He must be at least 5 feet tall. He must be able to read well, write legibly and have a fair knowledge of spelling. He must be free from disease and of strong constitution. He must be recommended by two householders who have known him for five years, by his last employer, and by the minister or church warden of his parish. He must not have more than two living children. He must file a statement of his debts and be able to pay such of them as the commissioner of police may direct.
After his appointment he can do no work for pay aside from his police duty; and his wife cannot keep a shop. His pay is decreased when he is on sick leave. His uniform and coals for his cooking at home or elsewhere are supplied by the department without expense to him. If he is unmarried and sleeps at the station house, he is charged twenty-five cents a week for lodgings. He cannot resign without permission. He is liable to instant dismissal for drunkenness and many other faults, and he can be punished in many ways, principally by fines.
He begins at a salary of six dollars a week. This will be advanced twenty-five cents a week every year that his conduct is good until, at the end of eight years of service, he may be paid eight dollars a week. One case of drunkenness, or other violation of the rules, is certain to bring about a reduction of pay to the original six dollars. He must then begin his advancement over again.
The pension system is very complete. Men who have served fifteen years may retire on pensions of fifteen-fiftieths of their regular pay; and this increases to two-thirds of the regular pay for those who have served twenty-six years and upwards. A two-thirds pension may also be granted to a constable who is incapacitated for duty by injuries received in the actual performance of service at any time, no matter how long he has been on the force. If he receives fatal injuries in the performance of his duty a similar pension may be granted to his widow.
The ranks are these: Constable, sergeant, inspector (analogous to the New York police captain); superintendent (analogous to the New York inspector); chief superintendent (analogous to New York's superintendent). Beyond these there are a commissioner and three assistant commissioners. These, in turn, are subordinate to the home secretary - now Mr. Asquith - who is also known as the secretary of state. Thus the police of London are practically a government institution, as the home secretary is a queen's cabinet minister.
Edward Marshall.
Source: The Quincy Herald, May 15, 1895, page 3

***************************************
Karen Trenouth
Author of: "Epiphany of the Whitechapel Murders"
Author of: "Jack the Ripper: The Satanic Team"
---
Permissions in this forum:
You
cannot
reply to topics in this forum