Amsterdams Chronicle.
2 November.
Actually said, feeling as I do today, I'm not in the right mood to write a chronicle. Maybe after writing, I might even get well, but for the moment I am a little worried that the ailment of the day might call for overstimulation of the nervous system. No wonder indeed! It could be nerves as tight as cable ropes, but we have to remain calm under all the double-fetched horror to which we got to hear this week! To hear, I say, of all the awesome things that the unsuspecting man every night subscribes to read, of which t I will not even speak. Besides those who subscribe to a daily dose of misery, there may be a reason to thank him, but to all the bloody murder stories that we have heard here for a few days from all sides, they should be allowed to spike his ears as a disabled gun. And with all these specters, as well as what is heard and read, is of course that the infamous London murderer, the mysterious woman butcher, warp and weft. Jack the Ripper, the Welcke overgeset being out beteeckent Jack the Ripper, will even coax night terror here in no time. Because, you imagine what a monster! Not satisfied with the whole of London in an uproar to bring the press to sweat his horror crimes, and usually so lively reading of the news of the day to poison the daily papers of his new atrocities, who is now on the brink of disaster .... has also crossed into Amsterdam! Yes, Jack the Ripper, last week, according to the unanimous vox populi, Incognito, Amsterdam has been abandoned. That has to be added! If Dr. Mezger has not yet decided to escape such a dangerous city, such a hotbed of sin and iniquity forever, he would now do so. During the day the dusty streets and teasing boys, and at night the ever threatening Damocles - Jack the Ripper, - there was even the bravest patient to fit! When the unsavory gentleman actually came here nobody knows for sure, but that he is now here, all bakers, cooks, farmers and baker's journeymen hold it so firmly as a Gospel. How he came here, also remains a mystery, like everything connected with that mysterious person. Is he from one of the boats that have come over from New Zealand? He preferred to travel by balloon? Or that he being afraid of a small rumor, is swimming already across the North Sea? I do not know, but I do know that I was at the beginning of this week (now soothes it already is) in one bound up thither ten or twenty people could find, which were prepared on the spot to defuse that the aforesaid Jack is here in the flesh stopped long ago. He had the night after his arrival in the Double Area - fifteen minutes outside of Amsterdam, killed a girl. He had also written a letter to the Commissioner of Police that he had already chosen twenty victims in this City and the Commissioner was forced to view this as a warning which he publicly proclaimed unto the people. So what had been flying about in the Journal was really true! Since I do not control the readers of this popular body proper, I provided proof, but I think, knowing what meets me in the cockpit I have to be allowed to assume that the fork is shaped a little differently in the handle then I suggested . But for all the panic that prevails in popular circles, even more contagious than smallpox or scarlet fever, that honest damsels should not go out alone on the street for he attacks little deer at night for no gold, for fear of one of twenty of the death sentences to be carried out. Male escorts are therefore more in demand than ever to Amsterdam maids, and just now I heard from my wife that our housemaid has promised to remain a Vestal virgin and never to have sex, has suddenly begun seeing a loved one. Lord God, stay safe Madam, for that ugly sneak of a murderer, you might know! Say something against it now! Of course now all possible and impossible things could happen with the supposed arrival of the bloodthirsty Britishman. Just yesterday a dark cloth fabric was found tied to the wooden bridge across Amstel street. When dawn came, they saw there, because of telephone threads for this bridge a large black cloth flap, with a white painted skull and blood red color underneath with a W. and some other letters. When the police were shown this singular sight, the deliberate decoration was soon taken down, brought to the police station and put into the waste. It goes without saying that an immense crowd stood to see all this, and whoever knows Amsterdam and Amsterdammers to some degree, this can easily only be imagined. Less easy, however, one can then form a concept of the various solutions, which on this mysterious phenomenon, apparently the work of a prankster salt unemployed, based were made. Some suggested the philosophical objection, that it was a manifestation of the dole .... ran a kind of prophecy of doom, others felt that the spiritualists had a hand in this, especially since the black rag reminded them of the black arts, yet others were themselves convinced along this path and seemed to want to give evidence of their existence, but - the vast majority of spectators were unanimously of the opinion that it was left by none other than the English killer known as Jack the Ripper.
Source: Schager Courant, 4 November 1888, Page 1
Note: Could this have been the black flag that they brought down from the bridge?
[img]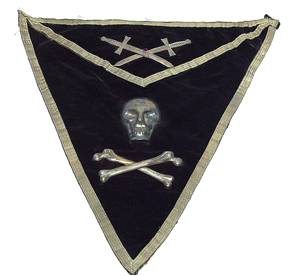 [/img]
Knights Templar Apron
Source: Minnesota Masonic Museum
[img]
[/img]
2 Sided Masonic Apron
Source: Freemasonry Watch

***************************************
Karen Trenouth
Author of: "Epiphany of the Whitechapel Murders"
Author of: "Jack the Ripper: The Satanic Team"
---
Permissions in this forum:
You
cannot
reply to topics in this forum