The Mystery of De Jong, Miss Juett, and Miss Schmitz
An Amsterdam despatch denies the truth of the report that recourse was to be had to hypnotism in order to wring a confession from De Jong. A newspaper published in Amsterdam has received a letter from Mrs. Johnson, of Liverpool, sister of Miss Juett, which throws an interesting light upon the character and life of the missing lady. According to Mrs. Johnson's letter, Miss Juett was born in Denbighshire in 1868, and the early years of her life were spent almost exlusively in the country. She is described as always being of a "jolly, good-hearted, and high-spirited disposition," and of irreproachable habits of life. During a long illness of her eldest sister, Miss Juett proved herself a devoted nurse, and her excellent qualities in this capacity stood her in good stead when pursuing her business as a professional nurse at the Middlesbrough Hospital. The doctors and matron of this establishment gave Miss Juett a first-rate character in writing, which De Jong afterwards sent to Mr. Juett. Another article he returned was a portrait of Miss Juett's dead mother, and this Mrs. Johnson is convinced that her sister would never have given up of her own free will, for she was in the habit of carrying it about with her. The London police have received a letter from a gentleman named Reddick which states that De Jong, and two ladies, supposed to be Miss Juett and Miss Schmitz, were travelling in the Lake District in August.
[img]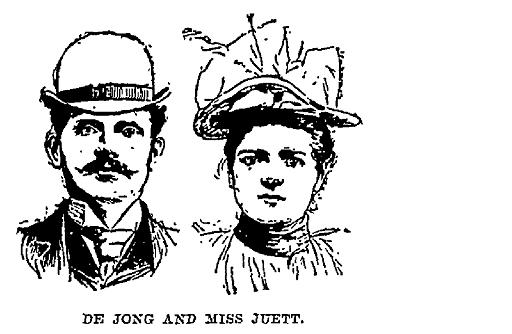 [/img]
Source: Penny Illustrated Paper
Note: This article reports that Miss Sarah Ann Juett was born in Denbighshire, however, I found her in the 1881 Census and it states that she was born in Derbyshire.
1881 census - household transcription
Person: JUETT, Sarah Ann
Address: Cross Roads, Bingley With Micklethwaite
--------------------------------------------------------------------------------
JUETT, Daniel Head Married M 40 1841 Miner (Railway Tunnel)(Labour)
Sussex, Sussex
JUETT, Sarah Ann Wife Married F 39 1842
Derbyshire
JUETT, Sarah Ann Daughter Single F 12 1869 Scholar
Derbyshire
--------------------------------------------------------------------------------
RG number:
RG11 Piece:
4344 Folio:
120 Page:
29
Registration District:
Keighley Sub District:
Bingley EnumerationDistrict:
Ecclesiastical Parish:
Civil Parish:
Bingley with Micklethwaite Municipal Borough:
Address:
Cross Roads, Bingley With Micklethwaite County:
Yorkshire (West riding)

***************************************
Karen Trenouth
Author of: "Epiphany of the Whitechapel Murders"
Author of: "Jack the Ripper: The Satanic Team"

Similar topics
---
Permissions in this forum:
You
cannot
reply to topics in this forum