I have found the following article which reports that M. Raikes gave a very violent speech against Mr. Gladstone in Bristol after Mary Kelly's death.
London, November 13
(Special Service).
The evidence on the crime of Spitalfields is contradictory. Nevertheless, the police claim to have the exact description of the murderer. The Times said it would be difficult to discover the murderer if the neighborhood's population does not contribute more to the work of the police. Mr. Raikes, Postmaster-General, delivered at Bristol a very violent speech against Mr. Gladstone.
Source: Journal De Geneve, November 14, 1888, Page 1
Here is a photo of Henry Cecil Raikes, her Majesty's Postmaster General:
[img]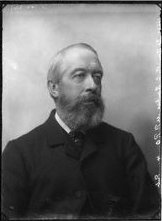 [/img]
Also I make available to you now the recorded voice of Mr. Raikes. This was recorded on the evening of October 5, 1888. It is one of the eight recordings that survived of this "Phonograph Soiree" held at Gouraud's home, "Little Menlo" in upper Norwood. The recording is listed as number 03 in the series.
http://cylindersontheweb.angelcities.com/rare_recordings.htm
(You will have to have the RealPlayer downloaded in order to hear the recording.)
Transcribed from the Edison National Historic Site by Ward Marston. Audio re-processing courtesy of Chris Long 2004.

***************************************
Karen Trenouth
Author of: "Epiphany of the Whitechapel Murders"
Author of: "Jack the Ripper: The Satanic Team"
---
Permissions in this forum:
You
cannot
reply to topics in this forum