Here is a photo of me at my table when I recently attended the 10th Annual Northern Book Fair in Kagawong.
[img]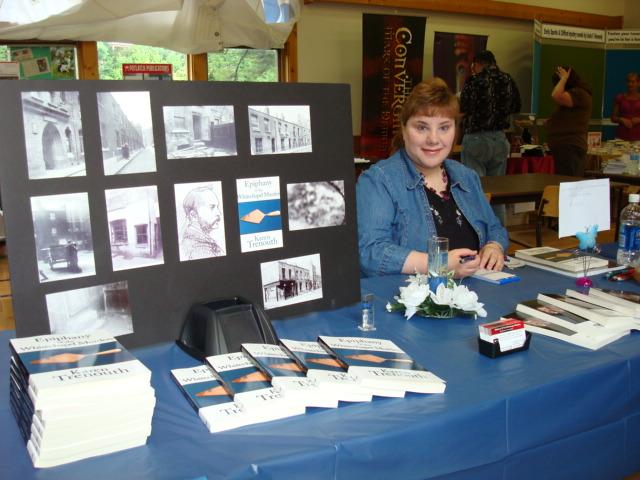 [/img]
Notice the enlarged, cropped photo of Baphomet from the Mary Jane Kelly crime scene photo.
Last summer, I attended the 10th Annual Northern Ontario Book Fair held from July 10-12, 2009. Details of the Book Fair can be found here:
http://sudburystar.com/ArticleDisplay.aspx?e=1638094&auth=MARGO%20LITTLE,%20FOR%20THE%20SUDBURY%20STAR
Literary invasion on Island
Posted By MARGO LITTLE, FOR THE SUDBURY STAR
Posted 3 days ago
July 10-12 -- the Kagawong Park Centre will be transformed into a gigantic bookstore with more than 70 writers represented in a diverse showcase of Northern Ontario literary talent.
Book lovers will have an opportunity to meet publishers and to hear poets, novelists, short story writers and essayists share readings from their works.
Sudbury-based Your Scrivener Press will be participating in the unique event sponsored by the Manitoulin Writers' Circle.
Publications by Manitoulin/ North Shore poet Charlie Smith and by former Expositor editor Diane Sims will be available for purchase. In addition, internationally renowned writer and broadcaster Bruce Meyer will launch his latest collection of poetry entitled Mesopotamia.
Other Your Scrivener authors include Colin Hayward, Roger Nash, Sean Costello, Richard DeMeulles, Peter McEwen, George Case and Monique Chenier.
Mystery writer Linda Kennedy, of Sudbury, is sure to be a big hit with her parrot companion at the book fair. Kennedy has penned a series featuring our feathered friends including Bird Watching, Love Birds and Birds of a Feather.
Karen Trenouth, also of Sudbury, will present her intriguing take on the Jack the Ripper tales in Epiphany of the Whitechapel Murders. Visitors can also pick up Mamma Mia! Good Italian Girls Talk Back, by Rosanna Battigelli of the Sudbury Writers' Guild.
Readers will identify with many of the antics and foibles of family life in Blair Sterling's collection of stories.
The Blind River author's memoirs are called Spittin', Scratchin' and Adjustin' and Other Stories of Family Fun. Espanola author George Bois also joins the lineup. Robert and Valerie Nielsen of Stoney Creek will travel to Manitoulin to share works published by Potlatch Publications.
Titles include Green Light, James Parsons and his Magnificent Month of Adventures, Athlete's Foot or How I Failed at Sports, Canadian Children's Annual, Never Leave Your Head Uncovered -- A Canadian Nurse in World War Two, One Man's War and a selection of Potlatch humour.
Also joining the festivities will be George Straatman, owner of Amberdias Publishing of Timmins. He will be marketing The Converging and Mark of the Demon. Parry Sound's Julie Boucher will bring her mystery Driftwood's Secret and a children's story entitled Small Fry on the Magnetawan. And Manhattan's Bonnie Kogos will offer a sneak preview of her upcoming book about Manitoulin and Manhattan.
Perhaps the prize for longest distance travelled to reach the Northern Book Fair should go to Gail Anderson-Dargatz. She has driven to Manitoulin with her family from Sorrento, B. C.
The internationally acclaimed author is best known for A Rhinestone Button published in 2002, A Recipe For Bees, which was a finalist for the Giller Prize, in 1998 and The Cure For Death By Lightning, a Giller finalist, in 1996.
Manitoulin will be well-represented at the book fair with Kenjgewin Teg Educational Institute, Vincente Belenson, Ted Smith, Ann Beam, Anong Beam, Marion Seabrook, Linda Willson, Buck Longhurst, Betty Eley, Merdick McFarlane, Dylon Whyte, Jack Whyte, Dave Lawson, Bill Caesar, Kate Thompson and Sheila McDermid.
The Northern Book Fair is one component of the 10th anniversary celebration of the Manitoulin Writers' Retreat in Kagawong. The fair runs Friday 6-9 p. m., Saturday 9 a. m.-9 p. m. and Sunday 10 a. m.-2 p. m.
Source: The Sudbury Star, Thursday July 2, 2009

***************************************
Karen Trenouth
Author of: "Epiphany of the Whitechapel Murders"
Author of: "Jack the Ripper: The Satanic Team"
Similar topics
---
Permissions in this forum:
You
cannot
reply to topics in this forum