POINTS ABOUT POLICEMEN.
Speaking of the Whitechapel murderer, a few nights ago, Detective Michael Powers, of the Eighth, said impressively: "Mark my words, sir, we have not yet heard the last of this ultra morbid misogynist, this demon incarnate, whose unholy delight it is to dye his hands in the blood of his foully murdered victims. He has a nature which Moloch might have envied, and in my opinion is not one to rest content with a paltry half dozen offerings. Before long his hellish hands will again find work to do. Soon will the death groan of another unfortunate punctuate the stillness of some Whitechapel purlieu, and next morning palsy stricken London will again cry, "Where are the police?" The police are not to blame, my boy; they are doing the best they can, but all their efforts are as nothing when pitted against the superhuman cunning of this combination of Nero and Mephistopheles. It may be that this is but a passing mania with which Jack the Ripper is possessed and which in time he may outgrow, but I hardly think so. He was born under a flat star, and such as he (there is not more than one in a century, thank goodness) have always turned out to be utterly and irretrievably bad."
Source: Brooklyn Eagle, December 9, 1888, Page 15
From the "Deliriums Realm" website @
http://www.deliriumsrealm.com/delirium/articleview.asp?Post=300
Moloch was the god of the Ammonites, portrayed as a bronze statue with a calf's head adorned with a royal crown and seated on a throne. His arms were extended to receive the child victims sacrificed to him. Milton wrote that Moloch was a frightening and terrible demon covered with mothers' tears and children's blood.
Rabbis claim that in the famous statue of Moloch, there were seven kinds of cabinets. The first was for flour, the second for turtle doves, the third for an ewe, the fourth for a ram, the fifth for a calf, the sixth for a beef, and the seventh for a child. It is because of this, Moloch is associated with Mithras and his seven mysterious gates with seven chambers. When a child was sacrificed to Moloch, a fire was lit inside the statue. The priests would then beat loudly on drums and other objects so that the cries would not be heard.
[img]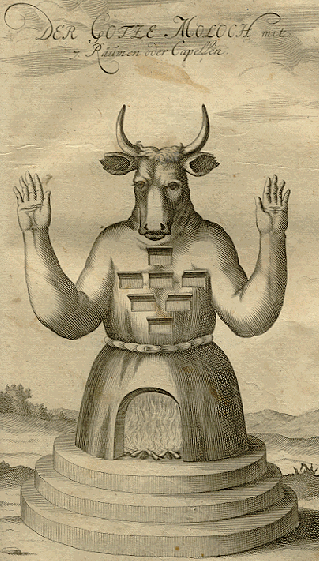 [/img]
Moloch, the bull-headed idol unto which the Israelites sacrificed their own children by placing them into the fiery furnace inside the idol's belly.

***************************************
Karen Trenouth
Author of: "Epiphany of the Whitechapel Murders"
Author of: "Jack the Ripper: The Satanic Team"
Similar topics
---
Permissions in this forum:
You
cannot
reply to topics in this forum