[img]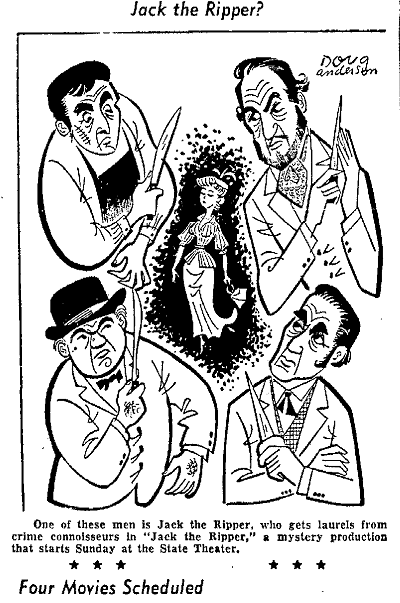 [/img]
Four Movies Scheduled.
Comedy, Mystery to Feature Local Theater Fare This Week.
Comedy, mystery and action are in evidence in all four movies scheduled for the two downtown theaters for the coming week, according to the management.
Held over at the Capitol Theater is "Toby Tyler," a Walt Disney production starring Kevin Corcorran, Gene Sheldon and a monkey known as Mr. Stubbs.
The story concerns a 10-year-old boy who runs away from home to join a circus.
Starting Wednesday at the Capitol Theater is "On the Beach," featuring Gregory Peck, Ava Gardner, Fred Astaire, Anthony Perkins, and Donna Anderson.
With a futuristic plot, the story contains a romance that takes place at a futile point in his history - when the world is about to perish from radiation fallout.
Opening today at the downtown State Theater here is "Jack the Ripper," a crime production, starring Lee Patterson, Betty McDowall, Eddie Byrne, and Ewen Solon.
The mystery thriller concerns one of the greatest puzzles in the annals of crime. And, the story comes up with a hair-raising solution, according to the Hollywood hucksters, even though Scotland Yard doesn't know to this day who the Ripper is.
The slayings of the Ripper were also known as the Whitechapel murders, in that all of them occurred in that area of East London. Whoever the criminal may have been, maniac or cold-blooded murderer, his victims were always women of what the newspapers called "the unfortunate class."
His primary weapon was the knife, to which he added a knowledge of anatomy and the use of the surgeon's scalpel.
On the same card is "The House of Intrigue," starring Curt Jurgens, Dawn Addams, Rene Deltgen, Philippe Hersent, and Dario Michaelis.
Stemming from a novel by H.J. Giskes, the production tells the stories of death-defying spies, their schemes to hasten victory, their travels, and grimly shows what happens to one if unfortunate enough to be caught at his work.
Saturday the State Theater will feature continues showings of 10 Walt Disney cartoons between 10:30 a.m. and 4 p.m.
[img]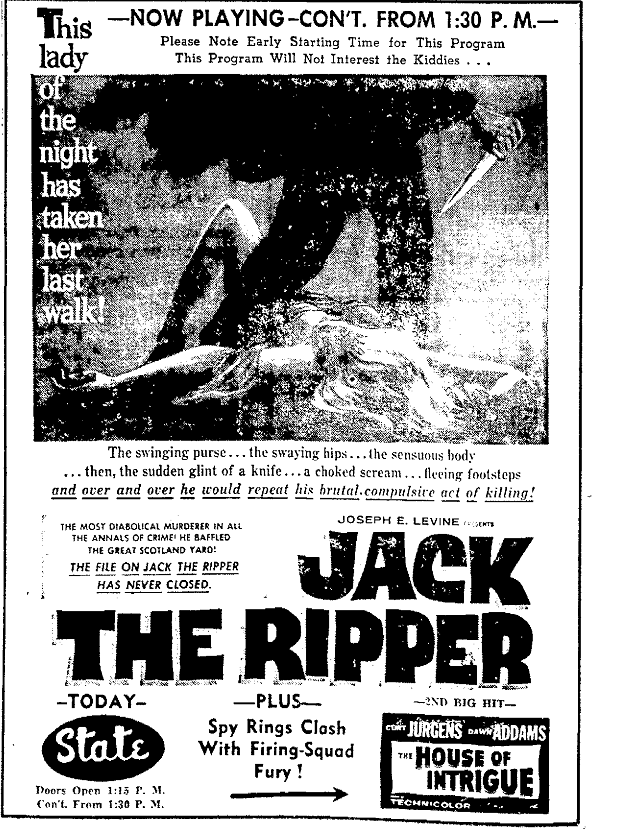 [/img]
Source: The Sunday News and Tribune, Jefferson City, Missouri, Sunday February 21, 1960, Page 4

***************************************
Karen Trenouth
Author of: "Epiphany of the Whitechapel Murders"
Author of: "Jack the Ripper: The Satanic Team"

Similar topics
---
Permissions in this forum:
You
cannot
reply to topics in this forum