WHITECHAPEL TOUR.
SIGHTS IN LONDON'S MOST SQUALID QUARTER.
Do Not Wear Silk Hats in This Part of Town - This Unique Warning Was Appended to a Personally Conducted Trip Through Darkest London.
[img]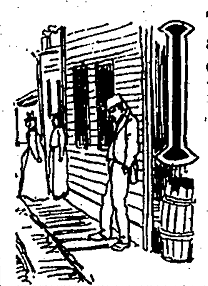 [/img]
It is an accepted axiom that the country cousin knows the sights of the metropolis far better than the true Londoner, writes a correspondent. No self-respecting provincial visitor would return to his or her native shire without having explored St. Paul's and the Tower, South Kensington Museum and Westminster Abbey, and very much more. But some few of us have learned to know London's underlife and the fascinating interest it possesses. My own experience has been chiefly acquired in the pursuit of knowledge as to the labors in which the poor of my own sex are mostly engaged; and if I have never ascended the Monument, and if there are corners of the British Museum which I have not yet explored, I have in compensation an inside acquaintance with dancing saloons in St. George's-in-the-East, with dust yards over the water, with many unsavory factories, and other things of whose existence, even, most people are unaware. Therefore it was that, when I saw an announcement on the part of the International Information Agency, Trafalgar buildings, to send "personally conducted" parties of colonial and
[img]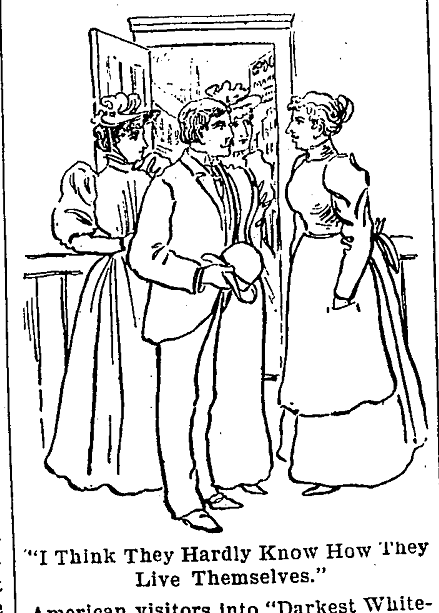 [/img]
American visitors into "Darkest Whitechapel," promising them revelations, which, once seen, would never be forgotten, I wondered whether there were still sights that I knew not, and again I wanted to know what might be shown to visitors from over seas as fairly representative of the life and surroundings of our poorer working population.
It was not difficult to arrange to join a party. A warning slip of paper sent with the notification that the explorers would start from Charing Cross at 7:30 charged gentlemen not to wear tall hats, but otherwise the preliminary instructions had nothing to note. At the office we duly met, and to my delight I found the party consisted of three charmingly typical Americans - two ladies and a gentleman - who had done the grand tour, been received in audience by the Pope, had visited everything in Paris from Versailles to the cafes chantants, had been to see Windsor Castle and Stratford-on-Avon, and who were positively thirsting for sensations and historical information. We went be train to Aldgate, travelling third class, as a preparation, no doubt, for the squalor we were to witness later. So far the American co-explorers had been inclined to think that the East End was much less black than it had been painted, and that the Bowery of New York or the slums of Chicago had far more squalid wretchedness to show. Spitalfields, however, rather led them to change this view, and, indeed, Flower and Dean streets, Fashion and Dorset streets - names of such different suggestion - reveal sights of poverty, dirt and rags that it is hard to view unmoved.
Tiny boys and girls, their shoeless little feet in the gutter, gnawing a dry crust; drink-sodden old women reeling along between others not much less intoxicated than themselves; knots of shabby, broken-down men around the public-house doors were scenes we noted, not once only, or even twice, and sadly one thought how many there are still unreached by all that is being so nobly done. And yet, as it struck our transatlantic visitors, some influence must be at work, for in all the hours we were thus wandering around there was no rude word or remark passed upon us, which some ten or twelve years ago would assuredly not have been the case; and though comment might have been harmless, it would have been rough and outspoken.
In the course of this stage of our perambulations we were on our way to what was certainly one of the great sights of the tour. This was the actual room in which the only one of the Whitechapel murders committed indoors - that of the miserable Jane Kelly - was done. It is situated in one of the most wretched of the courts, abutting on Dorset street, up a little passage way so low that a tall person must stoop to go through it. At the present time it is occupied by a very poor old woman, who works at flock pulling for cheap mattresses.
The next phase into which our investigations resolved themselves was that of inspecting the common lodging houses. On a night so hot and heavy as this was, none were inside them, save those at their suppers, who could possibly remain on the doorsteps or the pavement. A somewhat superior one was this, though only of the cheapest class, for has it not, in addition to the general kitchen, with its huge glowing fire, a "library" in the basement, in which several morning and evening papers were taken, and a row of shelves with some well-thumbed volumes upon them?
Our next visit was to one whose interior arrangements were entirely filled by double-bedded cubicles at eight pence a night, for even poor married folks are sometimes "down on their luck," as well as those who fill the houses devoted either to men or women, and of the latter there are two or three hard by. There is always something even more sad and pitiful in these last resorts of homeless and friendless womanhood than in those of men, and some of the poor creatures in the hot kitchen seemed to have touched the lowest depths of despair and poverty.
The mistress was a buxom, kindly body, with whom her lodgers appeared on perfectly friendly terms. Many sold flowers, others worked at some of the poorest paid trades, or occasionally did a little charring and of a few, as she said, "I think they hardly know how they live themselves." And among them, commanding the respect that comparative wealth gives, was a woman, the wife of a man moving and esteemed in business circles, and regularly allowed and paid 30s. a week. She had been an inmate for several years, paying her half crown weekly with unfailing punctuality, and what may be her life's romance, which sent her into the oblivion of a Spitalfield's "doss-house," is probably untold there. There is more than a trace, however, now upon her face of drinking habits.
But there is not much more now for us to see. We go down the rather infamous Pearl street, where vice and white aprons have a significance in common. We pass the Cowshed, known to the initiated as the place where the cheapest beer and spirits are to be obtained in the whole metropolis, and again we are reminded of another murder, historic in Scotland Yard's annals, by having the respectable-looking oilman's shop pointed out to us as the house on which Wainwright did Harriet Lane to death, as we come out into the Whitechapel road in front of the London Hospital, whose softly lighted windows tell of gentleness and skill and healing for the poorest of the poor.

***************************************
Karen Trenouth
Author of: "Epiphany of the Whitechapel Murders"
Author of: "Jack the Ripper: The Satanic Team"
CALLS IN WHITECHAPEL.
AFTERNOON VISITS AMONG WOMEN OF A LONDON SLUM.

Working for Sixpence a Day and Living on Bread and Tea, With an Occasional Taste of a Winkle - Choice Between Prostitution and a Coffin.

LONDON, November 25. - [Special Correspondence.] - "W-i-nkles!"
Heads were thrust out of half a dozen windows and grimy doorways.
"W-i-nkles!"
The shrill sound echoed through the dusky alley and was tossed back and forth from one hall of blackish stone tenements to the other, almost meeting it overhead.
"W-i-nkles!"
"Lor! It almost give me a turn. Only Polly Lupkins a callin' of Moll and Jem."
The heads disappeared and the alley was quiet save for the bare feet of Molly pattering toward the outstretched tin platter from the left and Jem, who had his eyes fixed on the utensil, from the right.
Molly was a low-necked, short-sleeved, white, pinched child, with a shock of light brown hair falling over a dirty face and obscuring large, pretty blue eyes. Jem was a smaller and masculine issue of the same edition.
"It's goin' on a fortnight sence they've 'ad winkles to their dinner. See 'em run!" said the mother, waiting their approach.
"You see, I 'ad an uncommon large bundle o' h'army shirts from the Pimlico stores this week, and I told the chilen, sez I, "Ef I get 'em done fer you to take back this afternoon you shall 'ave a penn'orth o' winkles for yer dinner afore startin". Now then, you Moll an' Jem, look alive and see't they give you fresh ones."
Moll and Jem darted off to the winkle stand around the corner, and Moll and Jem's mother led the way through a dingy passage to a low, square dingy room, where the midday meal was already spread, at least so far as the setting out of a loaf of bread, a bowl of dripping and a knife and spoon for the distribution of those edibles constituted spreading.
The first of the series of Whitechapel horrors was discovered on the morning of August 31. I had planned for the 1st of September a round of afternoon calls, but the great, black-lettered bulletins trodden under foot where the newsboys had spread them on the pavements at every street corner decided me to make my visits in the Bowery of London.
In the endless succession of dingy streets and dark, narrow lanes, in the squalid houses that wall in the blind alleys and dismal courts of the Whitechapel district, in the more pretentious blocks that front upon its main artery, the broad busy Whitechapel road, ablaze with gin palaces and the paradise of cheap shops, there live more than

HALF A MILLION PEOPLE,

and, according to London estimates, from 10 to 12 per cent of the girls or women are, or at some time in their lives have been, harlots. How there comes to be such a colony of prostitutes, such a glut of female degradation, such a swarming population of abandoned women for Jack the Ripper to wreak his vengeance on in the very heart of the city was the point which I hoped my afternoon calls might clear up for me.
It was at the end of Buck's Row, an eighth of a mile maybe from the spot where poor Polly Nichols had been found disemboweled the day before, that I had opportunity dropped one or two half pence from my change purse just abreast of Mrs. Lupkins calling for Jem and Molly to go for their winkles, and in course of the search for the coins had made her acquaintance.
"Deed an' I'm ashamed," said she, "as any lady wa'at knows wa'at decent things is should find me 'ere, for times ain't allers been this bad with me." And she glanced around at the moldy wall paper hanging in patches, the ragged pitfalls for the feet which constituted all that was left of the carpet, the baby lying asleep in a heap of soiled bedclothes on the floor, the chair or two which made up the furniture.
Mrs. Lupkins herself was a woman of 26 or 27, with the same tumbled brown hair and large pathetic blue eyes which were the prominent features of the children. Two or three years earlier she must have been an attractive figure, but now her front teeth were gone, as well as most of the buttons of her dress, and it seemed that a very gentle push would shove her over the brink of the pit of hagdom.
"I've 'ad to put all my things away," she said in explanation of the scantiness of the furnishings. By putting away the London poor always mean pawning.
"My 'usband died last winter. 'E was a soldier, and I've been to India with 'im an' pretty near round the world. 'E was consumptive an' 'ad to leave the service, an' for two years 'e was janitor to a 'abitation of the Primrose league. Then 'e died wi' fo' shillin's in 'is pocket and me gone six months with Nelly there. The ladies of the league they sent me 3 pounds to last over the confinement, but said as 'ow I was never to ask them for a penny more. It was good savin's till I got so's I could do summut again, and t'aint so much better now. They 'ad to give me work at the gov'ment stores, because I

WAS A SOLDIER'S WIDOW,

and they can't refuse. They give out army and navy shirts at Pimlico, but the pay is only thrippence apiece an' ef you ain't got a sewin' machine it ain't many in a day you can do. Weeks w'en I 'ave all I can make I earn maybe 6 shillin's, but there's lots after the work and oftener'n not it won't go round. Bad weeks I don't 'ave 4 shillin's 'orth, and once in a while none at all. Now, then Jem an' Moll, did ye eat them winkles on the way?"
Jem and Molly produced the platter of mollusks, and a slice of bread thickly spread with dripping, was cut for each with two winkles each to persuade the unattractive meal.
"You can't think what a comfort winkles is, winkles an' bloaters. We ain't 'ad a bit o' meat sence winter and summut snacky you can buy for a penny's a treat now an' then."
Mrs. Lupkins rent was three shillings a week for a very dirty room, and I asked her how she managed to feed herself and three children on from 1 to 3 shillings, that is, from 25 to 75 cents more.
"I don't know as 'ow we do live, myself. Many's the week we've eat naught but a thripenny loaf of bread a day. Whiles we 'ave a sup o' tea to hearten us in the mornin'. Whiles we 'ave butter, not such butter as you'd buy, though I can get a quarter of a pound that's lovely at the store just across there for tuppence. I never dreamed of payin' more'n 10 pence a pound for butter in the days we'en my 'usband was alive." A shilling a pound, by the way, is the lowest price for the better grades of oleomargarine in London. "Sundays we 'ave a bloater for our dinner. We never 'ave meat."
Remembering the compulsory school law, I asked how it happened that the children were at home. Bare feet and inability to pay the school fees were the reasons. Moll and Jem had had no shoes in two years, but those the school board had presented at Christmas, and Mrs. Lupkins was even then under summons to appear before a police magistrate to answer for non-payment of fees.
The Solomon before whom she was taken - so I learned at a later day - fined her 5 shillings, with an alternative of a fortnight's imprisonment, for failing, out of an income of 4 to 6 shillings, to pay 6 pence a week for two children's school fees, at the same time recommending to the school trustees of the district the future remission of the tax on the ground that the woman was manifestly unable to pay.
Moll, suddenly made frisky by the winkles played in and out of the room and the narrow passageway, occasionally tumbling with some emphasis against a door opposite their own. Finally the rickety barrier burst open, and a curious noise to which I had been listening received its explanation - the next room was occupied by a woman who was turning a mangle.
"Such young 'uns!" she ejaculated, making ready to eject the intruders. Making much of the fact that a mangle was to me an unknown instrument of music, I begged to be

ALLOWED AN INSPECTION.

While the heavy press was grinding out course underwear I studied the second specimen of the Whitechapel women. She was a widow, like my first acquaintance, older, neater, thin, probably consumptive.
"Bean talkin' to Mrs. Lupkins, ain't ye?" she panted, turning the groaning handle round and round. "Ever see' er before? No? Then you can't think 'ow she's changed. When she came 'ere last winter she was the decentest 'ooman in Buck's row. She kep' 'erself nice an' tidy, an' them children was slick as pins. But she's got discouraged an' fell into low company, an' nex' time she's out o' work, she'll go on the street. I've seen fifty women go that way, and I know the signs. It's 'er turn next, trust me."
To go on the street means in Buck's row to starve on the casual hire of prostitution instead of starving on the hire of government shirts.
The woman with the mangle had three children also, and the four occupied one room. She had supported herself for three or four years by washing and mangling at 9 pence per dozen pieces. She paid 4 shillings a week for rent of a room a little larger than Mrs. Lupkins', and was able to earn about 7 shillings a week in summer and 9 shillings a week when times were good in winter.
She had been doing, she considered, very well, but the work was too hard for her, and she was obliged to have in a boy once or twice a week to turn the mangle while she fed it, paying for his services a penny an hour. A charity doctor had warned her that she was straining her chest and that if she wanted to live she must give up the work, but there was absolutely nothing else she could do to maintain her children, and I shrewdly suspected, apropos of her comment on Mrs. Lupkins, that in spite of her tidy room and efforts at respectability she was weighing the choice between mangling herself into a coffin and going on the street.
It was during a pause between the tunes of the mangle that an outcry began overhead. There were oaths and the sound of heavy feet, a shriek and the thud of a fall.
"That's Steve Marriott," remarked the mangle-turner. "Like enough 'e's in 'is cups and 'as taken a strap to 'is wife."
A moment later somebody staggered down the stairs and out of the door. Mrs. Lupkins put her head into the room.
"I ain't 'eard 'er get up," she said; "maybe 'e's done for 'er this time."
The two women looked up and down the alley to make sure that the redoubtable Steve was not returning, and then climbed the stairs. I followed, hesitating and more than a little afraid, at their heels. There was a woman on the floor, struck down by a chair, stunned but not seriously injured. A little water and the assurance that the drunken brute had departed soon brought her to her feet again.
"'E 'adn't been 'ome in three nights," she told us. "'E was crazed with drink and 'it me because I 'adn't any money." "'E's got no work, and it's little enough I can earn. 'E never lifted a finger to me when 'e earned good wages."
With brown paper plastered over a swelling bump on her forehead she was already at work again. A comely enough woman of 30 or thereabouts, she was wearing her eyes out in the dim light of Buck's row, making the little elastic tapes which are put around umbrellas. This is a very common

SPECIES OF HOME INDUSTRY

in London, the work being given out to seamstresses by all the large umbrella factories. Each tape had a button at one end and had a ring and a short elastic tab sewn on at the other. The price for the labor is thrippence a gross invariably, and this Whitechapel prisoner of poverty was able, she told me, to complete on an average the 144 in four hours.
"When I take my meals decent and do up my room tidy," she explained, "I get about twelve hours a day to work, and then I have 9 pence for my pains. Some days I work sixteen hours, and then, of course, it's a shillin'. I don't often make over 5 shillings a week, and sometimes, when my eyes is bad, not over 3."
I experimented with the tapes for the half hour I chatted and found myself able to make them at the rate of twenty-five an hour, or 8 pence a day. Like Mrs. Lupkins the tape maker was living on bread and tea, was behind with her rent and had pawned nearly everything she owned.
Tales of this sort become monotonous too often repeated. In course of that afternoon and the next I visited in and about the Whitechapel district, which Baedecker calls a "region of sugar refineries and artisans," two or three families of fur-pullers, where women were sitting in barn-like rooms scraping the skins of rabbits, with the fluff in their noses, hair and mouths, choked and half blinded. One shilling was the price paid for five dozen rabbit skins, and the Brompton hospital for consumptives is full of the fur-pulling Whitechaplers when they are past working.
I saw women employed by umbrella manufacturers to knit the tops of tassels at 4 shillings 6 pence per gross, and the work was so fine that the gross kept them busy a week. I visited other women making brushes at the rate of a penny per 100 holes filled with fibers of hair. I found one woman making sacks for the navy. She was paid by the government 4 shillings for ten large sacks, each of which had eight holes in it, four splices and two patches. Each must be

SEWN, ROPED AND MARKED

with a broad arrow. There were women making neckties at 2 shillings a gross, and girls who were paid 2-1/2 pence per gross for making the covers and trays of match boxes. I saw women making babies' boots and earning about 2 pence an hour, women making paper bags, purses, life belts, baskets, tobacco pouches, and twenty other things which are done at home. Every day the pay for some home business grows less, for many men who are now out of work take to these occupations and undersell the women who a few years ago controlled the home industry market. Whitechapel women sell themselves because they have nothing else left to sell.
The apprenticeship system of England tells heavily against the squalid children of Whitechapel streets. "What will become of the swarms of urchins lurking in every passage?" I asked an intelligent woman who knows Whitechapel streets as other women know Belgravia. "These women can't apprentice their girls to milliners or dressmakers or other tradespeople, because they can't raise the 25 pounds or 30 pounds premium. They have not the faintest chance of learning any business that will yield living wages."
"They will grow up as street Arabs," she said, "marry very young and without 10 shillings ahead. By and by work will fail and they will be driven to the streets for bread and lodging, if indeed their mothers did not sell them before they were grown."
Whitechapel is an awful fact, for many of its women practically choose between semi-starvation and harlotry.

ELIZA PUTNAM HEATCH.
Copyright, 1888

Source: The Galveston Daily News, Sunday November 25, 1888, Page 3

***************************************
Karen Trenouth
Author of: "Epiphany of the Whitechapel Murders"
Author of: "Jack the Ripper: The Satanic Team"
---
Permissions in this forum:
You
cannot
reply to topics in this forum