Constable's memento of Jack the Ripper is his knife.
By FREDERICK B. OPPER.
Copley News Service.

LONDON - Police Constable Donald Rumbelow is in charge of the museum in the Wood Street police station in the heart of London that contains mementos of Jack the Ripper, and he takes loving care of the grisly exhibits concerned with perhaps the best-known yet uncaught mass murderer in all history.
Still and all, he takes even more loving care of a memento of the famous case that he himself has, the knife with which, he is firmly convinced, Jack the Ripper killed and minced five prostitutes in the slums of East London in 1888.
Rumbelow describes it as a long, thin blade with a black handle, having a thumb-grip on the blade itself, designed, he says with chilling ghoulishness, "for cutting open." It is a late 19th Century post-mortem knife, he has been told by a Scotland Yard expert.

If this is indeed the murder weapon, it certainly did its work well, slitting the throats of the five unfortunate women and then mutilating them in a series of bloodbaths that turned Victorian London upside down.
Rumbelow says he believes the knife, that he guards at his home as though it were the crown jewels, was given by Sir Melville Macnaghton, onetime head of Scotland Yard's Criminal Investigation Department, to a leading forensics expert at the yard, who, in turn, gave it to a friend, who, in her turn, presented it to Rumbelow.
As it passed through the previous hands it was variously used as a carving knife for the family's Sunday roast and then as a gardening tool. When Rumbelow got it the blade was broken and notched from an unsuccessful attempt to chop down a hedge.

It is bright and shining now, though, and is the main attraction in the Rumbelow home.
The identity of Jack the Ripper has long fascinated students of crime, and the candidates for the dubious honor have included famous murders allegedly about to confess as the trap was sprung on them for other crimes - eccentric doctors, wealthy toffs from the aristocratic West End struck by moon madness, a Polish shoemaker and a fellow countryman who was a barber, a Portuguese seaman, an American sailor, a czarist secret agent, and even, it was strongly suggested a few years ago, a member of the royal family in direct succession to the British throne.
Sir Arthur Conan Doyle, then giving birth to his famous fictional detective, Sherlock Holmes, suggested a Jill the Ripper, or at least a Jack making his escape in women's clothes.
Other well-known public figures had a say, too, George Bernard Shaw favoring a man out to reform the terrible conditions of the East End. Queen Victoria contented herself with bombarding her prime minister and home secretary with complaints over their failure to solve the crimes and demanding better street lighting and an overhaul of the police force.

Rumbelow, however, favors a theory advanced a few years ago by an American journalist, Tom A. Cullen, who figured a 31-year-old lawyer-turned-tutor named Montague J. Druitt as Jack the Ripper.
Cullen's exhaustive research came down heavily in favor of Druitt, an Oxford University graduate of upper middle-class origins, as being the murderer who, after his fifth and by far bloodiest knife-wielding, filled his pockets with stones and threw himself into the Thames in an agony of remorse and insanity.
Rumbelow, a close student of the whole affair, says, "I've looked at the Yard papers and I agree with the theory that the Ripper was Montague J. Druitt, the barrister.

"All the evidence I've ever come across points to Druitt as being the Ripper. There's nothing in the Yard files to disprove this."
On the other hand, there's no positive evidence to prove it either, for, as Rumbelow says, "The evidence has been destroyed."
It was apparently destroyed by Sir Melville, although his personal notes make it clear that he, too, strongly felt that Druitt was the man. Both Cullen and Rumbelow see it as significant that within a few weeks of Druitt's death, the Yard closed the case and has never since seen any reason to reopen it.
No further murders were ever pinned to the Ripper after Druitt died as a "suicide whilst of unsound mind," as a coroner's jury found. And no further advance warning letters came from the man who had given himself his famous nickname in just such a note.
Today the haunts of Jack the Ripper are only a ghost of what they were in the fear-drenched days of more than 80 years ago, when the August-November weekends from midnight to dawn found the Ripper at his bloody work with a careless bravado that made it almost seem he hoped to be caught.
Within recent years, Mitre Square, where Catherine Eddowes died, has changed beyond recognition, and so has Dorset Street where Mary Jane Kelly met her end, and where a parking lot now covers the scene of that bloodiest of all the Ripper murders.

A brewery now stands at 29 Hanbury Street where Annie Chapman breathed her last, and across the street is a dressmaker and a gambling emporium. Mary Ann Nicholls and Elizabeth Stride similarly died in stews now marginally improved.
The area, less than a square mile, contains sections of London known as Whitechapel and Spitalfields, the latter the home of the metropolis' great vegetable market. The streets are consequently full of broken crates, decrepit horse-drawn carts, odds and ends of decaying vegetables, and foul-mouthed porters in greasy aprons.
With eyes half-closed, one can perhaps imagine a chief suspect of the time, "Leather Apron," sneaking along the mud-smeared streets. But then one sees the parking meters, the electric lights, the blocks of apartment houses, and the miasma of the days when Jack the Ripper was abroad in the land disappears.

Rumbelow may think he knows who did it, but people still write today from the four corners of the world advancing theories and asking for information about Jack the Ripper. He is without doubt, one of the world's most celebrated criminals.
And what keeps his crimes alive, is that, as Sir Melville admits in his memoirs and despite his own personal views, and the dozens of theories advanced by others, "The truth will never be known."

Source: The Daily Review, Wednesday January 12, 1972, Section B

***************************************
Karen Trenouth
Author of: "Epiphany of the Whitechapel Murders"
Author of: "Jack the Ripper: The Satanic Team"
[img]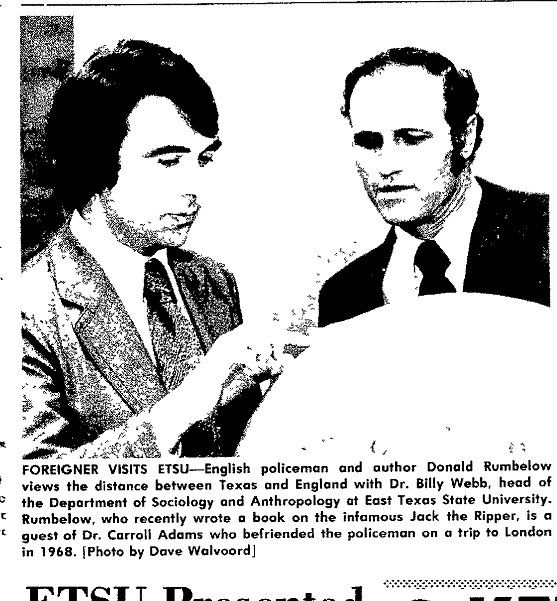 [/img]
As Forum Arts Speaker.
London "Bobby" Visits ET.
By Ray Perez.
His hazel eyes gleam when he speaks. And his smooth handsome face reflects an articulate and charming personality.
Donald Rumbelow, London policeman and noted author, has found friends and a pleasant atmosphere in Commerce and East Texas State University the past several days.
He has enjoyed his first trip to America.
"The people here are most friendly," he says. "I have thoroughly enjoyed the trip."
Rumbelow, a guest of Dr. Carroll Adams, whom he met in London in 1968, has spoken to a sociology and anthropology group, a political science group, the Commerce Rotary Club and others.
Monday morning he was the featured speaker in the Forum Arts series.
Also he has drifted through the campus and the city, observing the American way of life.
A walking patrolman, or "bobby," in the London police force, Rumbelow has created quite a stir with his writing.
His latest book, "The Complete Jack the Ripper," has sold out in England and has recently been released in this country.
Jack the Ripper killed five women in 1888 in the inner city of London. It was a decade of cruelty and poverty in that particular section of the city.
In his book, Rumbelow has sought to put the infamous Jack the Ripper into perspective.
During the nine-month research for the book, Rumbelow established that, though the victims were slashed with a knife, they had actually been strangled to death.
The London policeman has delved into several theories that could describe the real Jack the Ripper.
"He could have been anyone," asserts the author. "He could have been a doctor, policeman. Just about anyone."
Despite the notoriety his current book has brought him, Rumbelow still spends a great deal of time conversing about the policemen's role in English society.
It is during these conversations the 35-year-old Rumbelow seems the most comfortable.
"Policemen in England do not carry firearms," he says. "And most of them do not want to carry firearms."
The only time a policeman is issued a gun in when he is to go on a raid, and there is a possibility of encountering a gunman."
Obviously that is what separates the law enforcement officer in England from the one in America.
In England's case, the philosophy of minimum force appears to work.
"Only two to four policemen are killed in England a year," he notes.
In the country, only 600 murders were committed last year, and 150 of those were related to firearms, according to Rumbelow.
"We solve about 90 per cent of the murders committed."
Though Rumbelow sees apparent differences in law enforcement in the two countries, he says he has no opinion on the American law enforcement philosophy.
"But," he adds, "I can certainly understand why you use guns in this country."
"England is a country where people live close together, and a walking patrolman can cover his area very easily.
"Here, people live further away from each other, and for the most part, I suppose cars are needed to get around."
American policemen cannot get to know their community as well as their English counterparts. Rumbelow says that guns are perhaps needed in this country because of that.
Another reason is the police force in England is close-knit.
Rumbelow says 90,000 policemen are employed in England, but the channels of communication between the 48 police departments in the country are very strong.
"For all practical purposes," he asserts, "we have a national police force."
Rumbelow, who was born in Cambridge and went to London 12 years ago to become a policeman, says his profession is one of the most respected by citizens.
But dedication plays a big part in being a policeman for the city of London.
A newcomer to the police force earns about $5,000 a year in England, and veterans like Rumbelow earns only about $6,500 per year. These figures are even more startling, considering the staggering inflation England is presently under.
"Also," he says, "policemen form the only body in the country that cannot strike."
For the most part, policemen's wives must work too.
Rumbelow's wife, Polly, has returned to work after rearing their two children, Laurence and Sally.
Though a prolific writer, Rumbelow did not acquire enough education to warrant his becoming a writer.
He left school at 17, and never enrolled in college. His writing actually began in 1966, when the policeman found himself, rather embarrassingly, sitting on the floor of a theater.
When a walking patrolman works the night shift, he must see that all doors to all establishments are secured.
Late one night, half dreaming, Rumbelow went about his duties of "bouncing of the doors."
"It's a practice," he points out, "where the policeman simply bounces himself off the door."
This particular night, Rumbelow pushed against the door, and feeling sure it was locked he would bounce off.
To his surprise, instead he found himself going through the door and landing quite frankly "on the seat of his pants."
"I became friends with the man and woman who ran the theater, and I occasionally dropped in for coffee," he relates.
"One night they asked me to write a play for them.
They asked me to have it finished in three months. I did."
After that, Rumbelow wrote several articles and a documentary for BBC.
Then he turned to writing books.
In "I Spy Blue," Rumbelow wrote a history of crime and the police force in London from Tudor and Restoration times forward.
In the "Siege of Sidney Street," another famous crime episode in English history along with Jack the Ripper, Rumbelow solved three murders that had baffled Scotland Yard since 1911.
Now Rumbelow is at the crossroads in his writing career.
Having made a name in the non-fiction world, he is writing a novel.
"It's a thriller, and part of it has been delivered to the publisher," he says.
To devote time to his writing, Rumbelow has, by choice, remained a walking patrolman.
All policemen in England walk the first two years they are employed.
But by staying on the walking beat for 12 years, Rumbelow has not needed to sacrifice his writing.
"If I wanted to move up on the force, I would almost certainly have to give up writing."
Financially, Rumbelow has not made it big yet, though, he does "get a little jam" from his writing.
Of course, England is putting a tight squeeze on people earning comfortable incomes. The tax bite in that country is phenomenal.
Jokingly, Rumbelow says if he makes a big score money-wise, he would gladly leave the country for "tax reasons."
Source: The Commerce Journal, Thursday September 25, 1975, Page B4

***************************************
Karen Trenouth
Author of: "Epiphany of the Whitechapel Murders"
Author of: "Jack the Ripper: The Satanic Team"
---
Permissions in this forum:
You
cannot
reply to topics in this forum