[img]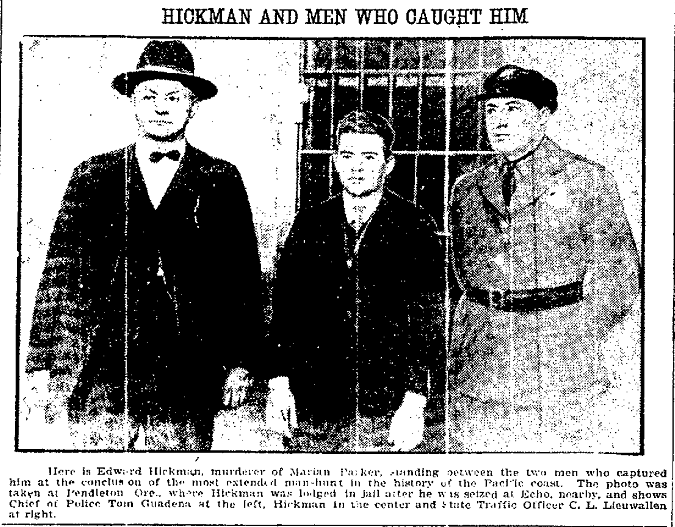 [/img]
GUARDING HICKMAN FROM VIOLENCE ON HIS RETURN SOUTH.
California Officers Bringing Back Prisoner Keep Rout Secret.
REGAINS COMPOSURE.
Captive Apparently is Resigned to Fate.
SUICIDE TRIED TWICE.
Two Attempts Made in His Cell at Pendleton.
ABOARD CASCADE LIMITED,
SALEM, Ore., Dec. 26. - Apparently resigned to his fate, William Edward Hickman sped southward today in a heavily guarded pullman toward Los Angeles where he will face an ever-tightening chain of evidence by which the state expects to prove him guilty of the kidnapping and murder of little Marian Parker.
In view of the possibility of encountering violence in California, some secrecy was attached to the routing of the pullman. At Portland it was hooked to the Cascade limited of the Southern Pacific lines, which was due at Oakland at 9 p.m. today.
Fear Suicide Attempt.
The official party, which included District Attorney Asa Keyes and Chief of Police James E. Davis of Los Angeles and a small army of newspapermen, kept a close watch on the prisoner to forestall any more attempts he might make at suicide. He tried twice to take his own life Saturday night in jail at Pendleton, where he was held after his capture near there last Thursday.
Whether Hickman will be picked up by airplane and rushed into the southern city remained an official secret. An airplane which took one of the Los Angeles officer north last week was understood to be at Corning, Cal., which the train will reach about 4 p.m. The limited ordinarily does not stop at Corning.
The accused youth had recovered some of his poise, which left him Saturday night as the officers from Los Angeles entered his cell and took their first look at him.
Hickman's two attempts at suicide were made before being taken to the train at Pendleton. The first was an effort to choke himself to death with a handkerchief. His guards thwarted this and revived him with a glass of water. Shortly thereafter he climbed to a top bunk in his cell and plunged head first at the concrete floor. The watchful guards caught him.
Believed "Faking."
Saturday night while Hickman was laying in an apparent daze, the officers turned into his cell a group of several Indians who had been arrested for celebrating Christmas with Liquor. This was done in an attempt to learn whether he was "faking" his condition. When the officers observed that his eyes were following the movements of the Indians as they squabbled noisily, they decided his mind had not been affected.
There has been no attempt at violence among the crowds which have gathered to meet the train at various points. At Arlington, Ore., someone threw a rock through a pullman window, but this was thought to have been the work of a crank.
Chief of Detectives Herman Cline and two police inspectors were closeted with Hickman during the first part of the journey.
FLESH IN DRAIN PIPE.
LOS ANGELES, Dec. 26. - Los Angeles detectives continued today to add to the fabric of evidence they have woven to show how Marian Parker was murdered.
As they awaited the arrival of William Edward Hickman, accused youth, from Oregon, police extended their search for "the woman in the case." This move developed after the discovery Saturday night of a woman's finger prints on dishes in the apartment Hickman occupied here.
Further substantiation of the police theory that Marian was killed and cut to pieces in Hickman's apartment was found when the drain pipe of the kitchen sink revealed two pieces of flesh, which the police believe to be that of a human being. They also found more blood stains. A microscopic examination of Hickman's lair is being made.
The fact that Hickman named one Andrew Cramer as the murderer of Marian Parker and the fact that the girl's body was mutilated and dismembered, were connected and given significance today by Milton Carlson, handwriting expert criminologist.
Carlson pointed out that the youthful kidnapper of the slain girl admitted familiarity with the details of the life of Jesse James and the Loeb-Leopold case. He suggested possibly Hickman also had read of the Whitechapel murders in London in 1888. Several women were murdered and mutilated, and the suspected murderer, a young student of surgery, although never caught, was found dead in the Thames river. His name was Andrew Kramer.
The criminologist declared it a trait of the criminal mind to unhesitatingly use an incident or name out of a case or report of which he had read much. Carlson also referred to Hickman's spelling of the name "Cramer" at first then later admitting it might have been spelled with the "K" as in the Whitechapel cases.
Source: The Charleston Daily Mail, Monday Evening, December 26, 1927