[img]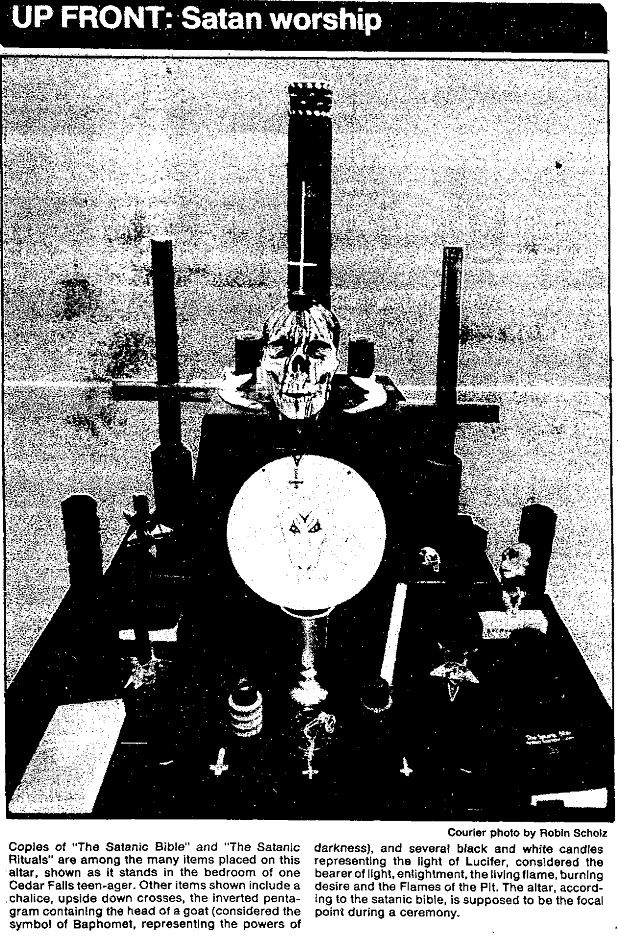 [/img]
Teen-agers' satanism interest concerns Cedar Falls officials.
By ANN HEISE KULT
Courier Staff Writer
CEDAR FALLS - A quick glance around his bedroom might leave the impression that he's just another teenager.
The walls, are, after all, plastered with posters portraying rock groups like KISS, AC/DC and Ozzy Osbourne.
But a closer look reveals that his room also is adorned with upside-down crosses and a haunting skull or two. A black altar sporting various satanic artifacts stands against one wall.
This particular metro area high-school sophomore claims he and some of his friends worship Satan. He has, he says, practiced satanic worship for about four years. He says he believes in the satanic rituals and the effects they allegedly produce.
He and a sophomore friend, who also claims to be a satanist, asked that they be identified by only their infernal names, Adrian and Manitou.
Christianity, Adrian and Manitou say, limits life and glorifies death. Christianity tells you everything you can't do in anticipation of an afterlife that might never be.
But Satanism, they have gleaned from reading the satanic bible, says life is the ultimate indulgence; death, the ultimate abstinence.
"This makes more sense," says Manitou. "When you're dead, you're dead. Why not live right now?"
According to the two teenagers, other kids are little bit leery about their alleged demoniac doings.
"With fear comes respect," says Manitou.
ACCEPTABLE TEENAGE experimentation? A passing fad? Harmless nonsense?
Perhaps.
But some local authorities and parents are concerned about what appears to be a growing interest in satanism among some teenagers. It may be only an act of rebellion, having really very little to do with a strong belief in Satan. Or it may offer a sense of security, of belonging, or of having control over others. Or it may be plain adolescent curiosity, with the possibility of it growing into something both spiritually and physically dangerous.
No one seems to know for sure.
"We are aware that there appears to be a relatively small group of teenagers involved in satanic worship," said Cedar Falls Police Chief Paul Hoffey. "We are not certain to what degree at this time."
He said the police are aware that meetings are occasionally taking place, and in some instances, altars have been found in school lockers.
"We are concerned about this," he said.
Satanic worship, in and of itself, however, is not against the law. Animal sacrifices, criminal mischief, drugs, and other activities often associated with satanic worship are against the law. But there is no evidence that most of the Waterloo and Cedar Falls students involved in satanic worship are involved to that degree.
WENDY, a senior at Cedar Falls High School, said she was involved in satanic worship for about four years.
"You get what you want," she said, "But you pay."
She recalled that at age 13, she was looking for "something to hang on to, something to belong to, something to make me feel more secure."
A friend of hers, who was involved in satanic worship, seemed to have everything. Wendy's curiosity about satanic worship grew.
She said her friend took her to what she described as "worship parties" in the Waterloo area where plenty of alcohol and other drugs were made available.
"Kids who are feeling low will reach for anything," she added.
Wendy already had a drug problem, and if she needed drugs, she got them. If she needed money, it was provided.
"It's not like, boom, there's a car in your living room," she explained.
But in exchange for what she termed "recruiting" people and other errands, she had all the drugs and money - and "friends" - she wanted.
"They give you nifty presents, but when you try to get out, you owe them. You can't turn down their requests," she said.
Kids who get involved in satanic worship only end up hurting themselves," Wendy warned.
"You think you've got friends - till you get busted," she said. "They don't care about you, and you don't care who you hurt."
Wendy recalled that after four years of devoting just about all her time to satanic activities, some of which she says included criminal mischief as well as drugs, she became paranoid and began having nightmares.
"I said, "I've had enough, I'm done. What you've given me, I've given back. I'm getting out."
BUT IT WASN'T that easy. It took patient friends and a local pastor, she said, to help her turn from Satan to Christ. And not without hassles from her former satanic acquaintances.
In July, it will be a year since she renounced Satan, alcohol and drugs, and accepted Christ into her life.
Jane Hochgesang of Cedar Falls was the woman who helped Wendy through her difficult withdrawal from satanic worship. She also knows of teenagers who, though not as involved in satanic worship as Wendy was, are "playing games with it."
"And it's like I told Wendy, it's nothing to play games with," she said. "It's dangerous, stupid and life-threatening, both spiritually and physically."
For some teenagers, experimenting with satanic worship may seem to be the perfect rebellion against their parents, the supreme insult. They know it will make their parents very angry.
"My daughter uses this to get back at me for things," said one mother. "I don't think she really believes in it, or participates in it. It is a way to punish me."
Her daughter has read the satanic bible, the mother added. And she is aware that other students have read or are reading it as well.
"I think it's the group of kids she's running around with," the girl's mother said. "I guess one of them is really into it, and her mother is worried about it."
Is she concerned about her own daughter's apparent interest in satanic worship? Not really, she said.
"She was angry at her father and I," the mother recalled. "She was grounded from the phone. I'm sure if she had participated in any "black magic" stuff, she would tell me."
ONE METRO school administrator said he has observed what he considers unsophisticated satanic worship at the student level. But he is nevertheless concerned.
"It appears to be directed to a group of kids who might not otherwise feel accepted by their peers," said Lee Mickey, Holmes Junior High School principal.
"Students at the junior-high and high-school level are so "me" oriented," he continued. "Their whole world revolves around themselves."
And around fitting in. Because of that, they are very vulnerable.
Drugs are available everywhere, he noted. "But is this their introduction to them?"
Les Huth, principal at Cedar Falls High School, believes satanic worship as it occurs at the student level is basically an attention-getting device.
"I think one thing people don't realize is that kids are going to extremes today to get attention." Huth said.
It is not, he said, a major part of the students' activities. It has not become a dividing issue between students, nor has it caused fights or group confrontations.
Any bizarre or unusual behavior, he added, would be brought to administrators' attention by both students and faculty.
PAUL SMITH, a Black Hawk County juvenile probation officer, and John Thompson, an intake officer, agree that satanic worship among Waterloo and Cedar Falls students, from what they've seen, is most often a good excuse for kids to do the things they're not supposed to do.
Satanic worship is sex, drugs, and the antithesis of a Christian upbringing, all rolled into one.
"Kids like to shock people. And satanic worship is a good one for that," said Thompson.
And it actually comes out when kids are angry. They use satanism in an attempt to scare off adults.
Both Smith and Thompson have observed kids with upside-down crosses and other satanic symbols tattoed or otherwise engraved in their arms or legs. While they are concerned about kids' involvement in satanic worship, they don't know for sure just how prevalent it is.
Juvenile probation officers, they note, are not in the business of saving souls. But they are concerned about how these kids will someday interact with the rest of society.
"Involvement in cultish things in general starts to isolate an individual from the greater world," Smith explained.
By separating themselves from the rest of the world, teenagers reduce their options. It they're dedicating all their time to satanic worship, the juvenile probation officers added, they're no doubt neglecting their schoolwork. They're not learning to interact in normal society. They probably aren't going to learn how to get or hold a job.
Kids want their freedom, noted Smith and Thompson, and they may think satanic worship gives them that freedom. But all it really does is limit their opportunities.
Curt Nedoba, a metro-area clinical social worker, said satanic worship is appealing to adolescents because it's mystical and magical, and offers them an avenue to express the aggression and discontent that is normally associated with that age group.
The question is, he said, at what point is a teenager's interest in the occult no longer normal? If it is a phase a teenager is going through, it should be outgrown by the ninth grade, he noted.
"An album cover or an interest in MTV is one thing," said Nedoba. "But if someone's got a satanic altar in his room, then something's wrong."
Source: Waterloo Courier Cedar Falls, April 27, 1986

***************************************
Karen Trenouth
Author of: "Epiphany of the Whitechapel Murders"
Author of: "Jack the Ripper: The Satanic Team"
"Satanic Bible" encourages indulgence in sin.
By ANN HEISE KULT.
Courier Staff Writer.

CEDAR FALLS - It's a little black book based on power, aggression, rebellion and fear - just the kind of stuff from which some adolescents' wildest dreams are made.
It's "The Satanic Bible," written by Anton Szandor LaVey, "high priest" of the Satanic Church. The inexpensive paperback is available on order at a local bookstore.
And some junior-high and high-school students are reading it, as well as other books about satanic worship.
Satan, "The Satanic Bible" states, represents indulgence instead of abstinence, vital existence as opposed to "spiritual pipe dreams," vengeance instead of turning the other cheek.
It flatly states that the Christian church thrives on hypocrisy, and attempts to show examples of that.
In general, "The Satanic Bible" encourages people to indulge in the seven deadly sins - greed, pride, envy, anger, gluttony, lust and sloth - as LaVey maintains they all lead to physical, emotional or mental gratification.
Chapters deal with topics such as hell, the devil and how to sell your soul, love and hate, satanic sex, and life after death through fulfilment of the ego.
"The Satanic Bible" also explains how to perform three types of rituals in order to allegedly cast lust, compassion or destruction spells on people.

IT'S YOUR BASIC hedonistic, live-for-today, get-what-you-want-no-matter-who-you-hurt philosophy.
A supervisor at a metro bookstore said she has noticed an increased interest in "The Satanic Bible," but there hasn't been a great demand for it. About six copies have been ordered during the last several months.
It is not unusual, she said, for a couple of teenagers to pick up a copy of the book if there's one on the shelf, look through it, and giggle.
"We have more of a problem with teenagers reading "The Joy of Sex," she said.
But Mike Bridges, a metro youth-group counselor, said teenagers' interest in "The Satanic Bible" should not be taken lightly. The book, he said, offers "a lot of twisted truths" and misquoted Bible passages.
"Satan plays for keeps," Bridges said. "You can't just dabble in something like that and not let it have some type of influence on your life."
Bridges said he has discussed "The Satanic Bible" with several teenagers not involved in satanic worship, giving them an opportunity to examine the beliefs and note the doctrinal errors it contains.
The teenagers, in his estimation, however, were not convinced "The Satanic Bible" can be detrimental.
"The other reaction was that it's nothing important," said Bridges. "They didn't take it seriously."
And for that reaction, he was thankful.

BRIDGES HOPES to start a support group for parents concerned about their children's involvement in satanic worship. He suggests they sit down with their children and discuss rationally how satanic worship will affect their lives.
"They may be doing it for our attention, but at the same time, whether they realize it as real or not, (satanic worship) will have a long-lasting effect on them," he said.
Jane Hochgesang of Cedar Falls, a former Young Life staff member who helped one teenager withdraw from satanic worship and knows others who are dabbling in it, said parents choose to believe their kids won't get involved in something like this.
"It's too scary for people to want to believe it happens," she said. "They're afraid if they believe it, it might happen to their family. It's easier to say it doesn't exist."
Added Hochgesang, "I don't think any of us know the exact magnitude of satanic worship in this area. But I'm not sure it has to be massive numbers for us to become concerned."
Parents interested in establishing a support group may call Bridges at 266-7623.

Source: Waterloo Courier, Sunday April 27, 1986, Page A2

***************************************
Karen Trenouth
Author of: "Epiphany of the Whitechapel Murders"
Author of: "Jack the Ripper: The Satanic Team"
Similar topics
---
Permissions in this forum:
You
cannot
reply to topics in this forum