STRATFORD PETTY SESSIONS.

ATTEMPTED SUICIDE WITH A RAZOR. - William Smith, 25, labourer, of 115 Rathbone-street, Canning-town, was charged with attempting to commit suicide by cutting his throat with a razor. - John Thomas Balls, a boy, stated that the prisoner had been lodging in his mother's house for some months, and on the previous Saturday afternoon, while witness was in the back yard, he saw the prisoner, through the kitchen window, cutting his throat with a razor. Witness ran into the street, and told a policeman, who came in and took the prisoner into custody. He was the worse for drink. - Police-constable Elliott said the wound was not a very serious one. - Prisoner, in defence, said he had been drinking very heavily. The bench severely cautioned him as to his future conduct, and discharged him.

Source: Lloyd's Weekly London Newspaper, May 22, 1881, Page 12

***************************************
Karen Trenouth
Author of: "Epiphany of the Whitechapel Murders"
Author of: "Jack the Ripper: The Satanic Team"
THE WHITECHAPEL MURDERS.
SEAMAN'S ADMISSIONS.
William Seaman, aged 46, described as a lighterman, of 16, Claud-street, Millwall, was charged, at the Thames-police-court, on Friday, with the murder of Annie Sarah Gale and of John Goodman Levy, of 31, Turner-street, Whitechapel, on the 4th ult. The accused was conveyed from the London hospital to the police-court in one of the hospital ambulances. He was in charge of Detective-inspector S. White, Inspector Drew, and Dr. L.A. Smith. On arriving at the court the ambulance was driven into the Arbour police-station yard, by which means all outside excitement was avoided. Seaman was carried into court in an armchair. He was evidently suffering from considerable pain. The right sleeve of his coat was empty and pinned against his breast, while his head was supported by a large pillow.
Seaman was undefended. He was the previous night interviewed by a solicitor, but declined that gentleman's services.
Mr. Sims, in opening the case for the Treasury, said the prisoner was charged with the wiful murder of two persons, and also with larceny.
Mr. Jacob Myers, of Coborn-road, Bow, stated that he was an umbrella-case manufacturer. The deceased man, John Goodman Levy, was his stepfather and was 74 years of age. He was out of business and lived at 31, Turner-street. That was a corner house, with the windows in Turner-street and the door in Varden-street. His stepfather was crippled in both hands, but more severely in the right. He was also very deaf. He was in comfortable circumstances. Mrs. Gale was his housekeeper and had been with him for some years. They were the only persons who lived on the premises. The witness did not know the prisoner.
Seaman: You say that Annie Gale is his housekeeper. Is she his housekeeper or his wife? I say she slept with him, and that her bed was never made at all that night. - The Witness: You know all about it.
Mrs. Alice Weldemann, of 88, Over-strand-mansions, Battersea-park, deposed that Sarah Annie Gale was her sister, and that she was married but had lived apart from her husband, and had acted as housekeeper to Mr. Levy for some 10 or 11 years.
Constable Roland Ryley proved the accuracy of the plans he had made of 31, Turner-street.
Mrs. Martha Lawton stated that she lived at 35, Turner-street. Mr. Levy was her cousin, and she went to his house on the 4th ult. having accepted an invitation to dinner. She knocked but got no answer, although the knocking was repeated. She then went next door to Mr. Schafer, who went into his back-yard. Mr. Schafer told her something, and she went for a policeman.
William Schafer, aged twenty-nine, of Turner-street, Mile-end, said he was a tailor. About half-past one on April 4, Mrs. Lawton came to his house. The witness then went into his yard and placed a ladder against the wall. On looking over he saw the prisoner looking through a little window. Seaman appeared to be looking down. The witness said, "What are you doing there?" The prisoner looked up and "bobbed" out of sight. He told Mrs. Lawton this.
Police-constable Walter Atkinson described the finding of the bodies, and Police-constable Edward Richardson deposed that on arriving at the house he saw a crowd, and on looking up saw the form of a man behind the parapet of Mr. Levy's house. He forced his way through a hole in the roof when the prisoner jumped over into the street. He fell between 30ft. and 40ft.
Constable Bacchus proved seeing the prisoner jump into the street. The witness was the first constable to get to him, and saw a gold chain and other things fall from his pocket. After carrying Seaman into the house a sum of 1s. 3d. was handed to him as money which had been picked up by one of the crowd. The following day, while the witness and Constable Rutter were in
[img]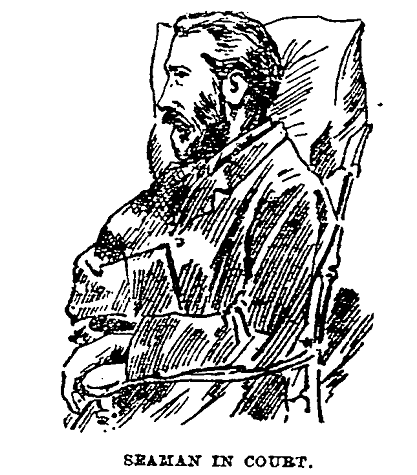 [/img]
charge of the prisoner at the hospital, and while he was endeavouring to get him some milk, Seaman said: -
Oh, I don't trouble much about that. I could go to the scaffold and swing for what I have done without fear. I know what is in front of me, and I can face it. If a man takes life he must suffer for it. I don't value my life a bit. I have made my bed, I must lie on it.
That was quite a voluntary statement on his part. On the 7th ult. the witness was again in charge of the prisoner, and assisting in watching him. He said: -
Never mind washing anything else, as I shan't be here long. I don't value my life. I want to die as soon as I can. I don't want to hide anything, and I shan't try to. I did it. I have been prompted to do this thousands of times. I knew the old man had been the cause of all my trouble, and I would like to kill myself now. I am sick of my life.
That was also a voluntary statement.
By Mr. Dickinson: Before he made that statement he had been talking and was fully conscious of what he was saying.
Constable G. Bryan said that on the 11th ult. he was in charge of the prisoner, who said to him, "I suppose the old _____ (Levy) is dead by this time and buried."
The witness said, "I don't know." The prisoner then said: -
I am glad I done for the old ______; and the woman, she must have been sleeping in the old man's bed, as she was undressed at the time I killed her. I had been a good many times for the money, amounting to 70 pounds, and the old _______ always made some excuse or the other about it. I made up my mind to do for him. I am not afraid of being hanged. I shan't be like some of them.
The next day the prisoner woke up and said: -
I have been a frequent visitor to the house in Turner-street, where the job was done, and if the ____ old Jew had only paid me the 70 pounds the job would not have happened. You don't know one-half of what there has been between old Levy and me. No one else knows it now, and I will keep it to myself. You don't know what I have had to put up with from the two _______'s; but this finishes the lot. That morning I knocked at the door. Old Levy himself opened it, and I walked in. He said, "The girl is upstairs." I then went upstairs and found her in the room. She had got her dress on and leaning over the bed, which appeared not to have been slept in. She always slept with old Levy. When she saw me she shouted and began struggling, but I soon stopped her kicking. I then came downstairs and put the old Jew's light out. After the job was finished I heard someone knocking at the door. I stood behind the door considering whether to let them in or not. If I had opened the door I would soon have floored them, so as they would not have walked out of the house again alive. They would have been carried out stiff with the others. I then got on to the roof from the inside, seeing my only chance was to dive from there head first. If it had not been for some one who broke my fall I should not have been lying here now. I know I am going to get hung, and would not care if it was now, for I am tired of my life.
On another day he said: -
I have been crushed ever since I was nineteen years old. I have done fourteen years' and two sevens. The first fourteen I done I did not know more than you did about it. I was put away for nothing; but this job finishes the lot. I have had to put up with a lot from old Levy. He has owed me 70 pounds, and each time I have asked him for it he has put me off. I was in Portsmouth convict prison when I heard the ship Victoria had gone down. I could easily have got away if I had liked when I done the job.
Constable Elliott was present when he made the statement. The witness did not induce him to speak.
Seaman: The whole of his statement is a complete fabrication. I never had anything to say to him or the other one.
The prisoner was remanded.
Source: Lloyd's Weekly Newspaper, May 3, 1896, Page 12

***************************************
Karen Trenouth
Author of: "Epiphany of the Whitechapel Murders"
Author of: "Jack the Ripper: The Satanic Team"
---
Permissions in this forum:
You
cannot
reply to topics in this forum