FREE TRADE MISERY.
Nathaniel McKay Tells of His Tour Through British Manufacturing Centers.
PEEP AT POVERTY IN LONDON.
Working Women at Masculine Labor - Stern Facts for Our Wage Earners.
Free-trade slavery still exists in the British empire notwithstanding the reduction of the American tariff, which benefits the English manufacturer, but does not reach the British workman.
Eight years ago I visited England for the purpose of studying the condition of
[img]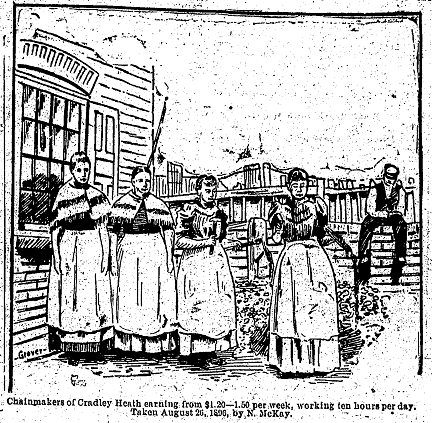 [/img]
the working people and comparing their wages with those of Americans. Four years ago I made a second visit for the same purpose and on August 12, 1896, I left New York, for the third time, to make another investigation. I arrived in Manchester on August 20 and there began my investigation, where I found more destitution than I had ever seen in any other city.
The "Cesspool" of Manchester.
Standing, looking up Angel meadow, a graveyard on the left and behind one of the worst "courts" in Great Britain, public houses of course, and all around a population struggling in the ocean of moral and social degradation, it has been called the "cesspool of Manchester." Its history is a history of dirt, vile crime, drunkenness, riot, cruelty and robbery. The houses are low and dilapidated, and many are villainous holes, unventilated, undrained, corrupt, reeking with smells, utterly infamous and sickening both to body and mind - all this within a few minutes' walk of the Queen's hotel, the Exchange and railway stations.
There are scores of rooms furnished
[img]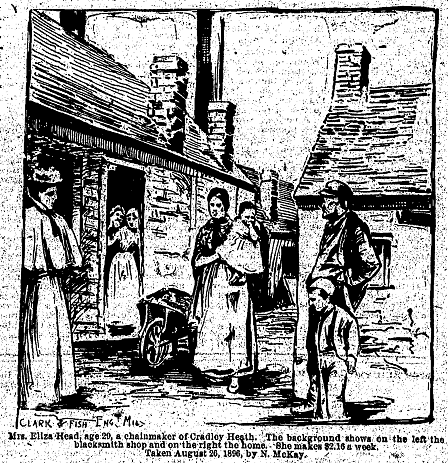 [/img]
with a table, a chair, a thing called a bed and a few pots. These rooms are sublet for 18 cents a night for two - size 12 by 10 - where people eat, cook and sleep. I entered some of these houses - if such a name could be given to the hovels I saw - and in one I asked of a woman:
"Do you rent this?" "Yes," was the reply.
"What do you pay for it?" "Four and six ($1.08) a week."
"Have you the whole house?" "No, sir; only this room." (Size 12 by 10.)
"Do you sleep in here?" "Yes, sir; we sleeps, eats, cooks and everything here."
"You have a room above - up the stairs?" "No, sir; that's another party's."
"Can I go up?" "Yes, I dare say he will let you."
"Before I go up I would like to ask, "What do you do for a living?" "My husband sells sandstone, sand and blue mole, or he gives the stone and gets rags, bottles, bones or old iron for them."
"What does he earn in a week?"
At this question the woman smiled. "Well, it depends - sometimes more, sometimes less. One day perhaps a shilling (24 cents), another day 1 and 6 (36 cents) and so on."
I should say here that the agent finds the pots, pans, bed and fire, such as they are, for I will not attempt to describe them. This I will say - no dog of mine should ever be allowed to sleep on what is called a bed in those places. The whole outfit was not worth 10 cents.
"Have you a back yard?" "No, sir."
"Where is your closet, then?" "There, sir," pointing to three closets in the street.
This "court" was horseshoe pattern and contained 9 houses - 18 dwellings - 5 on one side and 4 on the other, and these three closets were all there was for this whole "court."
Board and Lodging.
These hovels are inspected by the police. I found a certificate in the hall of one of them dated March 22, 1893; and signed "A.T. Wood, chief police superintendent." These certificates are signed at his office, and probably he never visits the places.
One man told me he had for his breakfast bread and butter and tea - no meat - and for his dinner bread and bacon, but meat was a luxury he could not afford. The tenants flocked around me by the dozen in Miller's court. I would have been glad to have taken some photographs of these scenes and "courts," but the weather was too cloudy for any satisfactory results.
I passed from this court to another, and, going to a door, I asked, "What do you do for a living?" The man there answered, "I take in lodgers."
"What do you charge?" "Fourpence (8 cents) per night or sevenpence (14 cents) a couple." (The man saw there were two of us.)
Passing on, we came to the largest of its kind, containing 395 beds. On the ground floor of this lodginghouse is a large room for the men to sit in. The kitchen below contained a large closed cooking range, which was red hot, and the odor of the cooking going on made it anything but enviable to be in. The lodgers all cook for themselves and have a variety of things to cook and they are not very particular as to how many different things are cooked together in the same pot. We went upstairs and saw 395 beds, which are let at three different prices - 6, 8 and 12 cents per night. The 12-cent lodger has a place boarded off to himself - no water, no towel.
Wealth and Poverty Mixed.
Manchester, with her 500,000 population, boasts of her wealth and manufacturing resources and one would suppose that all of the people alike lived in palaces; but to examine into the exact condition I find quite the reverse. Thousands of these people live on alcohol. When they earn any money, it goes for alcohol chiefly.
Coming back to my hotel, the Queen's, facing one of the finest streets in Manchester, is the Royal infirmary, all along the front of which there are seats which are occupied by poor people from the slums. I was informed that many sat there the whole night, so I arose early the next morning and went across to the seats and found that 39, 12 of whom were women, one with a child, had sat there all night because they had not the necessary 6 cents for a bed.
The trade of Manchester is very much depressed at present - awaiting the presidential election in the United States. The merchants of the United States are making very small purchases now, because they fear a new tariff bill and because American consumption is lessened through the idleness of the people and their inability to buy. The manufacturers and shippers here do not want any change in the present American tariff. But they say they would rather have McKinley for President than Bryan, for if Bryan is elected and a silver standard declared in the United States, they cannot sell their goods at all to America. Yet they despise McKinley for, as the London Times stated a few days ago, "his infamous tariff bill."
Trade Paralysis in Bradford.
Leaving Manchester, I visited Bradford, which is the largest woolen and shoddy manufacturing district in the world. Trade is paralyzed there as far as United States shipments are concerned at present. The manufacturers are awaiting the election of the President of the United States, to know whether he will be a free trader or a protectionist. The merchants are very much agitated on this account - for they can get but few orders from the United States. I said to one of them: "You have now the whole British empire (including India), with a population of almost 350,000,000 controlled by her majesty, to supply; why are you not satisfied to manufacture your goods and supply your own people?"
His answer was: "We want the American market. It is the greatest market in the world and during the time the McKinley bill was a law our manufacturers were quite paralyzed."
There was exported from Bradford during the last nine months of the existence of the McKinley law $4,478,000 worth of goods. This was from January 1, 1894, to September 30, 1894. During the corresponding period of the following year (from January 1, 1895, to September 30, 1895), under the Wilson bill, the exports from Bradford amounted to $21,171,000. Five times as much under the Wilson bill as under the McKinley bill. The total exports for the year 1895 from Bradford amounted to $27,745,000. These exports include thirty-seven items, but consist chiefly of card clothing, cotton goods, iron and steel, machinery, hosiery, stuffed goods, worsted goods, yarns, silks, etc.
Mr. Meeker, United States consul at Bradford, furnished me these statistics, which were taken from his reports to the state department.
We manufacture similar goods in America, but on account of the Wilson tariff bill we have been deprived of the chance to manufacture them, and the money which should have been paid to our own working people has been paid to the laboring people of Great Britain. Our chimneys have ceased smoking, while theirs are in full blast. Our working people are idle and deprived of a living on account of this iniquitous, free trade, Wilson tariff.
Business Thrives in Birmingham.
I left Bradford on August 24 for Birmingham, passing through Leeds and Sheffield, whose iron and steel works are in full blast. Not only in these places, but all over England, this line of industry is prospering. And the factories are running full time, and the greater part of their product is shipped to the United States. And while their works
[img]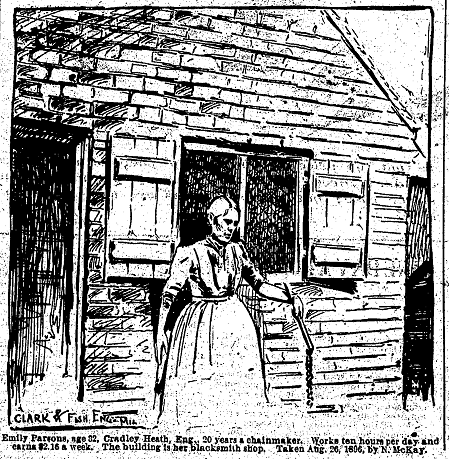 [/img]
are running full time our people are idle. Today the goods that are being made in Leeds and in Sheffield would, were it not for the Wilson bill, be made in the United States.
I spent a day in Birmingham, which is another thriving and prosperous manufacturing center. Here also the people are very desirous that no change be made in the present American tariff schedule which would result in depriving them of our market for their goods.
The British Chain Gang.
After leaving here I went to Cradley Heath - among the women chainmakers and women blacksmiths - to witness the misery there which I had visited in
[img]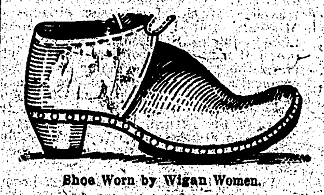 [/img]
1888 and in 1892. There are women there by the thousands who make chain for a living in old, low buildings adjoining their houses.
One man, William Boxley, said he was 56 years old and earned 60 cents a day, as a laborer, when he could work. He has five daughters and five sons. Three of his daughters are chainmakers and one works in a brickyard, carrying brick. I went into his house. On the lower floor was a room with a stone
[img]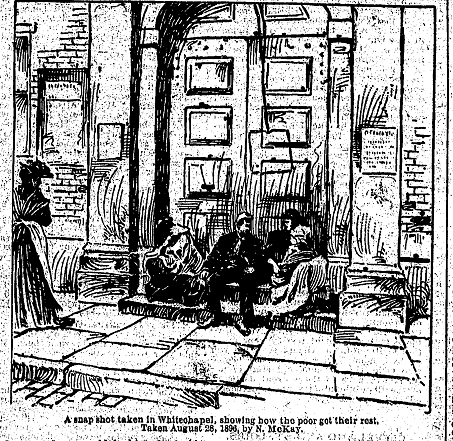 [/img]
floor and an old-fashioned fireplace with ovens on each side and a place for coal in the middle. Back of this was a little space for a washroom where there is room for only one person. In the front room all the cooking is done and it is also used for a living room and dining room. Upstairs is a room 8x12 feet. As I entered here I noticed a woman lying on one of the beds (there were two) and he told me it was his wife, who was very sick. All around were signs of poverty. It was not fit for human beings. It made me chill with pity as I looked on this terrible scene.
Going through a little court about 10x10 feet, in the rear of this house, I came to the shop where one of his daughters makes chain with another woman. I asked her name and she told me Clara Boxley. Her age is 22 years.
She has been making chain for five years and receives from $1.75 to $2.16 a week for her work. She makes three-eighths inch chain and is paid $1.02 for 112 pounds. For breakfast she has bread and butter and tea and sometimes a piece of bacon. She told me she worked from 7 o'clock in the morning until 7 in the evening; that the only reason she stayed there was because she could not save enough money to pay her fare away from the town.
The buildings look as if they had stood for centuries, and as I passed through the little court leading into the house and which is walled on every side by houses I counted fifteen little children from 2 to 6 years of age playing together in all the filth that could surround a blacksmith shop in the district. Across the alley was another shop where another daughter was making chain. She is married, has one child and makes $2.16 per week.
She has been making chain for twenty years, having commenced when she was 12 years old. Her husband, a chainmaker also, earns from $3 to $4.50 a week.
Mrs. Polly Fowkes has four daughters making chain. She is 54 years old and has made chain since she was 7 years of age, but is now too old to work at it any more. Each of the daughters makes from $1.20 to $1.50 per week. They live in a little old house, with stone flooring. Here they cook and eat and live in the same room all huddled together. The girls are very smart at the forge. I set five girls to work in the blacksmith shop. They worked 30 minutes and made me 14 pounds of three-eighths chain. Each piece was over two feet long, and they worked like beavers to see who could make the longest piece. They work ten hours a day. I gave them a shilling apiece when they all came into the room, and I asked them how long it would take to earn that amount. They replied, "It would take more than a day" (to earn 25 cents.) I thought, "Miserable England!"
Women Coal Miners.
I did not visit Wigan this time (as I have done twice before), but there is no change in labor there; the poorhouses which I described and reproduced in 1892 still stand. It is a pitiful sight to witness the poor women there, half starved and half clad, wheeling coal on the top of the pits for the small pittance of 40 to 50 cents for ten hours' work. I reproduce here a cut of the shoes that are worn by the women in these districts, heavy clogs with big nails in the bottom.
The situation has not changed yet. As long as there is coal in the pit there will be women to wheel it. At one time this class lived and had their families in the coal mines, but Parliament prohibited this, and now they do the wheeling on the top of the pits. With this cheap labor no wonder coal is cheap in this country. This coal is used on the very steamers and vessels which carry England's free trade labor product to America to compete with our labor and manufactures.
Charles L. Snowden, of Brownsville, Pa., writes me: "We pay our miners 70 cents per ton, or $2.60 per 100 bushels (76 pounds to the bushel). One man can put from 150 to 200 bushels per day and can earn from $3 to $4 daily. There are no poorhouses in Brownsville staring these working people in the face. They make from six to eight times the wages of the poor people at Wigan, and there are no women at work wheeling coal in the United States.
Paupers in the British Empire.
Population of Great Britain and Ireland.....37,732,922
Paupers............................1,018,028
One pauper to every 37 persons. Twenty-eight paupers to every 1000 persons.
Cost to maintain these paupers annually.......$57,825,475
Cost to maintain the queen and the royal family....$2,903,770
Cost to maintain the president and his secretaries....$85,000
The population of the British empire, including India and the colonies, is 346,000,000. There are 59 colonies and 40 distinct governments.
Life in London.
I arrived in London August 28, and made a visit to Whitechapel. I visited a lodging house on Osborne street. I asked for the proprietor and was introduced to him. They call him "the governor" to distinguish him from other
[img]

[/img]
men. His name is Wildemouth. He lodges 391 persons in his house every night. His rooms are 6x6 feet and he receives 12 cents per night for each of these rooms.
I went from there to Commercial street (in Whitechapel) where I saw a place called the Victoria home (kept in the same manner as the one on Osborne street), where the roomers pay from 6 to 12 cents per night. Then I went through the thickest part of Whitechapel - an alley called Petticoat lane. The meat hanging in the stores and on the sidewalks was so filthy that it sickened me and I could not tarry long enough to even ask the price of it. I asked the price of herrings - 1 cent each. Bread was 1 cent a loaf, and it was hard-looking bread; potatoes one-half cent a pound; onions one-half cent a pound; 3 pounds of carrots for 2 cents. Such a filthy trading market would disgust a stoic. They live in filth, breed in filth and die in filth, knowing nothing else.
The "Casual Ward."
Then I went to a public institution known as a casual ward, the same one I visited eight years ago. I found it just as it was in 1888. The keeper, or guardian, told me this ward had been in existence for more than thirty years and that there were thirty such places in London at present. These institutions are kept as public places and are really poorhouses. If a man has no money, he can go there and apply for admittance, which he gets if the place is not already filled. When received, they are kept in confinement for two nights and one day,
[img]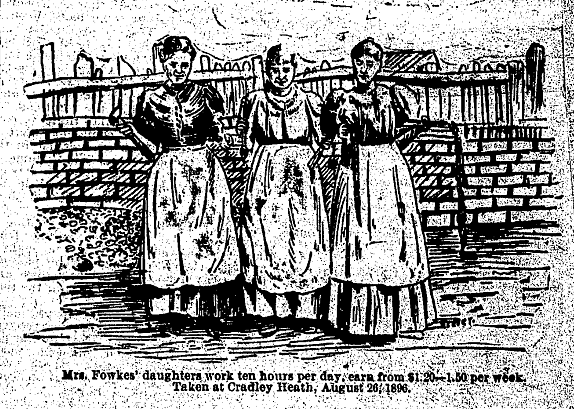 [/img]
at the expiration of which time they are discharged.
Nobody is allowed to come to these places more than once a month, and he can stay no longer than the time prescribed. The ward I visited accommodated fifty-five men and thirty-two women. The beds consist of a narrow strip of canvas stretched like a hammock between two iron rods about a foot from the floor. The applicants are admitted after 6 p.m. in the summer time and after 4 p.m. in the winter time. As soon as they are admitted they are given a bath in one of the six baths in the ward and their clothes are fumigated and disinfected. After the bath they have their supper of six ounces of bread and a pint of gruel. For their bed they are given three blankets. For breakfast they receive the same food as for supper. For dinner, in addition to the bread and gruel, they are given 1-1/2 ounces of cheese. The total cost for caring for these people during the period of their confinement, including the five meals, is 9 cents each.
Advice to Americans.
My advice to every American workingman is, as I have said before, to protect his own rights and the rights and privileges of his family and not to follow the whims, cries and falsehoods of the free-trade politician who seeks to have goods imported into the United States which are made by cheap pauper labor because he thinks the goods can be sold cheaper than if they were made in America.
If the wages of the American workingmen are not reduced to the standard of those in England, and the goods are not made in America, he has no money to purchase these cheap goods with. Being deprived of work, where are they to get their money to make their purchases with?
Labor in London.
The following statistics are taken from Booth's "Life and Labor of the People of London," showing the number of people employed in the various lines in the city of London:
Tailors................91,876
Boot and shoemakers........96,614
Hatters.....................9,827
Dressmakers and milliners..........43,704
Shirtmakers..................17,326
Machinists...................6,715
Drapers and hosiers..............34,377
Clerks.....................181,589
Cabmen, coachmen, busmen, etc.......261,496
Railway service, labor, etc...........92,828
Seamen...................15,833
Dock service, labor, coal heavers, porters, gasworkers, etc..........88,201
General labor, factory labor..........215,465
Engine drivers and artisans...........45,390
Total................................1,201,241
All other classified labor not included above........711,249
Grand total in London.............1,912,490
There are 519 friendly societies of trades unions in Great Britain with a membership of 1,043,000 (taken from a report of House of Commons). Several of these societies are located in London and include some of the trades enumerated in the Booth table. The societies control the wages of their various trades, and were it not for the stand they take their wages would be reduced by the manufacturer to a lower standard than they are at present, which is less than one-half of what is paid in America.
Higher Wages in America.
Our last census report of 1890 gave us 4,712,622 people employed in manufacturing, the average yearly earning of each person being $488. The average in England for each person (taken from reports published by Parliament) is about $280, a difference in favor of America of $208 per capita. Now there are thousands of people in England who do not receive one-half this $280. We pay our angle iron smiths 53 per cent more than they are paid in England; our blacksmiths, 102 per cent more; our boilermakers, 47 per cent more; our bricklayers, 125 per cent more; our boilershop helpers, 95 per cent more; our carpenters, 165 per cent more; our conductors (on express trains), 349 per cent more; our locomotive engineers, 191 per cent more; our police, 260 per cent more; our telegraph operators, 103 per cent more; our train dispatchers, 316 per cent more, and our common laborers, 158 per cent more. The difference in all classes of labor is the same as these examples I mention.
The engineers who run the fastest express trains on the road in England get but $10.80 per week for ten hours per day. The firemen get $5.92 per week or 98 cents per day. The guards (who correspond with our conductors) get from $4.80 to $6.72 per week. The porters (we call them brakemen) get $4.56 per week. This is a sample of the par of English labor. Our engineers in America on the express trains receive $31.50 per week, our conductors $26 and our brakeman $13. We pay more than double the wages paid in England, where railroad fare is higher and the coal cheaper than in America.
The following table of wages answers all the free-trade fallacies of the Democratic party and cannot be disputed.
[img]

[/img]
English stage drivers work 12 to 15 hours a day; American, 10.
Cheapness will be still more dearly bought by the American wage-earner if we continue a free-trade policy in America.
I present this statement to the Republican national committee, free of charge, and trust they will attend to the distribution of it.
Nathaniel McKay.
London, Sept. 4, 1896.

***************************************
Karen Trenouth
Author of: "Epiphany of the Whitechapel Murders"
Author of: "Jack the Ripper: The Satanic Team"

---
Permissions in this forum:
You
cannot
reply to topics in this forum