Oddly enough, the witness named Julius Rosenberg, who appeared in the trial of the theft of Mrs. Princep's jewels, was also involved in another jewel robbery with a different group of individuals.
EARL'S COURT ROBBERY.
VISIT TO A WARDROBE SHOP AND FOUR ARRESTS.
Joseph Mullinder, aged 22, an ironmonger and a Hungarian subject, giving an address at 6, Eustace-road, Walham-green; and Julius Rosenberg, aged 34, a Hungarian porter, living in a common lodging-house in Drury-lane, were charged before Mr. Lane, K.C., at West London police-court on Monday, with being concerned together in stealing, on the 14th inst., from a show-case in the Queen's hall, Earl's-court Exhibition, one diamond tiara, one diamond bracelet, six diamond brooches, four diamond pendants, one diamond necklace, and a diamond buckle, valued together at 3,000 pounds, the property of Ernest Paetsche, a jeweller of Vienna, who has an exhibit at the Austrian Exhibition.
Counsel for the prosecution said Mullinder was accused of being the actual perpetrator, and Rosenberg of being an accessory before the fact. Mullinder, counsel added, had made a full confession, but it was not proposed to read it now.
Detective-inspector Stockley, in the witness-box, said that at 11:35 on Sunday night, with Detective-inspector Badcock, he obtained admission to a wardrobeshop in Lingham-street, Clapham. In a back room on the ground floor he found Mullinder lying on a mattress. When he was told he would be arrested and charged with stealing the jewellery Mullinder said, "I know nothing about it. I did not have any jewellery."
When witness searched prisoner he found two receipts - one for a bicycle purchased at Clapham for 5 pounds 10s. on the day of the robbery, and the other for a motor-cycle purchased at Brighton for 8 pounds on the day after the robbery. Mullinder asserted he had bought the machines with money received from Hungary. He had only 8s. on him. Afterwards, however,
[img]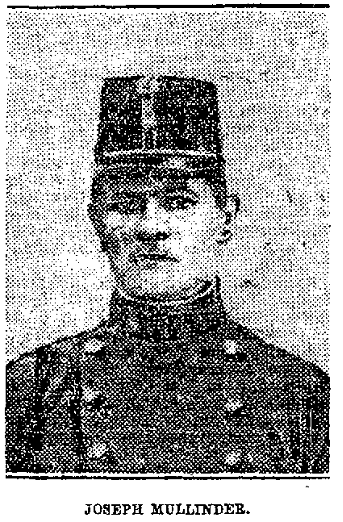 [/img]
Mullinder made a statement implicating Rosenberg, and admitting that they planned the robbery together. Rosenberg, who is not employed at the exhibition, was arrested in Soho on Monday morning by Sergt. King.
The magistrate remanded the prisoners till Monday next.
George Thompson, 34, dealer, and Eliza, his wife, of 31, Lingham-street, Clapham, were charged at West London police-court on Wednesday with harbouring and assisting Mullinder with intent to elude the pursuit of justice, knowing that he had committed a felony.
Detective-inspector Stockley said Mrs. Thompson entered the room where witness was questioning her husband about Mullinder. She said they knew nothing about the man. Witness noticing something in front of her dress asked her to produce it. It was a canvas bag which contained two 5 pound Bank of England notes. She could only account for her possession of the notes by saying that she had taken them in business. Later the male prisoner said, "I have never seen the things, but I have heard something. I suppose old Jack Williams has got them. I will show you where he lives." They left the house together, and the man pointed out 17, Portland-place South, Clapham-road, as "Old Jack's" residence. He promised to let witness know if he heard anything more about the matter. Mullinder afterwards made a statement implicating the two Thompsons, and they were arrested.
Detective-inspector Badcock said he informed Thompson of Mullinder's statement, and read it over to him. Thompson then said: "The German called at my place last Tuesday with this stuff, but I was not at home. I saw Old Jack the same night. The German told me he was going to have 400 pounds for the stuff, but as the buyers only had 100 pounds in gold they could not pay him all. They were going to pay him the rest at Brighton. He went there and came back to my place, and said he had not met the man with the money. He went to Birmingham with me, but didn't give me a penny. I lent him 1 pound on Sunday."
In answer to Mr. Lane, the officer said it was alleged that the female prisoner received the jewellery, and first of all saw the intermediary who took it to the actual buyer. He asked for a remand to Monday.
The woman, who is in a delicate state of health, was allowed out on her own recognisances, and the male prisoner was remanded in custody.
Source: Lloyd's Weekly News, August 26, 1906, Page 18

***************************************
Karen Trenouth
Author of: "Epiphany of the Whitechapel Murders"
Author of: "Jack the Ripper: The Satanic Team"
EARL'S COURT BIG ROBBERY.
Statements Made Regarding the Theft.

EX-EMPLOYEE'S STORY.
Principal Culprit and Accomplices Remanded.

LONDON, Aug. 28. - The story of the 3,000 pound jewel robbery at Earle's Court was told to the West London magistrate yesterday by Joseph Mullinder, a Hungarian and an ex-employee at the exhibition, who is alleged to be the principal culprit.
Julius Rosenberg, George Thompson, a dealer of Linaham-street, Clapham, and Eliza Thompson, his wife, stood in the dock with Mullinder charged with being accomplices.
Inspector Stockley produced the following statement by Mullinder: -
"About ten days before the robbery took place a man I know named Rosenberg came to me and said how easy it would be to take some of the jewels from the showcases in the exhibition. He told me to try and get them.
"At first I said I was afraid I could not do it as I was not a single man. He came to me and bothered me every day. He told me one day that he had seen Sergeant King outside the exhibition, and that he felt afraid.
"On the Tuesday morning I went straight to the Queen's Hall and took an iron bar. There was no one in the hall at the time except a man named Surley. He went away.

THE ROBBERY.

"I forced the case open with the iron bar. I took the jewellery and put it in my pocket, and went out by the attendant's entrance.
"I went to the house in Linaham-street to see Mr. Thompson. This was a man I had got to know at Winchester Prison. He told me if I got hold of anything to be got rid of he would buy it. He was not at home.
"I saw Mrs. Thompson. I showed the jewellery to her. She went out and fetched a man they called "Old Jack." He took me to Blackfriars, and we went to Fenchurch-street.
"We went to Lyons' tea shop and met four men. "Old Jack" said, "Here's the man." I showed the men the jewels, and they said they would give me 500 pounds for them.
"They gave me 100 pounds on account, and said the remainder should be handed over to me the following day at Brighton.
"I left the whole of the jewellery with the four men in the shop with the exception of one brooch, which I gave to Old Jack because he asked me for it. I returned to Thompson's shop, and Thompson's brother bought me a new suit of clothes, and Thompson bought my old ones."
Detective-Sergeant King said that Rosenberg came to him and told him that he knew the man who stole the jewels. He declared that he had nothing to do with the crime, but that "his friend" was the culprit.
On Rosenberg's evidence Mullinder was arrested, but when the men met at Kensington Police Station the latter turned to Rosenberg and said: "If you had not constantly urged me to take the things I would not have done it."
Mullinder and his alleged accomplices were remanded.

Source: The Gleaner, Thursday September 13, 1906, Page 14

***************************************
Karen Trenouth
Author of: "Epiphany of the Whitechapel Murders"
Author of: "Jack the Ripper: The Satanic Team"
---
Permissions in this forum:
You
cannot
reply to topics in this forum