THE WHITECHAPEL FIEND.
A CELEBRATED WRITER'S PEN-PICTURE OF THE MURDERER.
The following pen-picture - psychological study - or such other name as you may apply to it, has been drawn by Julian Hawthorne. It is evidently a study argued out from the crimes that have at irregular intervals startled the world; and as each new horror from the Whitechapel district was announced, more facts, more surroundings, more chances for speculation, more reasons, present themselves as to motives; and so the biological sequence which is given below. After reading it, one will wait anxiously till the murderer is caught to see how near Julian has come to the fiend's picture.
Somewhere in London, is living, at the time of the present writing, a gentleman who will be forever famous as soon as he has been identified. We do not know him; if we heard his name we probably should not recognize it; but all the world will know it ere long, and it will be remembered by our children's children.
Imagination is free, so let us draw a fancy picture of him, deduced from what we have learned of his public achievements. He is a man in the neighbourhood of thirty years of age, a trifle above the medium height, of slender and active build, with a pale face and rather sparse hair. The ordinary expression of his features is affable and reticent, but weak; the chin small, and the mouth denoting a secret sensuality. He is nice in his person, and neat and precise in his movements and speech; his manners are conciliating, and yet he is not of a sociable disposition. His eyes are peculiar, of a faded color, avoiding a direct gaze, and apt to become fixed in a stare of abstraction; the eyebrows are faint, and the eyelashes are scarcely perceptible. He betrays a nervousness, partly congenital and partly, perhaps, the result of some sort of excesses, it may be in the nature of drugs. It is difficult to interest him in any subject, and yet he dreads to appear conspicuous, and therefore tries to bear his part in whatever social transaction is going forward. But he always gives the impression of holding himself aloof; you never feel that you get hold of the real man; his nearest friends cannot say they are intimate with him; casual acquaintances pronounce him conceited, and wonder what he can be conceited about. Their curiosity on that score will perhaps have been satisfied before this writing gets into print.
His profession is that of a physician and surgeon; at any rate, his studies have lain in that direction. As a boy, his home life was rather strict; his parents were church people, and religious speculations have at various times occupied his thoughts and perplexed his conscience. He has felt within himself impulses which did not fall in with the orthodox lines of religious and moral conduct; but the agnostic essays and radical theories of the day have opened up to him avenues of causality, whereby he has sought, to justify himself to himself, but seldom with complete success. His intellect is subtle and timid, tricky rather than penetrating; and he forces it, as best he may, to become the apologist of his instincts. Such a man may commit inconceivable crimes, but will always seek to escape admitting to himself their wickedness. He will wallow in inhuman indulgences, but he will assure himself that he has acted from a holy inspiration.
Like most professional men in England, he belongs to the middle class of society; but his practice, for reasons better known to himself, is so small as to be practically non-existent; he is too uncertain and irregular in his moods and habits; his patients do not feel that he is interested in their ailments; they call him untrustworthy, and betake themselves elsewhere. He is rather glad of this than otherwise, though he knew that his livelihood depends upon them, for he is poor; but, on the other hand, his solitude leaves him time to brood, and he is much given to solitary brooding. What is the subject of his meditations? He could scarcely tell you himself; but he will sit for hours, motionless, his eyes fixed, and feeling something within him growing - growing - until it becomes irresistible. At last the brooding ends; he draws a long, tremulous breath; a secret smile plays about his mouth; the blood rushes to his head; his face and movements betray a terrible, half-repressed felicity. His time has come, and he proceeds to action.
All his faculties, mental and physical, are now at their highest tension and efficiency. His pulse beats full, his eyes glow, his hands are quick and deft, his brain alert and keen. He changes his dress, putting on a shabby suit of an indistinct hue, a dingy flannel shirt, a rusty billy-cock hat. On his feet he puts a pair of shoes with felt soles. He slides a little small change into the pocket of his waistcoat. He is all ready now? Not quite. He opens a secret drawer of his desk, and takes out of it a knife of fine steel, with a straight blade about an inch and a half in breadth, ending in a point. The edge is of razor sharpness. The blade is kept in fine condition, though the stout wooden handle is somewhat stained. The knife is fitted with a leather sheath; he attaches it to his waistband, so that it is concealed within the right leg of his trousers. Then he throws an overcoat over his arm, and goes forth - to business!
It is toward midnight when he leaves home, and takes the underground railway eastward. In a quarter of an hour he is at his destination. The neighbourhood is one with which his secret habits, for some years past, have made him familiar. It is squalid, disorderly, and its narrow, devious streets and courts are labyrinthine. Dissolute men and women throng in all directions. They scarcely notice the slim, sliding figure that winds his way among them. The policemen, though they are more than usually alert, pass him by unheeding. We, too, lose sight of him for a while.
Two hours pass - four - six. The sun is already up, though it is barely dusk in foggy London. Here comes our friend. He has put on his overcoat, and steps out briskly, his hands in his overcoat pockets. He has indulged his craving; he has satisfied his thirst; he has repeated the ecstasy of his triumph. He despises all other men - all other delights. He is more than ever assured that he is a Messiah, a demigod, a prophet. He reaches his house; he is safe; while all the rest of the world is slumbering over the details of the last Whitechapel murder.
Source: Quebec Weekly Chronicle, Thursday November 22, 1888, Page 1
Note: Does this not sound exactly like Dr. Pearson?
[img]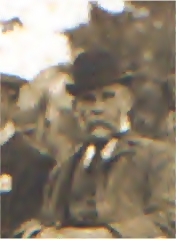 [/img]
[img]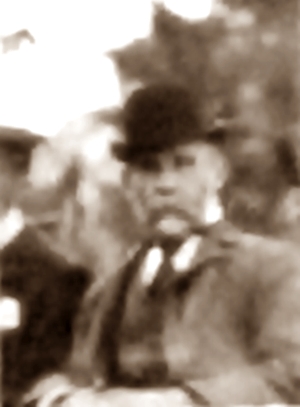 [/img]
- His profession is that of a physician and surgeon (correct on both counts)
- his parents were church people (Wesleyan Methodist)
- His eyes are peculiar, of a faded color, avoiding a direct gaze, and apt to become fixed in a stare of abstraction (evident in photo, above)
- his practice, for reasons better known to himself, is so small as to be practically non-existent (his own in-home practice)

***************************************
Karen Trenouth
Author of: "Epiphany of the Whitechapel Murders"
Author of: "Jack the Ripper: The Satanic Team"
---
Permissions in this forum:
You
cannot
reply to topics in this forum