[img]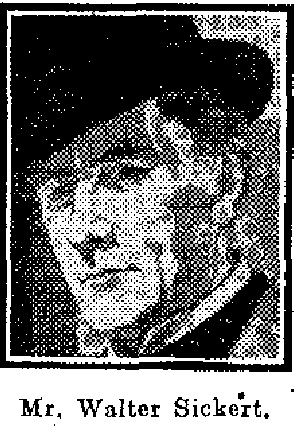 [/img]
Advanced Art.
The exhibition by the London Group at the Mansard Gallery contains the most advanced paintings in England. In fact, if they were a little more advanced they would be out of sight, a consummation devoutly to be wished by those with old-fashioned ideas about form, beauty and colour.
Discretion.
The catalogue contains a preface by Mr. J. Middleton Murry, the editor of the Athenaeum, who admits that he hadn't seen the pictures when he wrote it. The London Group evidently realises that discretion is the better part of valour. The two largest pictures in the exhibition are Mark Gertler's "Queen of Sheba," a very fat, ugly lady reclining on a couch, and Walter Sickert's "The Batchelor Hotel," which (apparently) shows two ladies waiting (very anxiously) for their bill.
Source: The Daily Mirror, October 17, 1922, Page 9

***************************************
Karen Trenouth
Author of: "Epiphany of the Whitechapel Murders"
Author of: "Jack the Ripper: The Satanic Team"

---
Permissions in this forum:
You
cannot
reply to topics in this forum