TEST MATCH TALK.
Fashionable Country Ball - Mr. Walter Sickert's Show - Bachelors of 1925.
[img]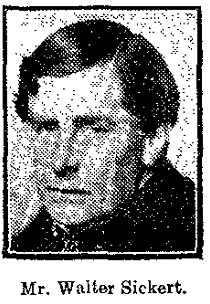 [/img]
A Famous Painter.
Mr. Walter Sickert, recently made an A.R.A. at the age of sixty-four, was, in the nineties, the one English painter really known abroad. He had been a pupil of Manet, of Degas and of others, and he was one of the pioneers of Impression. He lived abroad for many years, but on his return to London his influence was immediately felt. Camden Town became active, and the London Group was born.
As Etcher.
Most people know Sickert as essentially a painter in oils, and I fancy a good deal of money has been invested in his work by shrewd people who keep an eye on the future. But at the Leicester Galleries next week there is to be the first exhibition of Sickert's etched and engraved work from 1884 to 1924. I am told it is very interesting.
Source: The Daily Mirror, January 7, 1925, Page 7

***************************************
Karen Trenouth
Author of: "Epiphany of the Whitechapel Murders"
Author of: "Jack the Ripper: The Satanic Team"

---
Permissions in this forum:
You
cannot
reply to topics in this forum