[img]
[/img]
IS THE PRINCE DYING?
QUEEN VICTORIA'S SON SAID TO HAVE BRIGHT'S DISEASE.
Some of the Characteristics of the Heir Apparent to the British Throne - A Politic Man, but Not a Politician - His Enormous Income.
A good deal more than a hint comes from London that the Prince of Wales has been informed by his physicians that he has that incurable ailment known as Bright's disease of the kidneys. If this be true there is no probability of his ever sitting on the English throne. There are yet no signs of any breaking down in his mother, the queen, and there is no malady more sure to bring death than Bright's disease.
The English people would regard the death of Albert Edward as a great misfortune to them. This may seem singular, since his reputation in America is that of a profligate. One hears of him at the theatres paying especial attention to the most beautiful actresses. In India, some years ago, he was said to have given free vent to his immoral tastes and shocked the civilized world. Recently he witnessed a sparring match in which the bruiser John L. Sullivan took part. Why is it, then, that the English people take so great an interest in the life of this man, who is neither great nor good?
In the first place the prince had largely finished sowing his "wild oats" ten years ago. Of late those scandals with which his name was formerly connected seem to have ceased. His English taste for manly sports led him to view a sparring match, perhaps an undignified act for one of his position, but it would easily be forgiven by a nation whose young men all read sporting papers; and whose school boys are trained to box and settle their disputes in a ring. Indeed, one of the elements of popularity of Albert Edward is that he is the patron in England of those hardy sports which have given such strength and courage to Englishmen, and enabled them always to do more with fewer troops than any other nation.
The prince, though not a great man, is far seeing. One occupying his position, belonging to a family set apart from all others except of royal blood, would be expected to hold to the belief that he was secure in his position. The prince does not take this view of royalty in England. He has watched the democratic tendency of the age and adapted himself to it. He has the wisdom to follow public opinion rather than stand against it. The Prince of Wales is the most democratic man of those enjoying a similar position in Europe. He makes it a point to become identified with all classes. He can always be counted upon to take a part in meetings and other matters tending to benefit the public.
He constantly is called upon to preside at these meetings, and his speeches are remarkable for being adapted to the audience and to the purpose. To hospitals, churches, public buildings of all kinds he constantly lends the interest attaching to his presence, and is kept busy either in laying their corner stones or at their dedication. In this way he becomes identified with the people whose king, it was supposed, he would one day be, and it was perhaps this want of holding aloof from them, common with his predecessors, which has led him to that democratic demeanour he shows whenever court etiquette will permit. He goes about quite as other people go, and of late years it has been a common occurrence to see him riding in the park in a hansom cab.
It is said that the prince would do well in politics; not that he troubles himself as to the law making of the nation, for he has never availed himself of his privilege as a voter in the house of lords except once, and that was upon the deceased wife's sister bill. His reputation is not as a politician, but for being politic. He remembers faces; he has rare tact; he is easy and unstudied in his manner; in short, he has dropped all that lofty carriage which is as indispensable to other European princes of the blood as a ramrod is to an old flint lock musket.
[img]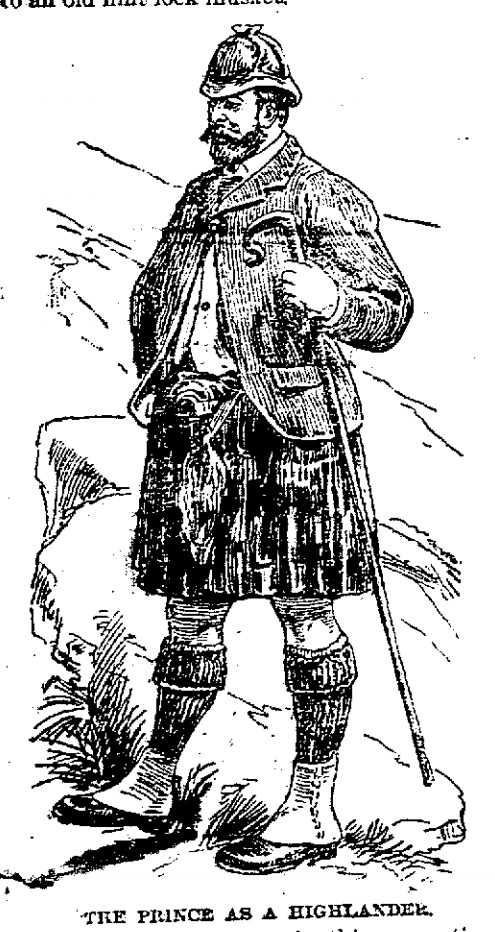 [/img]
There is a pretty story in this connection, which reads as it it might come from one of those fairy tales wherein princes are constantly doing something very nice or very wicked. Albert Edward on one occasion stopped and picked up the cane of a cripple. The prince did not regard it so remarkable an act for him to do as to remember it, but the cripple appreciated it sufficiently to send the prince a handsome clock, with a note containing the information that it was in acknowledgement of the prince's kindness in picking up his cane. The clock came from Brookline, Mass., and the sender was probably an American. It adorns one of the rooms of Marlborough house.
The prince, if he had not been born to so exalted a station, would doubtless have made a typical club man. He likes good company and is a man about town. There is scarcely an evening that he doesn't visit some one of the theatres. Actresses whom he has desired should be presented to him have, with one exception, accepted the invitation. The exception is Mary Anderson. It doubtless required a good deal of courage for the American to decline this invitation. Her action was liable to misconstruction, and she might offend the British public. Miss Anderson, however, boldly declined the honor, and it does not appear that her audiences grew less after she had done so.
The prince has a royal income, but when he was younger he spent so much money that he became involved. His allowances by parliament is 40,000 pounds a year, or nearly $200,000 and the princess is allowed 10,000 pounds more, or 50,000 pounds. The prince also has an income of over 60,000 pounds, or $300,000, from his revenues of the duchy of Cornwall, which is his by inheritance, so that his income aggregates about $500,000 a year. But he has nearly all the royal entertaining to do, and it is said that his mother makes him an additional allowance. He spends every penny of his income, including the allowance.
[img]
[/img]
The prince has had sufficient sense to avail himself of his position as out of or above party strife. Several years ago he gave a dinner at Marlborough house, at which he gathered forty-two guests, all prominent in one way or another. Such a dinner could only be given by the Prince of Wales, for he need receive no regrets. An invitation from him is in the form of a command, and no previous engagement can stand. At this dinner Tories and Conservatives were mingled in delightful confusion, and were placed beside one another at table. Perhaps it was well that there was the restraining presence of the heir apparent, or some hot headed Tory might have got into a row with an old enemy of the opposition, and the racket once started would probably have ended with a number of sore heads and broken bones.
[img]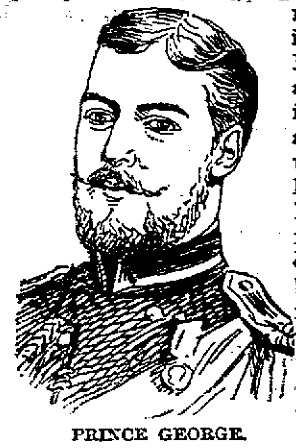 [/img]
The age of Albert Edward is 48. He is portly and bald; weighing 180 pounds, though not quite 5 feet 7 inches in height. He dresses well, and on the whole is quite a respectable looking gentleman. He is the leader of society in England, being a member of what is called the Marlborough or Sandringham set. Both these names are taken from his residences. He used to set the fashions for dress, but that is now the province of his son, Prince Albert Victor.
In the autumn the prince has usually gone to Scotland for deer stalking. Early winter he has spent in the south of France; spring and early summer - the social season - in London, and midsummer on the continent. He is the father of five children, Princes Albert Victor and George and the Princesses Louise, Victoria, and Maud. The Princess of Wales is a sister of the present czarina of Russia.
Should the heir apparent die of the disease which it is said has come upon him, the event will cause considerable commotion in social circles in England. Albert Victor will then be Prince of Wales, and will have to do the entertaining. This will necessitate his taking a wife, which thus far he has delayed.
The cut at the head of this article is of the prince's country house, Sandringham.
Source: Indiana Democrat, Thursday November 7, 1889

***************************************
Karen Trenouth
Author of: "Epiphany of the Whitechapel Murders"
Author of: "Jack the Ripper: The Satanic Team"

---
Permissions in this forum:
You
cannot
reply to topics in this forum