[img]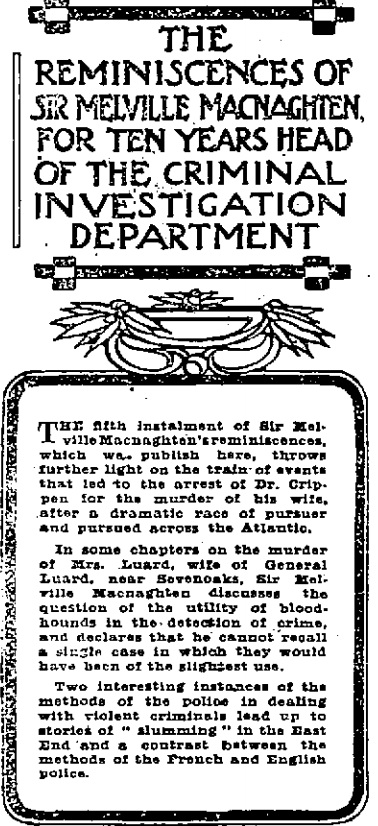 [/img]
[All Rights Reserved.]
The Crippen Case.
So far as my experience goes, no case has ever fascinated the British public, and, indeed, engaged the attention of the whole world, in quite the same way that the case of Dr. Crippen did, and yet, from a detective point of view, it had no particular interest.
Unquestionably, however, in its developments there were very many dramatic touches such as the man in the street loves to imbibe with his coffee at breakfast, and to inhale with his after-dinner cigar. Since Mr. H.M. Stanley discovered the missing missionary with the remark, "Dr. Livingstone, I presume," no meeting has ever been equal to that of Chief Inspector Walter Dew with the murderous doctor on the deck of S.S. Montrose. "Dr. Crippen, I believe," is as historically interesting a salutation as the one I have just quoted out of Central Africa.
The sordid story of the doctor's loves and his wife's disappearance on the last day of January, 1910, is so fresh in the minds of the public that it need not be recapitulated, but some sidelights on the case may be deemed of interest. Police knew nothing of the existence of such a man, or of such women as Belle Elmore and Miss Le Neve, till the beginning of July of that year, when a music hall artiste and her husband - well-known and highly respected in the profession - called one afternoon at Scotland Yard and asked to see an old acquaintance, the Superintendent of the Criminal Investigation Department.
That post was then filled by one of the best officers I have ever had the pleasure of working with - a man whose friendship and advice I always valued very highly. He was one of those individuals who knew everybody, and whom everybody liked, and any officer possessing such knowledge and such popularity cannot fail to be of very great use in the Metropolitan Police.
The story told to the Yard, as it had been given to its narrators by Dr. Crippen, was one which was bound to excite very great suspicion. The superintendent at once took down the facts, and personally reported them. The papers were then marked up, "Have the doctor seen and shaken up by a chief inspector."
The said doctor was accordingly interviewed the next day, and at once frankly admitted that he had lied in the story which he had given out to the world as to his wife's departure for, and death in, America some months before. He asserted that he knew no more of her present whereabouts than did his interrogator, and that, in what he had falsely said, he had been prompted solely by a husband's desire to preserve the good name of an erring wife.
His revised version was, in effect, as follows: That his domestic life had been, for some months prior to his wife's disappearance, most unhappy; that she had, for a long time past, been carrying on with a man whose Christian name only was known to him, and whom (I think he alleged) he had never even seen. That, at the end of January, after an unusually stormy scene, he left his house for business at the customary hour, and upon returning to Hilldrop-crescent found that his wife had deserted the home. He added that he had, no manner of doubt but that she had gone off with her lover.
The First Suspicions.
The story was inconclusive and unsatisfactory, but not easy of off-hand disapproval. The weak point of it was that a woman, admittedly fond of jewellery and smart frocks, should have taken so hurried and unprepared a departure as to leave all her possessions behind her, some of which, we had been informed from music hall visitors, had been worn on public occasions in the month of February by a lady friend of the suspected doctor.
The officer was very far from being convinced, and at once proceeded to go over the house. The doctor rendered every assistance, and the two traversed the premises from basement to garret. Close by the dining-room, opening out through a little passage, was a small wood and coal cellar. There was nothing remarkable about it. Some coals and some faggots covered the floor. Like a good detective officer, the chief inspector carried a suitable stick, with which he tapped about on the floors, but could find nothing to arouse his suspicions. A light was demanded, and at once brought in by the doctor. A look round the garden led to a negative result. The officer formed an opinion that, if there had been foul play, the body had not been deposited within the precincts of the little house in Hilldrop-crescent.
The chief inspector returned to the Yard and reported the result of the interview. Now nothing could have been better, from his point of view, than Dr. Crippen's demeanour and action on this occasion, and if his nerves had remained unshaken, and he had had the courage to take a long lease of the house which held his guilty secret, he might still be alive and carrying on his duties as a second-class aurist.
But when the officer left his fortitude failed. He determined to cut and run, and not only to beat a hasty retreat himself, but to take with him a young woman to whom he was, unquestionably, very warmly attached. If he had gone away alone he might have baffled the police, for he was a man of the world and knew his way about it - but, as soon as he determined to take his lady friend with him, the rope was already dangling round his neck, and it very perceptibly tightened when he dressed her up as a boy. All young women are not Vesta Tilleys, and the human form divine in male and female is very different. But the cleverest criminals not infrequently give themselves away, and so it was in the doctor's case.
When the officer entrusted with the inquiries paid a visit to the surgery on the Monday morning he was informed that the doctor had not arrived, and on going to the house in Hilldrop-crescent found that the bird had flown. But in England you cannot arrest on suspicion, and you cannot say that a murder has been committed unless, and until, a body can be found. If, then, a crime had been perpetrated, where could the ghastly proof of it be found? Where had the dead body been deposited?
The Search for the Body.
Constables were at once sent up to the garden, and digging went on with considerable energy. The house was again thoroughly searched, and floors sounded in all directions, but for forty-eight hours nothing came to light. On the afternoon of the following Wednesday, as the chief inspector was again tapping about in the coal and wood cellar, he thought he touched a loose brick. The debris of the coal and faggots was cleared away, and a brick, with some difficulty, removed - other bricks were then found to be disconnected. Pickaxes were requisitioned, and two vigorous young constables commenced a work of excavation.
After delving down to the depth of some eighteen inches they came upon something very unpleasant, and the chief inspector sent a telephone message to the Yard to say so. Being still engaged in the office, it did not take long to get a car, and the superintendent and I were soon on our way to the theatre of operations. Before leaving I put a handful of cigars into my pocket; I thought they might be needed by the officers - and they were!
On arriving, a very cursory examination satisfied us that the services of a medical expert, rather than those of a detective officer, were required, and leaving the digging work in an inchoate state, a message was sent to my old friend and adviser in all these matters, Professor Pepper, asking him to look in at Hilldrop-crescent in the morning.
As this was our first visit to the house the superintendent and myself had a good look round before leaving. It was very evident that the late occupier had left in a hurry; but what struck me more than anything else were the proofs that he had been in the habit of doing himself remarkably well. On the sideboard in the dining-room were five or six bottles, one of whisky, one of claret, one of sherry, and two smaller ones of green and yellow Chartreuse. From the doctor's chair at the end of the dining-room table to the cellar where the remains had been found was a distance of only some fifteen or twenty feet. How, for five long months, good digestion could have waited upon the appetite in such circumstances has always been a marvel to me!
Dr. Pepper investigated and duly reported that the remains were undoubtedly human, but he was not in a position at that time to say whether they were male or female, and rather doubted whether he would ever be able to so determine. This was not wholly encouraging; but we had to catch our hare before we need bother our heads about the subsequent culinary operations, and to that end we set to work at once.
Found by Wireless.
The exact nature of the charge which at a later stage be preferred against the fugitive was a matter for future consideration. Inquiries were made in every possible direction, but it soon became evident that we were up against a very tough proposition, and that Dr. Crippen and his partner in flight had completely vanished, and - like the witches in "Macbeth" - had left no track behind. I have known many busy times at the Yard, but nothing to exceed the rush and worry of the following fortnight.
Bills in French, as well as in English, were drafted out, giving likenesses, descriptions, and handwritings of the much-wanted couple, and were despatched to every quarter of the globe. Meanwhile, the public favoured us with more correspondence than at any former time in the history of the Yard, with the possible exception of the period of Jack the Ripper's reign of terror. Somebody had seen the fugitives in almost every town in the United Kingdom, and didn't hesitate to write and say so. They were quite positive as to the identity of the individuals, but had never taken the trouble to "locate" them. Therefore no definite inquiries were possible. All that could be done was to send the missives to the local constabularies for "such steps as might seem to them advisable."
The Secretary of State for the Home Department sanctioned the offer of a reward of two hundred and fifty pounds, and we then began to get quite busy with "foreign intelligence." Most capitals and many provincial towns in Europe reported that the couple had been seen within their walls on recent dates. Every letter or wire received required careful reading, and the work literally went on by night as well as by day. One became obsessed with Crippen and the hope of his capture. I remember walking through St. James's Park, en route to the office, and the following jingle coming into my head. I record it with apologies to my friend Mr. Fred Terry: -
We sought him here, we sought him there,
Detectives sought him everywhere.
Is he in Heaven, or hell, maybe,
The dem'd elusive Dr. C.
After a week or ten days of this kind of strain, as I was dressing for dinner one night the officer in charge of the case rang me up from the Yard to say he had just received, through Liverpool, a curious message, and would like me to see it as soon as possible. This was the Marconigram which was to be the key to unlock the whole mystery of the flight and disappearance. I asked the Chief Inspector to come down to my house, and he shortly arrived with the message from the sea. A perusal of the same made it clear that the captain of the Montrose was in earnest; but had he been mistaken in the view he took of his passengers?
At this particular time we had what looked like two good clues in hand, one in Spain and one in Switzerland. But if the contents of the Marconigram were genuine, it was imperative that action should be taken at once, and the parties arrested, if possible, before they landed in Canada. A hurried conversation took place between the officer and myself, from which I elicited that he had already looked out trains to, and steamers from, Liverpool; and that, if he caught the midnight express and was on board a certain boat by half-past six the next morning, he would, in all human probability, reach the joint destination before the fugitives arrived there.
It was a serious step to take to send off the Chief Inspector (who alone held in his hands all the clues of the case, and knew the ramifications of each particular thread, besides being the only officer who had seen and held converse with the wanted man) on a journey of three thousand miles - a journey which might well turn out to be a wildgoose chase. But a decision had to be arrived at; the probabilities of failure or success were weighed up, and, as a result, half a sheet of notepaper was minuted, to the effect that the officer was to leave for Canada at once for the purpose of arresting Dr. Crippen.
The Atlantic Race.
Wishing the Chief Inspector good luck and God-speed, we shook hands and parted. That night could not fail to be one of anxiety; but the die was cast, the Rubicon was crossed. If the coup happened to come off, well and good, but, if otherwise, why, then, the case would have been hopelessly messed up, and I didn't care to dwell on the eventualities of its future.
On reaching office early the next morning I assumed an air of nonchalance which I was very far from feeling, and said to my Superintendent, "Well, what do you think of last night's decision?" He evidently thought very little, and frankly told me so, and that he and the remaining occupants of the Chief Inspector's room had been talking the matter over and had come to the conclusion that the probabilities were all against the very sanguine view that I had taken as to the correctness of the news conveyed in the Marconigram.
This was not pleasant hearing, and, on further discussing the matter with others, I found that the only man who entirely endorsed my view and consequent action was the dedicatee of these memoirs. Yet had Fate another rod in pickle for me! On wiring to Antwerp for further particulars as to the father and son who had booked their passages on board the Montrose, we received descriptions of these individuals which in no wise corresponded with those of Dr. Crippen and Miss Le Neve.
Again we wired for further inquiries to be made, and also sent over photographs of the wanted couple. Then, after a delay of three or four days, we had a reply to the effect that the likenesses had been fully identified as the pair who had stayed at an inn some two miles out of Antwerp, and who had, beyond all question, taken the passages by the S.S. Montrose.
All further anxiety in the case - from a police point of view - was at an end. A scar on a portion of the remains found in the cellar gave complete evidence that the body buried was that of Mrs. Crippen. What took place at the trial is matter of history. But how were the skull and the bones of the murdered woman disposed of? That has always seemed to me the most puzzling feature in the whole case, and the real truth will never be known. But it was ascertained that, about a week after the murder, Dr. Crippen went over to Dieppe by the night boat. Did he drop a dirty clothes bag (or something of the sort) over the side of the vessel? I think I should have done so had I been in his position.
Dogs and Police.
During the last twenty-five years much nonsense has been talked and more nonsense has been written about the employment of bloodhounds by Metropolitan Police. I cannot call to mind a single case in which they would have been of the slightest use in the detection of crime, even if kennels had been established at the Yard and properly trained hounds had been at once available. At the time of the Whitechapel murders the idea was first mooted.
I cannot conceive a more impossible locality in which to expect hounds to work! or how any sane individual could ever have dreamt of success in this direction. Certain it is, however, that the notion did find some favour with a highly-placed police official, and that he himself arranged to be hunted by bloodhounds in Hyde Park. The thing appeared in the papers, and just ridicule was incurred.
Another case, just twenty years after, which brought up the question of bloodhounds was that of the murder of Mrs. Luard in a wood, some eight miles from Sevenoaks, in late August, 1908. This was, of course, outside the Metropolitan Police area, and within the jurisdiction of the Kent county constabulary; but forty-eight hours after the murder had been committed the Yard was asked to take up the inquiries, so that the facts of the tragedy are fairly familiar, although at the actual time of the occurrence I was holiday-making in St. Petersburg.
A General Luard and his wife had lived in this neighbourhood for many years. Their house was situated on the confines of a large wood, and the nearest way to the golf-house lay through it.
On the fatal day the general and his wife went out for lunch. It was his intention to go to the golf-house to get some clubs, and it was arranged that she should accompany him as far as a summer-house in the wood. There he left her about three o'clock.
She was never again seen alive. Two shots were heard about 3:15, but no particular attention seems to have been paid to them. The general was seen by two or three people walking towards the golf-house, which was about three-quarters of a mile distant from the summer-house. There he obtained his clubs, and was picked up, I think (or, perhaps, only seen), by some friends in a motor-car. At any rate, he went home by a different road.
He reached his house about 4:30. His wife had not then returned, which must have seemed strange to him, seeing that a lady was expected to tea; no fears as to any mishap, however, were entertained, and, after offering apologies to his visitor for his wife's non-appearance, the general said good-bye to her, and then, at about 5:30, strolled off in the direction of the summer-house in the wood, where he had left his wife two and a half hours before. On arriving at his destination he found his wife lying dead. She had evidently succumbed to two bullet wounds in the head.
"Uncle Tom's Cabin."
Now this was just a conceivable case in which, had all the circumstances been preternaturally favourable, the use of bloodhounds might have led to good results. What was required was that someone, with a bloodhound at heel, should have discovered the body, and that man and dog should have arrived on the scene before the murderer, or murderers, had had time to go any appreciable distance away from the wood. This, of course, could not be expected to occur outside the lines of most improbable events, which always obtain in Adelphi melodrama. But now mark what did take place, and what would take place again in similar circumstances, in ninety-nine cases out of a hundred.
The general, horrified at his awful discovery, at once raised an alarm, and a crowd collected as rapidly as crowds always do collect, even in a place which a few minutes before is seemingly deserted. Many feet were busily engaged in tramping backwards and forwards and obliterating any possible clues which the murderer, or murderers, might have left behind. There is a cry for the village constable, but he, honest man, is probably three or four miles away, engaged on the trivial round of his long country beat, and when he turns up (as, I believe, he did in this case about seven o'clock) what can be expected of him but to send a message to his superior officers at the nearest station!
Before the said officers could arrive on the scene darkness had covered the land, and nothing could be done, as far as an investigation of the spot where the body was found, until the next morning. It always is so when a murder takes place in a quiet country place, and no one is in the least to blame for it. I believe that bloodhounds were brought to the scene a few days later? For all useful purposes they might just as well have been Shetland ponies!
But the general idea of the working of bloodhounds is, I believe, in great measure derived from that delightful book of our childhood, "Uncle Tom's Cabin." The hounds, however, kept for the purposes of hunting down and rounding up runaway slaves were, I think, not bloodhounds at all, but Cuban mastiffs, a very savage breed of dogs with no very delicate sense of smell, but sufficiently good to track down a negro in a solitary swamp or cane-brake.
In this country the constabulary forces are sufficiently effective to be able to dispense with canine assistance. Moreover, if a felon were at any time to be badly mauled by a so-called police dog there would be a great public outcry, for the British ratepayer has a very tender heart, even where the criminal classes are concerned. Indeed, in the matter of arrests, constables are always enjoined to deal with their assailants in as humane a manner as possible, and, if attacked, only to strike at the less vulnerable parts of the anatomy, such as the arms and legs.
Policeman's Slip.
An object-lesson in this respect occurred in the vicinity of Blackheath some twenty years ago. A uniform sergeant, while patrolling his district (at day break one spring morning), saw two men come through a hedge near a country house. It was evident that they were evil-doers, and, being young and active, the officer soon overtook them and demanded a surrender. For all answer one of the men drew a long knife and came at him in front, while his pal, armed with a heavy hedge stake, made a flanking movement. The sergeant was in a tight place. He realised the truth of the old adage that
Thrice armed is he who has his quarrel just,
But four times he who gets his blow in fust.
He behaved (as Metropolitan Police officers always do behave in such circumstances) with the greatest gallantry. He drew his truncheon, and as the first burglar, knife in hand, came at him, he gave him a blow on the head which stretched him senseless. Attention was then paid to the stake-holder, who thought discretion was the better part of valour, and at once surrendered.
I well remember reading the sergeant's report, in which he expressed regret that his truncheon had come into collision with his opponent's head. He stated that he had aimed at his arm, but that his own foot had "slipped" and - hence the trouble. The "slip" probably saved a brave man's life and brought two dangerous criminals to justice.
Another story came to my mind as of a constable courageous whose life was miraculously saved by means of the fact that he was wearing a summer tunic in place of a winter coat. The officer was on duty outside the German Embassy in Carlton House Terrace. It was in the middle of June, 1897, and a burst of sunshine had recently warned the authorities that the time had arrived for donning the tunic and temporarily laying aside the thicker coat.
On this first day, then, of the change of habiliments, a German crank, who quite erroneously believed himself to be suffering some injustice at the hands of his Emperor, determined to get vicarious satisfaction out of one of the Imperial representatives. He happened to turn up at the Embassy just as one of the attaches was coming out, and at once fired two shots, both of which took effect, but in no vital part. The constable rushed forward, whereupon the would-be murderer turned round and fired point-blank at him when he was only a few feet away!
Now, notebooks are carried by the police in the winter in the tail pocket of their heavy coats, but in the summer in the left-hand breast pocket of the tunic. The pistol was a small one, but the aim was good. The bullet struck the constable just over the heart, but was intercepted by the notebook, the outside cover of which was pierced through. The bullet, having spent its force, slipped down into the pocket, where it was subsequently found. The officer closed with his assailant before he could get in another shot.
I visited the attache an hour or two afterwards. His wounds had been dressed and he was as cheery as possible and loud in his praises of the constable's courage. I remember well his concluding remark, "I like your policeman," he said; "he was so jolly."
An M.P. in the Slums.
Many years ago, when Whitechapel boasted worse slums than it does at present, when the murderous old Ratcliff Highway had not as yet changed its name to Cable-street, and when Shaftesbury-avenue and Charing Cross-road had not cut up, and through, one of the worst quarters of the metropolis, it was the fashion for the young bloods of the day to make expeditions to the criminal quarters of the town under the guardianship of officers of the Criminal Investigation Department.
During my first years of police work I was frequently down in the East End o' nights. On one occasion a well-known member of Parliament begged to be allowed to accompany me.
We had (as I knew we should have) rather a dreary and disappointing time of it. One or two lodging-houses had been visited, and nothing is more depressing than that peculiarly abominable and acrid smell which pervades them. I am thankful to think it is absolutely unlike anything else which has ever assailed my nostrils in any quarter of the globe. To finish up the evening with some miserable pretence at hilarity, I suggested a visit to the Prussian Eagle (I think that was the name of the house of entertainment in Wellclose-square, but it has long ceased to exist), where dancing was carried on by German ladies, and sailors of all nationalities, and where the sight of a drawn knife or two was not infrequent. On entering, we naturally desired to make ourselves popular, and to that end stood "rum shrub to the ladies all round." In consequence, we were quite a success, and so the evening ended.
I never happened to meet my companion again till two years ago, when, at a public dinner, I thought I recognised a face, but could not put a name to it. Moreover, when I had made inquiries and heard the gentleman's name it conveyed nothing to my mind, seeing that my fellow-roysterer had been raised to the peerage during the long interval which had passed since we foregathered. After a few minutes, however, I was able to piece my puzzle together, and finding myself near him later on in the evening, I shook hands and said, "Do you remember the night when you and I stood rum shrub to the ladies in the Prussian Eagle in Wellclose-square, Whitechapel, in 1889?" "Why," he exclaimed, "it's Macnaghten! I have been looking at you for the last two hours, wondering who you were and where we had met."
Some rather rough boxing, before some very rough crowds, used to be conducted down Shoreditch way. How the competitions did not end fatally has always been a marvel to me. Stone floors are not resilient, and I do not think that the "uprights" round the ring were ever padded. Yet accidents, at any rate of a serious nature, were few and far between.
It was, by the irony of fate, reserved for the National Sporting Club (where everything was, at all times, conducted on the fairest and most humane lines) to be the scene of several fatalities some years ago.
A Famous Boxing Bout.
I could wish nowadays that more young men boxed and fewer young men looked on, and this remark applies a fortiori to football, and, in a lesser degree, to cricket; but as to the casualties (whether in hunting, football, or boxing), we must accept them in the spirit of the Australian poet Adam Lindsey Gordon: -
Never a game was worth a rap
For a rational man to play,
Into which no accident, no mishap,
Could possibly find a way.

There's danger even where fish are caught
For those who a wetting fear,
For what's worth having must aye be bought,
And sport's like life, and life's like sport,
It ain't "all skittles and beer."
The old Roman cry of "Panene et circenses!" is too much abroad in the land, and is not making for the physical or moral good of young England.
The best boxing contest I ever saw was that between Dick Burge and Kid Lavigne (a French Canadian), which took place at the National Sporting Club in Covent Garden in the early summer of 1896. Burge (as his proper weight, which was 10s. 4lb.) was a very exceptionally good man. He had been a noted sprinter and a very good football player, which accounted for the excellence of his "foot-work"; moreover, he had plenty of pluck and science, and possessed an unrivalled knowledge of ring tactics.
I suppose he was about thirty years of age when this contest took place, and he was, as he found to his cost, up against a much younger man. There is much truth in the old adage that "youth will be served," and doubly so when the older combatant has had to "waste" unduly and get down to an unnatural weight. The men were matched, I think, to enter the ring at 9st. 12lb., which was just 8lb. below Burge's normal and proper condition. In Kid Lavigne he was meeting a veritable pocket Hercules and a two-handed fighter if ever there was one. Physical force won the day, and the contest was very properly stopped somewhere about the sixteenth round, as Burge was, in the opinion of the wise and humane referee, too exhausted to be allowed to continue.
Haymarket Kangaroo.
It has been my privilege to have had as friends many of the best amateur boxers of two generations ago. The sport seems to have agreed with them. Only yesterday I met one of them who, at seventy years of age, looks as fit and well as most men do at fifty. He it was who slaughtered the "Kangaroo" in the Haymarket in the very early seventies.
Everyone who was acquainted with the night side of the West End of London at that time had knowledge of the Kangaroo. He was a gigantic negro and could box a bit, his character was of the very worst. In these days the police would have dealt with him very summarily.
One night the Kangaroo was unwise enough to take on my friend. Perhaps he did not realise that his antagonist had been amateur heavy-weight champion a year or two before, and was about the best gentleman "fighter" (as distinct from "boxer") that the world had ever seen. The contest was one-sided. Whether it was the effect of the punishment administered I know not, but the Kangaroo died two months afterwards - Nil nisi bonum - but never was there a better riddance of worse rubbish!
Another old friend and referee, who has done more for latter-day boxing than any man living, had a strange and not wholly unsatisfactory experience in the East End about this time. He had kindly consented to act as referee in some boxing entertainment which a sporting publican had arranged. At its conclusion he was leaving the house, when a sudden rush was made, and his large "stop" watch was gone.
He forced his way back and confronted the manager in no friendly mood. "Look here, Bill," he said, "I came down to your place in the interests of sport and to encourage fair boxing. As a reward I lose my watch." "What! your watch gone, Mr. A.," cries mine host; " that must have been quite a mistake." Not at all mollified my friend went home.
About a fortnight later, on Christmas Day, he received a registered parcel, and on opening the same, found his old "stop" watch.
The French Police.
I have often been asked whether the criminal police of Paris are not a much cleverer set of fellows than their insular neighbours of the Criminal Investigation Department, and whether mysteries which baffle Scotland Yard would not be unravelled at the offices on the banks of the Seine.
I have always had shrewd suspicions that my interrogator has generally answered the question in his own mind before his mouth forms it, and that the response is prejudicial to the police of his own country. I believe that this is due, in some measure, to the fact that the fascinating romances of Gaboriau always depict the French detective as a marvel of sagacity, whereas our own equally brilliant writer, on similar subjects, almost invariably portrays the gentleman from Scotland Yard as being of very mediocre intelligence.
I knew the Service de Surete pretty well some twenty years ago, and very efficient it was. At no time, however, do I honestly consider that it was superior to our detective force. Certainly, taking man for man, we never had anything to fear from a comparison of the officers. We pay our men better, and we get a more educated and, therefore, superior article.
Both forces consist of carefully picked men who enjoy the confidence and respect of their superiors; but the conditions under which they work are widely different. To put the whole thing in a nutshell; in France every man is deemed guilty till he proves himself innocent; in England every man is innocent until he is legally proved to be guilty - a very different thing.
As a well-known London detective once put it: "When I am absolutely assured of the guilt of my man, then the difficulties of the case begin to crop up." In France any individual on whom suspicion, however attenuated, falls is brought before a juge d'instruction, and is detained just as long as that functionary thinks fit. He is (or used to be some years ago) brought up again and again at the sweet will of his captors and ruthlessly cross-examined. To begin with, the respectability of his forbears is not infrequently aspersed. He may be told that his father was a pig, his mother a sow, and so on, till his brain becomes fogged, he breaks down, and, if guilty, gives himself away.
In England the case must rest entirely on evidence and not at all on suspicion. So soon as a man is arrested he is at once taken before a magistrate, and if sufficient evidence is not forthcoming he is discharged.
Another method which was wont to be employed by the French police is one which would not for a moment be tolerated on this side of the Channel. I refer to the requisitioning of the services of M. le Monton. The employment of Master Sheep was on this wise.
We will suppose that a noted Apache has been arrested; it is suspected that he has committed many murders, burglaries, etc., but there is not sufficient evidence, and the attendances before the juge d'instruction have been infractuous. Into the detenu's cell is introduced a budding criminal (who may have been arrested for snatching a purse, stealing a handkerchief, or some other trifling offence).
This young man has previously been taught his lesson. Dominoes and wine are provided, and the pair of rascals drink and play together. After a bit Master Sheep begins to brag of what mighty deeds he has done in the matter of infringements of the sixth and eighth commandments. The old war-horse scents the battle! The blood of the Apache boils within him! Perish the thought that he should ever be deemed a criminal article in any way inferior to the canaille in front of him! He blurts out that he was the man who slaughtered the banker and robbed the archbishop. Master Sheep treasures up these sayings in his heart, and when the time arrives they are accepted as evidence - voila tout! I am inclined to think that the liberty of the subject is better preserved over here, and that we do some things, at any rate, better in this country.
(Next week Sir Melville will continue his reminiscences, contributing his views on the Battersea Mystery, perhaps the most remarkable unsolved murder case of recent years.)
Source: Lloyd's Weekly News, January 3, 1915, Page 6

***************************************
Karen Trenouth
Author of: "Epiphany of the Whitechapel Murders"
Author of: "Jack the Ripper: The Satanic Team"

Similar topics
---
Permissions in this forum:
You
cannot
reply to topics in this forum