[img]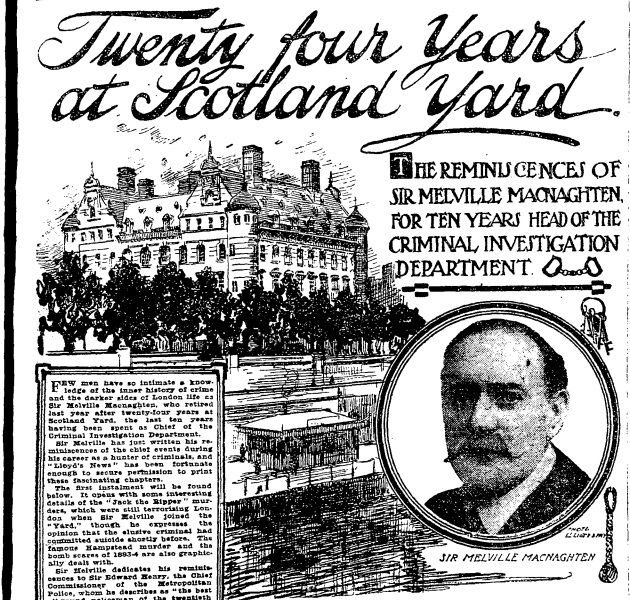 [/img]
[img]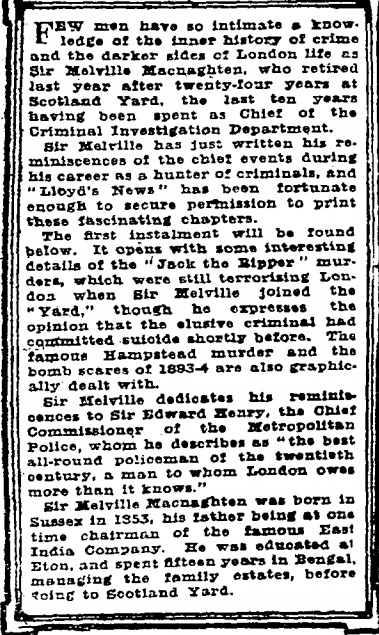 [/img]
I'm not a butcher, I'm not a Yid,
Nor yet a foreign Skipper,
But I'm your own light-hearted friend,
Yours truly, Jack the Ripper.

Anonymous.
The above queer verse was one of the first documents which I perused at Scotland Yard, for at that time the police post-bag bulged with hundreds of anonymous communications on the subject of the East-end tragedies. Although, as I shall endeavour to show, the Whitechapel murderer, in all probability, put an end to himself soon after the Dorset-street affair in Nov. 1888, certain facts, pointing to this conclusion, were not in the possession of the police till some years after I became a detective officer.
At the time, then, of my joining the force on June 1, 1889, police and public were still agog over the tragedies of the previous autumn, and were quite ready to believe that any fresh murders, not at once elucidated, were by the same maniac's hand. Indeed, I remember three cases - two in 1889 and one early in 1891, which the Press ascribed to the so-called Jack the Ripper, to whom, at one time or another, some fourteen murders were attributed - some before, and some after his veritable reign of terror in 1888.
I will deal with the terrible sobriquet of "Jack the Ripper" later on. Suffice it at present to say that the Whitechapel murderer committed five murders, and - to give the devil his due - no more. Only two or three years ago I saw a book of police reminiscences (not by a Metropolitan officer), in which the author stated that he knew more of the "Ripper murders" than any man living, and then went on to say that during the whole of August, 1888, he was on the tiptoe of expectation. The writer had indeed a prophetic soul, looking to the fact that the first murder of the Whitechapel miscreant was on 31st August of that year of grace.
No one who was living in London that autumn will forget the terror created by these murders. Even now I can recall the foggy evenings, and hear again the raucous cries of the newspaper boys: "Another horrible murder, murder, mutilation, Whitechapel." Such was the burden of their ghastly song; and, when the double murder of 30th September took place, the exasperation of the public at the non-discovery of the perpetrator knew no bounds, and no servant-maid deemed her life safe if she ventured out to post a letter after ten o'clock at night.
And yet this panic was quite unreasonable. The victims, without exception, belonged to the lowest dregs of female humanity, who avoid the police and exercise every ingenuity in order to remain in the darkest corners of the most deserted alleys.
The First "Jack the Ripper" Murders.
The attention of Londoners was first called to the horrors of life (and death) in the East End by the murder of one, Emma Smith, who was found horribly outraged in Osborne-street in the early morning of April 3, 1888. She died in the London Hospital, and there is no doubt that her death was caused by some young hooligans who escaped arrest. On 7th August the body of Martha Tabram was discovered lying on the stairs of a house in George Yard. Her death was due to a number of wounds on the chest and abdomen, and it was alleged that a bayonet had been the weapon used upon her. The evening before she had been seen in the company of two soldiers and a female friend. Her throat was not cut, and nothing in the shape of mutilation was attempted. I think I am right in saying that the soldiers were detained, but that the available witnesses failed to identify them.
The first real "Whitechapel murder," as before stated, took place on 31st August, when Mary Ann Nichols was found in Bucks Row with her throat cut and her body slightly mutilated. This was succeeded nine days afterwards by the murder of Annie Chapman in the back yard of a house in Hanbury Street; the throat was cut in a precisely similar manner, but the mutilations were of a much more savage character.
On 27th September a letter was received at a well-known News Agency, addressed to the "Boss." It was written in red ink, and purported to give the details of the murders which had been committed. It was signed, "Jack the Ripper." This document was sent to Scotland Yard, and (in my opinion most unwisely) was reproduced, and copies of same affixed to various police stations, thus giving it an official imprimatur. In this ghastly production I have always thought I could discern the stained forefinger of the journalist - indeed, a year later, I had shrewd suspicions as to the actual author!
But whoever did pen the gruesome stuff, it is certain to my mind that is was not the mad miscreant who had committed the murders. The name "Jack the Ripper," however, had got abroad in the land and had "caught on"; it rivetted the attention of the classes as well as the masses. It is small exaggeration to say that little else besides these murders was talked of; leading articles appeared in nearly all of the principal papers, and feeling against the police in general, and the detective department in particular, ran very high.
When public excitement then was at white heat, two murders - unquestionably by the same hand - took place on the night of Sept. 30. A woman, Elizabeth Stride, was found in Berner-street, with her throat cut, but no attempt at mutilation. In this case there can be little doubt but that the murderer was disturbed at his demoniacal work by some Jews who at that hour drove up to an anarchist club in the street.
[img]
[/img]
The Last of the Series.
But the lust for blood was unsatisfied. The madman started off in search of another victim, whom he found in Catherine Eddowes. This woman's body, very badly mutilated, was found in a dark corner of Mitre-square. On this occasion it is probable that the police officer on duty in the vicinity saw the murderer with his victim a few minutes before, but no satisfactory description was forthcoming. During this night, an apron, on which bloody hands had been wiped, was found in Goulston-street (situated, if my memory is correct, about half-way between Berner-street and Mitre-square). Hard by was a writing in chalk on the wall, to the effect that "the Jews are the men who will not be blamed for nothing." The apron gave no clue, and the chalk writing was obliterated by the order of a high police official, who was seemingly afraid that a riot against the Jews might be the outcome of this strange "writing on the wall." This was the only clue ever left behind by the murderer.
After this double murder the town had rest, forty days, and public excitement, to some extent, calmed down. But worse remained behind! On the morning of November 9, Mary Jeanette Kelly, a comparatively young woman of some twenty-five years of age and said to have been possessed of considerable personal attractions, was found murdered in a room in Miller's-court, Dorset-street.
This was the last of the series, and it was by far the most horrible. The mutilations were of a positively fiendish description, almost indescribable in their savagery, and the doctors who were called in to examine the remains, averred that the operator must have been at least two hours over his hellish job. A fire was burning low in the room, but neither candles nor gas were there. The madman made a bonfire of some old newspapers and of his victim's clothes, and by this dim, irreligious light, a scene was enacted which nothing seen by Dante in his visit to the infernal regions could have surpassed.
It will have been noticed that the fury of the murderer, as evinced by his methods of mutilation, increased on every occasion, and his appetite appears to have become sharpened by indulgence. There can be no doubt that in the room at Miller's-court the madman found ample scope for the opportunities he had all along been seeking, and the probability is that, after his awful glut on this occasion, his brain gave way altogether and he committed suicide; otherwise the murders would not have ceased.
Only last autumn I was very much interested in a book entitled "The Lodger," which set forth in vivid colours what the Whitechapel murderer's life might have been while dwelling in London lodgings. The talented authoress portrayed him as a religious enthusiast, gone crazy over the belief that he was predestined to slaughter a certain number of unfortunate women, and that he had been confined in a criminal lunatic asylum and had escaped therefrom.
I do not think that there was anything of religious mania about the real Simon Pure, nor do I believe that he had even been detained in an asylum, nor lived in lodgings. I incline to the belief that the individual who held up London in terror resided with his own people; that he absented himself from home at certain times, and that he committed suicide on or about Nov. 10, 1888, after he had knocked out a commissioner of police and very nearly settled the hash of one of her Majesty's' principal Secretaries of State.
Early Days at the Yard.
At the Yard I was fortunate in my first introduction, which was to the Chief Constable of the Department. He had "risen from the ranks," and no man ever had a deeper insight into crime and its trackings. He had been the trusted confidant of successive Secretaries of State, and I have rarely come across anyone in any position of life who had a more "right judgment in all things." I only had the privilege of working under him for three months; indeed, within six months of my joining he died, worn out with thirty-seven years of anxious work. Whatever success attended my labours at the Yard I ascribe to his early teaching. His first remark to me was, "Well, my boy, you are coming into a funny place. They'll blame you if you do your duty, and they'll blame you if you don't." And indeed, it was not long before I was made to realise that sufferance was the badge of a Metropolitan police officer just as much as it ever was of Shylock's tribe.
Yet I most gratefully admit that the Press and the public (not always sympathetic with the department over which I had the honour to preside for more than ten years) never unkindly nor unfairly criticised my work. At certain times Pressmen did hamper one, but in nine cases out of ten they have been of the greatest use to me, and on occasions rendered yeoman service in the successful investigation of crime. The old idea used to be that detectives best served the interests of justice by keeping journalists at a distance, with the natural result that Pressmen, being under the necessity of reporting something, used to string together unreliable stories, and to set about investigations themselves in a manner very maddening and handicapping to the detective officers who had the handling of the case. It seemed well, therefore, in many cases, to give fully and frankly such information as could be used without hesitation, and at the same time with profit to the public and to the police. For instance, when the Yard is in possession of a good description of a man wanted for murder, or any other very serious offence, the sooner such description finds its way into the newspapers the better, for the Press, with its enormous circulation, can in these days reach hundreds of thousands of persons in a very few hours.
Memories of "Old Jack."
The Superintendent of the Criminal Investigation Department at this time was a fine old policeman of a type now obsolete. His educational attainments were sadly to seek, but his knowledge of the thieving fraternity was unrivalled, and he possessed a very remarkable memory for their names and faces. His physical strength was enormous, and he could eject a welsher in each hand from any ring or any racecourse over which Metropolitan Police had control. Rough as his methods were, the criminal classes trusted and respected him, and few officers before or after his time could get more "information received" out of them.
His reports were laboured, and his spelling indifferent, as the following reminiscence will show. He was one day putting some words of wisdom at the bottom of a young sergeant's report, and, after he had written the word "very" with two r's, he didn't quite like the look of it, and said to the officer standing by, "How do you spell "very" - with one r or with two r's? Nothing to laugh at." A solemn answer was returned to the effect that one was generally deemed sufficient. "That's all right, then," replied the superintendent; if I make a blot over the second r all that is necessary will have been done!"
At bottom "old Jack" had a very kindly disposition, and when he deemed it necessary to verbally castigate an offending subordinate he always took care to do so with closed doors. When the delinquent entered his room the superintendent's formula was always the same: "Shut that door! Now I don't want to be offensive to you in any way, but you're an adjective fool," and having got so far, he used to let himself go, and indulge in violent diatribe for at least ten minutes.
Yet one or two more reminiscences of good old Jack, before I part with him in print, for we shall never look upon his like again. A colleague of his, who was walking with him at the time, told me this story. As they were strolling down Whitehall they met a pensioned pal, one who had retired from the Criminal Investigation Department, and had set up as a private inquiry agent. The said pensioner was a man of portly mien and pompous manner, and thus he addressed them: "This is my daughter, Bessie's birthday, and, on so auspicious an occasion, I must ask you gentlemen to drink her health." This hospitable proposal met with support, and they all three adjourned to a neighbouring house of call. As "old Jack" raised his glass, he said (because I suppose he thought it incumbent upon him to say something!): "What age may your daughter be?" The giver of the drink replied, with some pomposity. "My daughter is twenty-one years of age." Old Jack gulped down his liquor, and put his emptied glass on the table, with the remark. "And a jolly good old twenty-one at that!"
When the old man retired from the service he was not wholly pleased at giving up the work of his life, for he had few tastes save criminal ones. One of his whilom officers, meeting him in the street one day, said, "Well, sir, how do you like being free from the trammels of office?"
"I never had no trammels," snapped back Jack, and I don't know that I rightly understand what the word means!"
A Thames Murder Mystery.
The superintendents of Metropolitan Police were, and are, as fine a body of men as can be found in any society in any quarter of the globe. Through them is the force worked. Among them, past and present, I am proud to reckon a host of personal friends, and, should necessity arise, I know no class who could be more useful in tight corners. Napoleon used to say that every French soldier carried a marshal's baton in his knapsack and similarly, every young constable, when he joins the force, has a chance of rising to the rank of superintendent. It is evident, then, that in a force of twenty thousand individuals it requires a pretty good man to get through his horses and win the blue ribbon of the finest police that the world has ever seen.
My first appearance at the Yard was a Saturday, June 1, and I had not long to wait for a murder mystery. Reaching office on the Monday morning, I found that two telegrams had just been received - the first from Battersea, stating that the left thigh of a woman had been found on the foreshore of the Thames, near the Albert Bridge, and the second from Horsleydown, reporting the finding of a piece of the pelvis. Both of these portions were sewn up in what looked like bits of an old ulster coat. This pointed to murder most foul, and I spent the rest of the day on the river in company with the officer who had been entrusted with the charge of the case.
Within the next week many other remains were found - some in the river, some in Battersea Park, and the rest on foreshores as far remote as Limehouse and Fulham. The head of the woman never came to light, and the case, in very many respects, seemed on all fours with those of the Rainham mystery in 1887, and the Whitehall mystery in 1888. In both of these cases, portions of a woman's body, skilfully disarticulated, were found in various places, for the most part adjacent to the river, but in neither case did the head turn up, nor were the bodies identified.
In the 1889 case, which was commonly called the "Thames mystery," a scar on the wrist led to the identification of the remains as being those of one, Elizabeth Jackson, who had resided a few weeks before at a common lodging-house in Turk's-row, Chelsea, and who had been in possession of an ulster similar to that in which most of the remains had been wrapped up.
A working stone-mason, who, some weeks before had been living with Jackson was traced to Devonshire and there detained, but he fully satisfied the police as to his whereabouts at the time of the murder, and was discharged. Now this murder was of a very peculiar character. The woman, who seems to have been one of the dregs of humanity, must have been done to death somewhere on enclosed premises, and the process of disarticulation must have occupied many hours, and, when this was completed, the murderer must have taken several journeys before he could have disposed of all his ghastly burdens.
One of the last portions of the body which turned up was enveloped in a curious piece of white cloth, such as is used by certain students engaged on a particular kind of work. But nothing ever came of police inquiries in this, or any other direction, and the Thames mystery has remained an "undiscovered" murder in the fullest sense of the word.
The Mrs. Pearcy Case.
During my first fifteen months at the Yard I was too busy in learning my job, and in getting to know my officers, to think much about taking leave. But I did get away for a month in late September, 1890, and returned to town on Oct. 22. The very next night, at 4 a.m., the police bell in my bedroom clanged forth, and I rushed downstairs, knowing full well that something out of the common was on the carpet. I found an officer at the door with a telegram to the effect that a woman had been found murdered in a newly made street at Hampstead, and that, about a mile from where the body lay, a dead baby had been discovered in a perambulator.
It was useless attempting to work in the dark, but daylight found me on my way to Hampstead where (with the Superintendent of the division, and the detective-inspector, who had, of course, taken charge of the inquiries) I visited the mortuary and inspected the corpse, at that time unidentified.
Before we had been there many minutes we heard that a Mrs. Hogg had been missing from her home since the previous afternoon, and that her sister-in-law and a "friend" were awaiting admission with a view to identification. As soon as these two women entered, the sister-in-law (regardless of grammar), said, "Good God, it's her!" but she was at once dragged away by her friend, who, in very excited tones, cried out, "Don't touch it - don't touch it!" That "friend" was a Mrs. Pearcey, who was arrested a few hours later, and subsequently tried and hanged for the murder of Mrs. Hogg. It was a dramatic scene, and the last occasion, I imagine, in which "the ordeal by touch" was unwittingly brought into force.
The rain was pelting down as the detective-inspector and myself left the mortuary. Before I had gone many yards I was confronted by a fresh-looking young woman who craved speech with me. Together we sought the seclusion of a dripping alley. She then told me that she was Mrs. Hogg's niece, and that she had the gravest suspicions of Mrs. Pearcey, who, she believed, was in some way connected with her aunt's death. Two young patrols were at once told off to keep Mrs. Pearcey under observation.
The superintendent, the detective-inspector, and myself then made for the murdered woman's house to have a look round and interview the family. We found the bereaved husband very miserable and uncommunicative; but his aged mother was, under the circumstances, extremely cheery and chatty. While the detective officer had a run through the house, the superintendent and I engaged the old lady in conversation.
Our manners and our discourse (especially those of the superintendent, who addressed our hostess as "Mother") appeared to please mightily, and at 11 a.m. by the clock, glasses and a bottle of port wine were produced. Now, when you are not certain as to whom you may be next charging with the murder, it is rather embarassing to have hospitality proffered; and yet a police-officer can never afford to be discourteous, and thereby dry up any sources of information which may at any time be forthcoming in the right direction. Therefore the old lady was blandly told that I had made it a rule in India never to drink until the sun had set, and the superintendent, with a sigh of relief, remarked that he too was exactly of my way of thinking.
And so the bottle remained uncorked and the fine old fruity untasted. Many a time, in the subsequent years in which we worked together, has the superintendent (and we never had a better one in the Metropolitan Police) reminded me of that scene in the dingy little Hampstead parlour.
A Ghastly Piano Solo.
In due course we left the house, but had hardly reached the local police-station when two young patrols turned up with Mrs. Pearcey. The story they had to tell was a grim one. I have rarely seen a woman of stronger physique than Mrs. Pearcey, and her nerves were as ironcast as her body. She had, most unconcernedly, conducted the officers to her house, and, while they were searching it from garret to basement she sat herself down at the piano and strummed away at popular tunes.
Upon the officers entering the kitchen it was very apparent to them that the floor has been recently washed down. But there were tell-tale splotches of blood on the walls, and even on the ceiling. Upon a further search being made, a blood-stained poker and knife were found in a cupboard. When the musical hostess was asked for an explanation as to the bloodstains, she chanted a reply, "Killing mice, killing mice, killing mice," and went on with her piano-playing. A button belonging to Mrs. Hogg was found outside the kitchen door.
Mrs. Pearcey was tried, found guilty, and executed in December of that year. The story was one of lust and blood. This strange woman had formed a violent attachment to Mr. Hogg, and (not unnaturally) a corresponding feeling of jealous hatred towards his wife, whom she inveigled to her house by an invitation to tea. Mrs. Hogg arrived with her baby in a perambulator, and, on entering the kitchen, was attacked in a most frenzied manner with a poker, and, when felled to the ground, her throat was cut with brutal savagery. "Hell holds no fury like a woman scorned!"
As the shades of evening began to fall, the corpse was placed in the perambulator, on the top of the baby, and wheeled out into the darkness by Mrs. Pearcey. The night was pitchy black, and the pram was accidentally run up against a heap of stones in a new thoroughfare. This dislodged the body of the unfortunate Mrs. Hogg, and then the murderess continued her impious journey with the smothered baby, whose little body was left in the pram in a lonely spot on the confines of Hampstead Heath.
With the exception of Mrs. Dyer, the notorious baby-farmer, who was executed in 1896, I cannot at the moment call to mind the case of any other murderess who suffered the extreme penalty of the law during the time that I was at the Yard. Yes! on second thoughts, I certainly recollect one other case, that of Louise Masset, a governess, who murdered her illegitimate child at Dalston Railway Station, and was hung at the end of 1899.
It's a B.O.M.B. bomb!
It's a B.O.M.B. bomb!
They said it's very hard on Scotland Yard,
It's a B.O.M.B bomb!
The London Bomb Scare
The above jingle was the chorus of a comic song, very popular in the London music halls some twenty years ago; and certain it is that about the years 1893-94 Scotland Yard was much worried by bombs and rumours of bombs. The trouble came to us from across the Channel. The notorious Ravachol, and his followers, had started a dynamite campaign in Paris and its suburbs, and frequent explosions had taken place in public buildings and in cafes, in which lives had been lost and considerable damage done to property.
There is nothing quite so infectious as an outbreak of crime, and the contagion soon spread to England. In London two Italians were sentenced to long terms of imprisonment for being in possession of a bomb which had been constructed with the idea of destroying the Stock Exchange. The names of these desperadoes were, I think, Polti and Ferrara. At Walsall, too, some time before, a kind of bomb factory was discovered, and the principals engaged were tried and sent to penal servitude by the late Lord Brampton. Some very inflammatory pamphlets were published, and there was a trusty feeling abroad in the land. One or two sharp prosecutions, however, had a very salutary effect.
I have always held the belief that anarchism has never tapped root in this country. It is foreign to the nature of the British. Although we are inundated with the scum of other countries, and various parts of London swarm with Nihilists from Russia, Advanced Socialists from Germany, and Communists from France (to say nothing of a large contingent of knifing Neapolitans), yet all these gentry are perfectly well aware that, if they begin throwing bombs about the London streets, the British workman (honest fellow, though occasional grumbler, that he is!) would be the first person to hoof them out of the country with an uncompromising and hob-nailed boot, and that then the gates of their very last city of refuge would be banged, bolted, and barred against them.
It is this that has given, and that continues to give, to England a very great immunity from the crimes which so often terrorise the dwellers on the Continent. A little frothy speech, in our London parks, does very little harm, as a rule, and blows off an infinity of steam. It is only when there is a possibility that the said froth may become flecked with blood that the authorities need adopt repressive measures.
We did, however, get one rude awakening in London, when, in 1894, a young tailor named Bourdin endeavoured to blow up the Greenwich Observatory. He was a crack-brained enthusiast - how he came into possession of the bomb was never satisfactorily explained. There was at the time an unpleasant feeling abroad that the terrible form of an agent provocateur had overshadowed the misguided youth.
Blown Up at Greenwich.
But, be that as it may, no one was ever more effectually "hoist with his own petard." When Bourdin was about fifty yards from the Observatory the bomb exploded, shattering his right hand to bits, and several pieces of iron penetrated his body. He staggered round and tried to walk down the hill, but sank to the ground after a few steps. He was picked up in a pitiable condition, and died before he reached the hospital.
As I have already said, the real article was mercifully rare over here; but the joker was out and about, and alarms and excursions were everywhere rife. Seldom did a week go by without the finding of a bomb being reported, and, though it subsequently transpired that there was nothing in it, a sufficiency of worry and anxiety was caused to police.
At this time the Chief Inspector of Explosives was Sir Vivian Majendie, one of the most delightful personalities I ever came across, and a very loyal friend. He loved work and he loved play, and all kinds of sport delighted him. No day was too hot for him at Lord's, no night was too long for him at the National Sporting Club. He it was who, supping one Sunday night with a favorite niece, began talking about the Sayers and Heenan fight when he entered her house at 7:45, and when he left at 10:40 the same subject was still on the anvil of his discussion.
We had many cases together, but one day stands out in my memory very clear and distinct. Late one evening I received information that a bomb had been found under the seat of an omnibus on its arrival at Victoria, and that it had been conveyed to the police station at Gerald-row by the conductor, whose story, given in perfectly good faith, was as follows:
That for the last three days a gentleman, speaking with an Irish-American accent, had travelled by his 'bus, that his description was of the usual type, tall and spare, with a new goatee beard, slouch hat, and loose-fitting suit of tweed, that he had always carried with him a mysterious parcel wrapped in brown paper, and that, on the evening in question, he had offered the conductor a shilling if he would take it to the cloak-room at Victoria and bring him back the receipt. The conductor (whose mind carried back to the cloakroom explosion at the same station in, I think, 1883) declined the job and the proffered bob, and went on to state that, when he next looked inside the 'bus, the mysterious stranger had disappeared.
Under the seat, however, he found the paper parcel, which was heavy, and, suspecting it to be a bomb, he at once conveyed it to the police station. The inspector on duty there told me that he had submerged the parcel in a tub of water, and that it had "hissed at him." As, however, during my visit, there were no further signs of sibilation, it was deemed well to leave the cylinder where it was.
The next morning it was taken out of the water and carefully conveyed to the Home Office by an experienced officer. There it remained, in an apartment by itself, for twenty-four hours. Nobody much liked the look of it. Eventually knowing heads and skilled hands gathered round and gingerly inserted a gimlet in the side of the cylinder. On the withdrawal of the gimlet a dark, sticky substance appeared on the point, but the usual test of a lighted match had no effect, and none of the experts present recognised an old friend.
It was thought, however, that it might be some new kind of explosive, of which there were legions in those days. Again was the gimlet inserted, and again withdrawn. This time a little more of the contents of the vessel adhered to it, and upon it being tasted, something like a seed gritted against the teeth of the chief expert. This gave a clue. A comedian in the company whispered hoarsely, "In the name of the prophet - figs!" And so they were! A tin case of that excellent dried fruit, neatly soldered up.
A Royal Procession Scare.
London has always been very fortunate in that it has escaped the attacks of lunatics during the very many State ceremonials which have taken place of late years. On such occasions even a false alarm may cause a scare which might bring about the deaths of thousands. The arrangements for all public functions give an infinity of anxiety to police, and when they have been absolutely perfected, one maniac who sets no store by his own life could easily upset the whole apple cart.
In anarchist circles our information was always so good that, had a plot been in the hatching, I think the Yard would have got wind of it within twenty-four hours; but what neither the King's horsemen nor all the Metropolitan Police can guard against is the individual initiative of some crank, who, with a very elementary knowledge of chemistry, could fashion a dangerous bomb out of an empty sardine box and some nitro-glycerine. If such a lunatic be willing to throw his own life away, he may very easily kill any individual against whom he may happen to have some fancied grievance.
I think it was at the opening of the Imperial Institute by Queen Victoria, about May or June, 1893, that an alarming telegram, from a perfectly well-meaning and respectable individual, reached the Yard just half an hour before the procession was to leave Buckingham Palace. It was despatched from one of the suburbs and was to the following effect: -
"For God's sake stop procession. Heard plot to assassinate Her Majesty in Underground train last night."
As all the chiefs of the Force were out and about the route this wire was brought to me. It was not a very pleasant document for a Chief Constable to have to deal with; but, of course, there was only one course open, and that was to put it away in one's pocket and risk the chances. This was done, rather to the wonderment of the officer who had brought it in, and who seemingly expected that the whole procession would be countermanded at the last moment.
The late Sir C.E. Howard Vincent once said to the writer that the officers of the C.I.D. were always living over a volcano, and certain it is that a vast amount of wear and tear of the nerves is always going on. If, on this occasion, after the procession had started, a stone or squib had been thrown, the sender of the telegram would assuredly have come forward and complained that, if proper respect had been paid to his communication, her Majesty would not have been subjected to any risk or annoyance. He would have had a certain number of backers who would have made a noise in the newspapers, and clamoured for the summary execution of the official who had allowed the procession to go forward.
In the afternoon of that day a Scotland Yard officer was sent to interview the sender of the telegram. His explanation was that while travelling by the Underground the evening before, he had found himself in a third-class compartment with some "anarchists disguised as English workmen," and heard one say to another, "If the sun shines tomorrow there will be hay-making," or words to that effect. He construed this simple phrase as boding no good to her Majesty, and the more he turned about on his sleepless couch, the worse mischief it seemed to foretell. The morning found him pale and haggard. His fears got the better of his judgment, and he sent his telegram.
Guarding the Crowned Heads.
But the worst time that the chiefs of the Yard ever had was at the time of the death of our lamented King Edward VII. Never had so many crowned heads been gathered together in London before; never had such elaborate arrangements been necessary, and never had there been less time for perfecting their plans. Not only did eight foreign monarchs visit the metropolis, but many of them brought members of their own secret police in their train, the which, I need hardly say, was a very embarassing addition to the work.
I remember one of them entering my room hurriedly on the morning of his arrival, and excitedly exclaiming, "Kapinoff, Kapinoff! Where is Kapinoff?" Now, I had never heard tell of this gentleman before, but I wasn't going to give my show away by a confession of ignorance, so answered his thrust by the question: "Which Kapinoff do you mean?" just as though I had five or six separate and distinct Kapinoffs up my sleeve. This staggered my questioner, and he gasped out, "A noted student sworn to assassinate ----."
The only possible reply was sufficiently obvious, and he was besought not to bother about that particular Kapinoff, of whose desperate threats Scotland Yard thought but little. For the following four days my visitor called repeatedly and inquired after his pet Kapinoff; he always received the same reply. At his departure we scoured London to see whether the dreaded student was over here, but, in police parlance, our inquiries met with a "negative result," and from those days to these Kapinoff has been a name, and nothing more.
The Case of Sun Yat Sen.
Not being a student of Mongolian politics, I am unable to say whether Mr. Sun Yat Sen still occupies the proud position in China that he did two or three years ago. Times did, indeed, alter in his case, and when he and I foregathered in October, 1896, few individuals had ever been in a tighter place or more awkwardly situated. Great reformers generally incur a considerable amount of odium, and the writings and speeches of this gentleman had raised much Celestial ire. The ruling powers desired to put a stop to the revolutionary doctrines of Sun Yat Sen and his followers, and would not, of course, have scrupled to remove one or two heads in so doing.
England, however, has always been the land of the brave and the free, and has not infrequently sheltered political refugees of all creeds, colours, and countries. In London city, then, Mr. Sun Yat Sen deemed himself safe, for hither did he resort after a flight of his native land. But to relate in sequence the events of a certain Sunday. The Criminal Investigation Department at Scotland Yard is what might be termed a "nunquam dormis" shop, with an ever-open door. To its chiefs Saturday evening is very much like Monday morning. Therefore, if any report has to be privately written, or any particular officers quietly interviewed, it becomes necessary to give up one or two hours on the Sabbath to such purposes. As a rule, then, one was to be found at one's desk between 11:30 and one on the day of rest.
On this well remembered occasion a doctor of high repute called at the Criminal Investigation Department about noon and brought with him one of the strangest letters ever penned. It was written from the Chinese Embassy, and found in a mews at the back of Portland-place. On the envelope was a request that the finder, whoever he might be, should take the missive at once to the above-mentioned doctor's address, and that the matter was one of vital importance. An obliging ostler did as requested by the unknown writer, and the letter was handed over to the friendly physician. The purport was as follows -
That, while aimlessly wandering through the unfamiliar streets of the metropolis, Sun Yat Sen had come across two compatriots who struck up an acquaintance, and pointed out to him objects of interest as they walked along. No sooner, however, were they opposite to the Chinese Embassy - a building quite unknown to their victim - than they hustled him within its portals, and, having secured him beyond all possibility of escape, went on to inform him that he was now (as, in effect, he was) on Chinese territory and that they could do with him whatever they listed.
Broad hints were given that the first operation to be performed would in all probability be one of decapitation. With these most unpleasant tidings ringing in his ears, the great reformer was locked up in an attic chamber. Here, after a few days, he found opportunity to write a letter and throw it out of his grim casement, when a favourable breeze deposited it at the feet of the amicable ostler. Scotland Yard promised to give such assistance as was in its power; but the situation was one of unprecedented delicacy, and diplomatic difficulties arose on every side. The Foreign Office had, of course, to be approached through the Home Office, and for many days negotiations went on with no practical result.
Eventually after a week or so, we were requested to send a detective officer up to the Embassy to receive into safe custody the languishing prisoner. On his return he visited the Yard, and seemed none the worse for his confinement, although he must have had a very anxious duress. All kinds of rumours had reached us as to how he was to have been drugged and conveyed in a carriage to the docks as for immediate shipment to China. The prisoner, however, certainly lived to turn the tables on his quondam enemies.
(Sir Melville Macnaghten will continue his reminiscences in next week's "Lloyd's Weekly News," dealing with the Neil Cream poisoning mystery and other notorious cases.)
Source: Lloyd's Weekly News, December 6, 1914, Page 5

***************************************
Karen Trenouth
Author of: "Epiphany of the Whitechapel Murders"
Author of: "Jack the Ripper: The Satanic Team"

Similar topics
---
Permissions in this forum:
You
cannot
reply to topics in this forum