NEW POST FOR NOTED POLICE OFFICER.
Ran a Whitechapel Murderer to Earth on Roof Tops.
CAPTURED GARROTTERS.
Detective-inspector Harry Richardson retires today from the Metropolitan Police after twenty-five years' service, most of which was spent in the H or Whitechapel division.
During the past two years he has been in charge of the detective department in West London and Middlesex, extending from Kew Bridge to Staines, and he is leaving to take up an important appointment under the Port of London Authority, the detective department for that body having just been reorganised under ex-Chief-Inspector Bower, of Scotland Yard.
A native of Fakenham, Norfolk, after a few years' employment on a local railway Mr. Richardson came to London in 1888 and joined the police. He was drafted to Whitechapel a few months before the series of "Jack the Ripper" outrages, and although quite young in the service he was sent out on plain clothes duty in connection with the murders. He was still Police-Constable Richardson when he had his first murder case. In 1896, when on patrol, he was called to a house in Turner-street, Whitechapel, and found that an aged umbrella-case maker named Levy and his housekeeper Sarah Gale had been brutally murdered, and that their assailant, William Seaman, was still in the house.
The whole district was in an uproar, and a huge crowd of people surrounded the house. Richardson at once entered, and, after a search of the lower part of the house, proceeded to the top floor, where he found a hole bad been broken through the ceiling. Climbing on the bed, the officer scrambled through the hole, and, crawling along the rafters, found that a number of slates of the roof had been dislodged.
Though hampered by his heavy uniform, he clambered through the hole, to see the fugitive hiding on the roof. Before he could reach him, however, Seaman, in endeavouring to escape, jumped from the parapet to the ground, a distance of over 30ft., falling on to a child and breaking his leg and collarbone.
Seaman was taken to the London Hospital, and it was some weeks before he was able to be taken to the police-court in a bath-chair. He was eventually tried and sentenced to death by Mr. Justice Hawkins (the late Lord Brampton).
He was hanged at Newgate between Fowler and Milsom, the Muswell-hill murderers, who, together with Mrs. Dyer, the Reading baby-farmer, were all sentenced to death the same week by Mr. Justice Hawkins, who that week sat on the Bench for the last time.
When Mr. Richardson was a detective-sergeant at Shadwell, Ratcliff Highway was infested with a gang of thieves and garrotters, who carried out their nefarious work in broad daylight. Their victims were principally medical men and wealthy merchants, and so greatly were they feared that witnesses of their violence were too terrified to come forward to give evidence, being afraid of the vengeance threatened by others of the mob.
Richardson and other officers were, however, put on their track, and within a short
[img]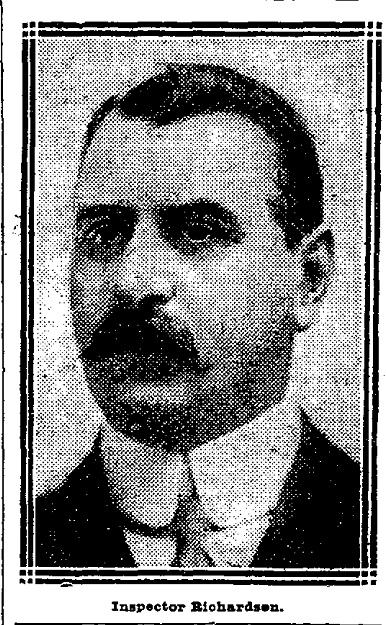 [/img]
time every member of the gang of eight was arrested and sent to long terms of imprisonment, in many cases being accompanied by "the cat."
Murder of an Engineer.
The brothers Reubens, who murdered a ship's engineer from Jarrow in Whitechapel after he had been decoyed to the house, passed through his hands. It was the murdered man's gold watch which Mr. Richardson found hidden in the clothes of one of the men which formed one of the most important pieces of evidence against them.
He was a terror to fortune-tellers, confidence tricksters, receivers of stolen goods, fur robbers, and van thieves, especially in the neighbourhood of the docks, where sometimes vans laden with thousands of pounds worth of goods were stolen, their contents rifled, and the empty vans left in deserted streets.
Continental female shoplifters who haunted the East End and made "pilgrimages" to the West End, have every reason to remember the astuteness of Mr. Richardson, as also did a coiner named King, who was known as "The King of the Coiners." With another officer named Pullen, Mr. Richardson raided King's house in Ernest-street, Stepney, and found a complete coiner's outfit, including moulds, clamps, plaster of paris, base metal, ladles, cyanide of potassium, and batteries.
King was arrested after a struggle, and received a long term of imprisonment. When his bed was searched a large quantity of counterfeit coins, including gilded sixpences, were found in mattresses.
Shortly before leaving Whitechapel Mr. Richardson assisted in the arduous task of searching for weeks throughout the East End for "Peter the Painter," and others wanted for the Houndsditch murders, and he took a prominent part in the Sidney-street siege.
Mr. Richardson is one of the very few officers who have received his promotions step by step to the senior rank, in the same division. For over 20 years he served under Ex-Superintendent Mulvaney, and with Chief Inspector Wensley, who is in charge of this district still.
Source: Lloyd's Weekly News, August 3, 1913, Page 4

***************************************
Karen Trenouth
Author of: "Epiphany of the Whitechapel Murders"
Author of: "Jack the Ripper: The Satanic Team"
---
Permissions in this forum:
You
cannot
reply to topics in this forum