WELL-KNOWN DETECTIVE RETIRES.
Detective-serjeant E. Caunter, of the H division, retired yesterday on a well-earned pension after twenty-six years' arduous service. Mr. Caunter, who is a native of Totnes in Devon, came to London when he was twenty years of age, and joined the Metropolitan police-force in August, 1872. He was attached at first to the K division, and stationed at Bow, where he remained for a period of seven years. At the end of that time he was appointed detective-constable, and transferred to Brompton in the B division, and eighteen months later became third-class serjeant, and was transferred to Whitechapel in the H division. Here he has remained ever since, attaining the ranks of second and first-class serjeant, working under the orders of that keen officer, Local-inspector White. Many criminals have passed through Mr. Caunter's hands, including armed burglars, receivers, horse stealers, and counterfeit coiners. In the latter class he succeeded in arresting the most noted coiner of his time, a man named Flanagan, alias Bendigo. This man had baffled the police for years, but Mr. Caunter getting upon his track finally ran him down, and took him after
[img]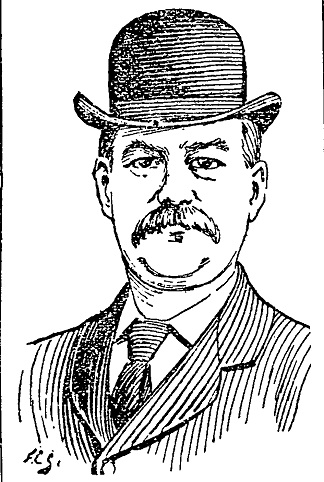 [/img]
a desperate struggle at a house in Hoxton. Flanagan got twenty years' penal servitude, the heaviest sentence ever awarded to a coiner. Mr. Caunter was also instrumental some two years ago in arresting two desperate burglars and freeing an innocent man from suspicion. A cabinet-maker, named Hughes, was shot by burglars in the Hackney-road, and later gave a man into custody whom he thought he recognised as one of his assailants. Mr. Caunter took up the case, and succeeded in bringing the crime home to two men named Emery and Gibbs. With Inspector White and other officers he raided a house at Stepney, and the men were captured. They pleaded "Guilty" to the shooting and twelve burglaries in addition, much property being recovered. Mr. Caunter also succeeded in bringing to justice a notorious swindler, who passed as an Indian Prince, and wrote letters on the India office paper. There were many cases of fraud against him, ten of them being on West-end solicitors. The retiring officer was also actively engaged through all the "Ripper" and latter-day East-end murders. He is greatly respected by his superior officers and comrades, and holds no fewer than eighty awards and commendations from judges, magistrates, and the Police commissioners. The inhabitants and tradesmen of the district in which he has served are preparing a testimonial as a mark of their esteem and regard for an excellent public servant.
Source: Lloyd's Weekly Newspaper, September 4, 1898, Page 13
Last edited by Karen on Thu 19 May 2011 - 6:25; edited 1 time in total

***************************************
Karen Trenouth
Author of: "Epiphany of the Whitechapel Murders"
Author of: "Jack the Ripper: The Satanic Team"
ALLEGED AUDACIOUS ROBBERY.

At Worship-street on Tuesday, Dennis M'Dowett, 18, costermonger, was charged before Mr. Montagu Williams with stealing a horse and cart, together with a quantity of vegetables, of the total value of 50 pounds, the property of Edward Foster, carman. The prosecutor was attending Spitalfields-market, and left the property in the ruck with others whilst making purchases. It was taken away in his absence and found at night, minus its vegetables, deserted. Edward Jinkins deposed to seeing the prisoner drive the horse away, and another witness identified him as being with the cart, but the prisoner himself denied all connection with the theft.
Detective-sergeant Caunter said there would be further evidence, and the prisoner was remanded.

Source: The Mercury, Saturday June 13, 1891, Page 3

***************************************
Karen Trenouth
Author of: "Epiphany of the Whitechapel Murders"
Author of: "Jack the Ripper: The Satanic Team"
---
Permissions in this forum:
You
cannot
reply to topics in this forum