***************************************
Karen Trenouth
Author of: "Epiphany of the Whitechapel Murders"
Author of: "Jack the Ripper: The Satanic Team"

***************************************
Karen Trenouth
Author of: "Epiphany of the Whitechapel Murders"
Author of: "Jack the Ripper: The Satanic Team"
[img]
[/img]
Credit: Blogspot Blog: "Murder By Gaslight" by Robert Wilhelm
http://murderbygasslight.blogspot.com/2010/05/carrie-brown-jack-ripper-in-america.html

***************************************
Karen Trenouth
Author of: "Epiphany of the Whitechapel Murders"
Author of: "Jack the Ripper: The Satanic Team"
BYRNES GETS OUT.
NEW YORK'S FAMOUS CHIEF OF POLICE IS RETIRED.
The Best Known Police Officer In America Throws Off the Harness After Thirty-Two Years of Service - Some of the Acts Which Made Him Famous.
NEW YORK, May 28. - Thomas Byrnes has resigned his position as chief of the police department of this city. He asked to be retired, and by a unanimous vote the board of police commissioners accommodated him. He went upon the roll of retired veterans on half pay, $3,000 a year. Inspector Conlin was appointed his temporary successor.
There is probably no quarter of the civilized world where the name of Thomas Byrnes is unfamiliar. There is not a name which inspires such wholesome fear among the lawless and criminal classes as his.
Scores of criminals have avoided this city as they would a pestilential spot for no other reason than that Thomas Byrnes is in it. To write his history fully would take a volume. It is the history of New York itself for the last 30 years. It tells of constant trials and dangers; of riots and lawlessness; of the evolution of the present splendidly equipped police force of this municipality from the crude, unpromising and undisciplined body of men as he found them when he entered the force as a patrolman on December 10, 1863.
Mr. Byrnes is yet in the prime of vigorous manhood. He is of tall and commanding figure and a man of prodigious muscular power. No one ever questioned his physical courage. It has been said of him that he does not know the meaning of the word fear.
Patrolman Byrnes, after nearly five years of meritorious work, was promoted to the rank of roundsman on October 22, 1868. While patrolman he was one of the detail sent to the pier of the Norfolk steamers to receive Jeff Davis after his release from Fortress Monroe.
Roundsman Byrnes was made sergeant on November 24, 1869, and on July 1, 1870, he was promoted to the rank of captain and sent to the Twenty-third precinct.
That locality had up to that time been a favorite resort for footpads and ruffians
[img]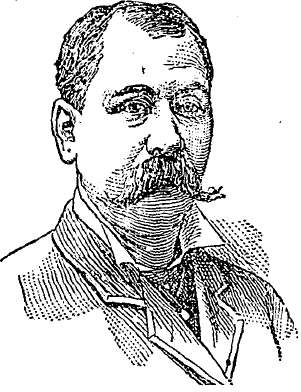 [/img]
CHIEF OF POLICE BYRNES
of the worst description, but when Captain Byrnes, nine months later, left it to take command of the Twenty-first, where Jimmy O'Brien and his band held sway, he gave to his successor a district under good control, and which for many years thereafter continued to show traces of the severe discipline to which the roughs had been subjected.
His Work as Captain.
Captain Byrnes, while in the Twenty-first precinct, first began to give evidence of his ability as a detective. About a month before he assumed command there a man named Riley had been murdered in Second avenue. The murderers believed themselves secure, but Captain Byrnes traced them, and they were sent to state prison.
During the Orange riots of 1871 Captain Byrnes commanded the right of the police column in its march down Eighth avenue. To his cool head and clear judgment was ascribed much of the success of the day.
The Manhattan bank robbery, which puzzled every police officer in the United States, was fathomed to the bottom by Captain Byrnes inside of eight months, while it took the thieves three and one-half years to lay their plans. The details of Captain Byrnes' "notable" cases while in command of the Mercer street squad and of his noteworthy achievements would require a page to describe.
The greatest work of Captain Byrnes began in March, 1880, when he was transferred to police headquarters to reorganize the detective bureau, which was then without either organization or discipline. In six weeks thereafter he was appointed Inspector, and under the latter title his fame soon became national and worldwide. The detective bureau, under his master hand, soon awoke from its wonted lethargy and became a force and powers in the police affairs of this metropolis, even rivaling in fame throughout the world the old established Scotland Yard.
Inspector Byrnes soon cleared out of Wall street the bands of sneak thieves, forgers and criminals who had been infesting that vicinity for years comparatively unmolested.
He established a headquarters there and issued orders to his men to arrest any crook whom they found in that neighborhood and who could not give a good account of himself as being there for a legitimate purpose. He drew a line at Fulton street, below which no thief could go.
Mr. Byrnes is said to be worth anywhere from $350,000 to $500,000. He has speculated considerably in Wall street and owes much of his success there, it is said, to "tips" given to him by the late Jay Gould, whom he had served in various ways.
Source: Suffolk County News (Sayville), May 31, 1895, Page 1

***************************************
Karen Trenouth
Author of: "Epiphany of the Whitechapel Murders"
Author of: "Jack the Ripper: The Satanic Team"
---
Permissions in this forum:
You
cannot
reply to topics in this forum