ARRESTED M.P.'S.
The Striking Record of Retiring Detective Sergeant.
DYNAMITE TIMES.
By the retirement this week of Detective-Sergeant Haines Scotland Yard loses one of its most efficient and hard-working officers. He leaves the force with the best wishes of all his superiors and colleagues. Of his twenty-six years' service all but two have been spent in the Criminal Investigation Department.
A native of Lincoln, Mr. Haines joined the force as an ordinary constable, and was attached to the Thames, or river, police at Waterloo Pier. At that time a steam launch or rapid motor-boat was a thing unknown, and night and day, in a heavy rowing boat, in all weathers, for two years, he was one of those who regularly patrolled Father Thames. A good swimmer, on many occasions he was instrumental in saving the lives of people who had fallen by the way, and reached the utmost depths of despair, had tried to seek oblivion in the cold water by jumping from one or other of the bridges.
In the Jubillee year of 1887 he was transferred to Scotland Yard, and attached to the Special Service branch, under the late Chief Inspector Littlechild. It was at this time that that department was harassed by dynamitards. He assisted in the arrest, in July, 1888, of two men who were sentenced at the Central Criminal Court to fifteen years' penal servitude for conspiracy with a view to cause a dynamite explosion, and for this work in this case he was specially rewarded by the Home Secretary. In connection with the proceedings under the Coercion Act he took part in the arrest of several members of Parliament, including that of Mr. J.J. O'Kelly, M.P., who was captured late one night on the District Railway after leaving the House of Commons on a charge of having made a speech at Boyle, inciting his hearers to a boycot.
[img]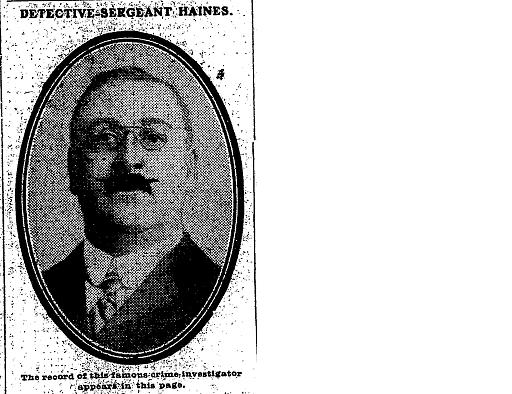 [/img]
The Parnell Commission.
During the Parnell Commission, when rumours of all kinds were afloat, Mr. Haines was detailed to the trying task of watching one of the witnesses who was under suspicion. Night and day his vigilance was unceasing, and eventually the man in question was arrested and convicted on a charge of perjury.
When the trouble in Ireland had subsided, Sergeant Haines was transferred to Gravesend, certain duties in connection with the special branch necessitating the constant presence of a skilled officer in that place. Here he gained considerable experience of the criminals and alien population who used that port as a suitable landing place on arrival from the Continent. After nine years at Gravesend he was promoted and sent to Bow-street. At that time Drury-lane and the Seven Dials district were places not to be conjured with, and for seven years he was the terror of the evildoer in that neighbourhood. Proprietors of low-class gambling clubs had every reason to remember the vigilance of this "sleuth," begging-letter writers who haunted the poorer lodging-houses, expert letter-box thieves, and confidence tricksters were continually falling into his hands, and not a week passed without this astute officer stepping into the witness-box at Bow-street with the accustomed "At _____ o'clock this morning, your worship, I was on duty, etc."
When a little four-year-old girl named Kenealy was found murdered in Goldsmith-street, Drury-lane, early in 1899, there was a hue and cry for the murderer. Mr. Haines was one of the officers detailed to take part in the search. Suspects were detained hourly in all parts of London, and eventually, on the slight clue slight patch in the undermost part of the trousers of a dwarf named George Robertson, a friend of the Kenealy family, he was arrested by Sergeant Haines at Canning Town and brought to Bow-street. Robertson suffered the full penalty for his crime, and was executed at Newgate in March of that same year.
During the last seven years of his service the retiring officer has been stationed at Scotland Yard. Under the direction of Superintendent Froest he has conducted many important inquiries for the Director of Public Prosecutions in cases of fraudulent bankruptcy, frauds, and other offences, and many foreign criminals in London, Germany, and France have passed through his hands. On one occasion the warrant was placed in his hand for the arrest of a man wanted in the Transvaal on serious charges of robbing sick natives from the Premier Mines in Pretoria, Sergeant Haines tracked him to Edinburgh, effected his arrest, and conveyed him to Pretoria.
Much could be written of his experiences amusing on one hand, but full of pathos on the other. Old officers remember and recall not without a laugh how a couple of confidence tricksters who mistaking the sergeant for a "mug," were arrested by him in a Strand public-house after trying to sell him some alleged diamonds. They were seafaring men from Whitechapel way. They took their punishment stoically, their only complaint to Mr. Lushington, the stipendiary, being, "We didn't think he was a 'tec"; and, turning to the officer, one remarked, reproachfully, "You goes and corrupts us with three mild and bitters."
Sergeant Haines, who has commendations times out of number by judges, magistrates, and coroners, retires from official life with the best wishes of everyone he has come in contact with. He is a hard worker, however, and does not mean to retire from public work; and in conjunction with ex-Detective-Sergeant King, whose life-story "Lloyd's" published a few months ago, he has started a private inquiry agency at Sicilian House, Southampton-row.
Source: Lloyd's Weekly News, July 9, 1911, Page 13

***************************************
Karen Trenouth
Author of: "Epiphany of the Whitechapel Murders"
Author of: "Jack the Ripper: The Satanic Team"
Similar topics
---
Permissions in this forum:
You
cannot
reply to topics in this forum