BLOOD RED WRITINGS.
Facsimiles of the Whitechapel Communications Signed "Jack the Ripper."
Every reader of the newspapers has read of the letter and post card received by the London Central News company anent the terrible Whitechapel numbers, signed "Jack the Ripper." These communications were luridly written in blood colored ink of some sort, and for ignorant brutality have had few equals since crime began to have a history.
Here is a reduced facsimile of a part of the letter:
[img]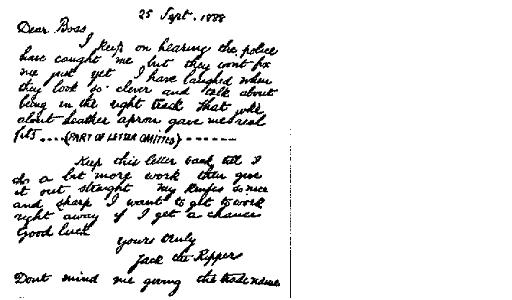 [/img]
The letter has been printed in full before, but is here given again for convenience of comparison:
25th September, 1888
DEAR BOSS - I keep on hearing the police have caught me, but they won't fix me just yet. I have laughed when they look so clever and talk about being on the right track. The joke about Leather Apron gave me real fits. I am down on --------, and I shan't quit ripping them till I do get buckled. Grand work the last job was. I gave the lady no time to squeal. How can they catch me now? I love my work and want to start again. You will soon hear of me with my funny little games. I saved some of the proper red stuff in a ginger beer bottle over the last job to write with, but it went thick and I can't use it. Red ink is fit enough, I hope, ha! ha! The next job I do I shall clip the ladies ears off and send to the police officers just for folly; wouldn't you? Keep this letter back till I do a bit more work, then give it out straight. My knife's so nice and sharp I want to get a chance. Good luck. Yours truly, JACK THE RIPPER.
The post card is here produced in reduced facsimile:
[img]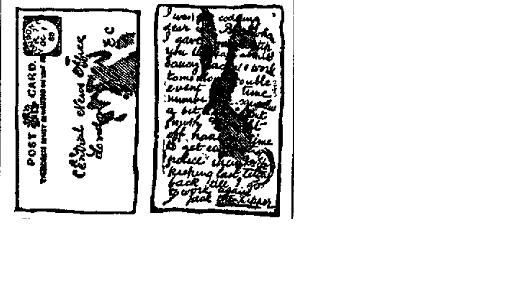 [/img]
This is a translation of the contents of the card:
I was not codding, dear old boss, when I gave you the tip. You'll hear about Saucy Jack's work tomorrow. Double event this time. Number one squealed a bit; couldn't finish straight off. Had not time to get ears for the police. Thanks for keeping last letter back till I got to work again. JACK THE RIPPER.
The shaded portions of the card as shown in the cut represent the blood stains with which the bit of pasteboard was smeared. The bloody lines of the stains closely resemble the markings of the corrugated skin of a man's thumb or finger.
Is "Jack the Ripper" the killer of the unfortunate women? That is a question that bids fair to be altogether too deep for the astute mind of Sir Charles Warren, the London chief of police, who trains his bloodhounds by letting them chase his own sacred person, to solve.

***************************************
Karen Trenouth
Author of: "Epiphany of the Whitechapel Murders"
Author of: "Jack the Ripper: The Satanic Team"

Similar topics
---
Permissions in this forum:
You
cannot
reply to topics in this forum